On the Office of Sustainability's 11th birthday, looking back to the first decade—and forward to the next.
Fifteen years ago, the University of Wisconsin–Madison campus was covered in statistics about recycled tons of bottles, cans, and paper; images of the planet earth; and the logo, or plea, repeated on the facades of buildings: WE CONSERVE.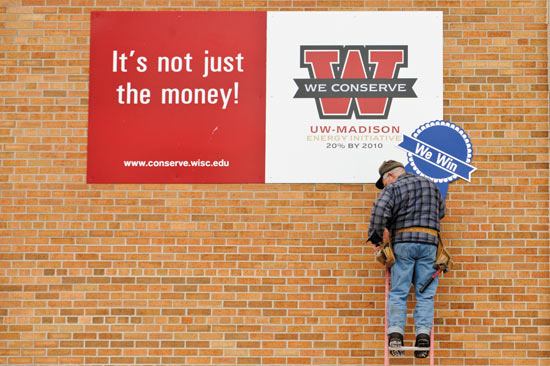 The imagery is apparent in a short student film submitted to the Student Sustainability Film Festival in 2010, and it allows us to glimpse the origins of efforts to improve campus sustainability, which began with We Conserve, a campaign that began in April 2006 as part of the university's $29 million investment to increase the energy efficiency.
"At that time, we set the goal to reduce our consumption by 20 percent, compared to 2006, and to instill the spirit of conservation in the community's consciousness," Faramarz Vakili, the campus director of the initiative, says in the film. 
By updating lighting, as well as heating and cooling systems, We Conserve achieved a 25 percent annual energy reduction by the end of 2010. Yet Vakili's second, more ambitious, goal remained. In the film the interviewer asks students on campus whether they know about the movement. When they say they do not, they are directed to turn around, where they spot a long We Conserve banner hanging on the side of a building and displaying a simple message: Who Cares.
"I cannot sit here," Vakili says, "and look somebody in the eye and say, yes, we instilled the spirit [of conservation]."
The early efforts of Vakili and We Conserve led to the creation of the Office of Sustainability (O.S.). Now, as the office begins its second decade on campus, and as humanity approaches the 2030 deadline to halve global emissions and avert the worst effects of climate change, we can look back at the interviews, the campaigns, the press releases and news stories to ask: How did we get here? What have we achieved in sustainability, what can we change? And the spirit—the spirit of conservation—has it been instilled?
A decade of rapid change
We Conserve's progress and success—which, Vakili said in a 2009 article, "frankly, nobody thought … was going to happen"—inspired then-Chancellor Biddy Martin to launch the UW–Madison Sustainability Initiative in 2010. Paul DeLuca, the provost at the time, and Darrell Bazzell, the vice chancellor for finance and administration, "convened a campus-wide Sustainability Task Force," according to the official O.S. history, "and charged it with recommending goals, policies, governance structure, and pilot projects related to sustainability."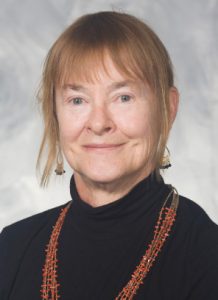 "The two of them gave us a very tight timeline," said Dr. Cathy Middlecamp, who, with Vakili, co-authored the 17-person task force's report. "I remember saying at the time, A year is not enough to assemble all the pieces. And they said, Cathy, it needs to get done in a year. Do it."
The October 2010 report concluded with several recommendations. First: "Create an Office of Sustainability." Then "support the Office of Sustainability communications by establishing a web portal"; "amplify the formal and informal educational programs in the domain of sustainability to enhance awareness, knowledge, and personal and professional capabilities of our students and staff"; and "encourage and expand UW–Madison as a living laboratory in sustainability through seed grants that would fund projects to bring education and research to bear on our operational practices." 
On March 9, 2012, UW–Madison launched the Office of Sustainability. Following the task force's recommendations to incorporate facilities and research and education, the university created the O.S. with a bi-divisional structure: it would report to both Facilities Planning & Management and the Nelson Institute for Environmental Studies, under two co-directors. Vakili was named the director of sustainability operations and Craig Benson the director of sustainability research and education. When Benson left for another university, Middlecamp took his position, which is now held by Andrea Hicks, an associate professor in the Department of Civil and Environmental Engineering. 
"I always viewed it as an experiment," Jill Sakai, the former communications director (2013–2017), said of the bi-divisional structure. "There was an acknowledgement that sustainability aspects span both operational and academic sides of campus. In the university, the operational and the academic sides of things run very differently—they're run with different structures, they're run with different sets of expectations—so [we were] trying to bridge those, work together, and find common ground."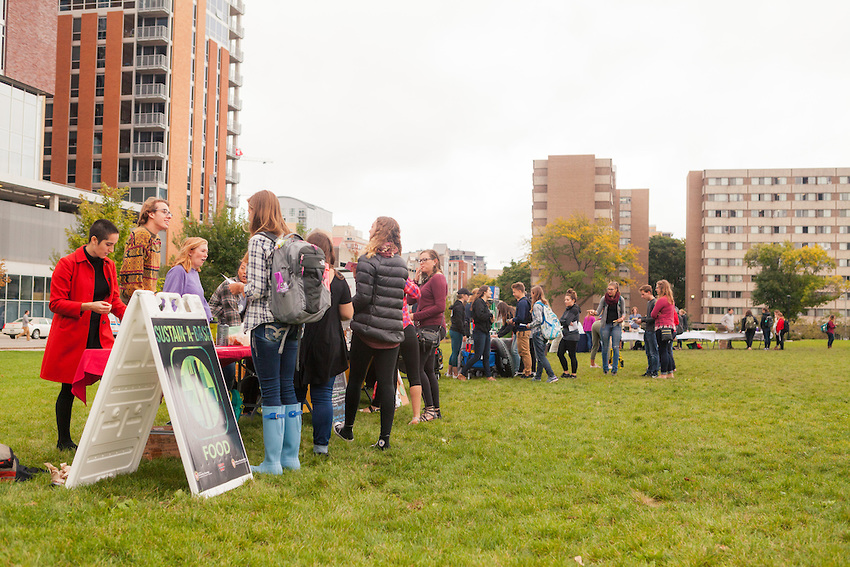 Sakai characterized the early years of the O.S. as a time of "letting the campus community know what was going on" while soliciting "​​information about what people were interested in doing." Before the inception of the O.S., she collaborated with the Sustainability Task Force in her position as a science writer for University Communications, and she noticed a strong excitement and motivation to make positive change.
"It felt really momentous," Sakai said. "You can look at the roster from that task force: it was huge. It involved people from all over campus, from all layers of campus, from students all the way to administrators. That feeling of people gathering in pursuit of this common goal for the campus was really tremendous."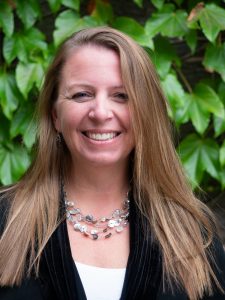 In 2018, after a brief period without a facilities co-director for the O.S., the university hired Missy Nergard as the inaugural full-time director of sustainability. She chose UW–Madison, she said, because of its distinctive focus on both operations and students and education.
"The intent was to really bring [sustainability] up to an enterprise level," said Nergard, who came to Madison after working for seven years as director of sustainability at Illinois State University.  "To me that's where the mission and the strength of the university lies: in our education and our research enterprise."
Students of—and for—sustainability
The task force report's directive "to honor and engage students" became a common refrain for Middlecamp during her tenure with the Office of Sustainability.
"If we were going to do anything right in the Office of Sustainability," Middlecamp said, "it had to be bringing students into the mix. That's not normal for facilities[-focused sustainability offices]."
From the beginning the O.S. has supported, educated, and involved students through various programs, most notably the Green Fund, which awards monetary support and campus resources for student sustainability proposals, and the highly competitive Office of Sustainability Internship, which draws applicants from a variety of academic majors and has hired at least ten interns nearly every semester since 2012.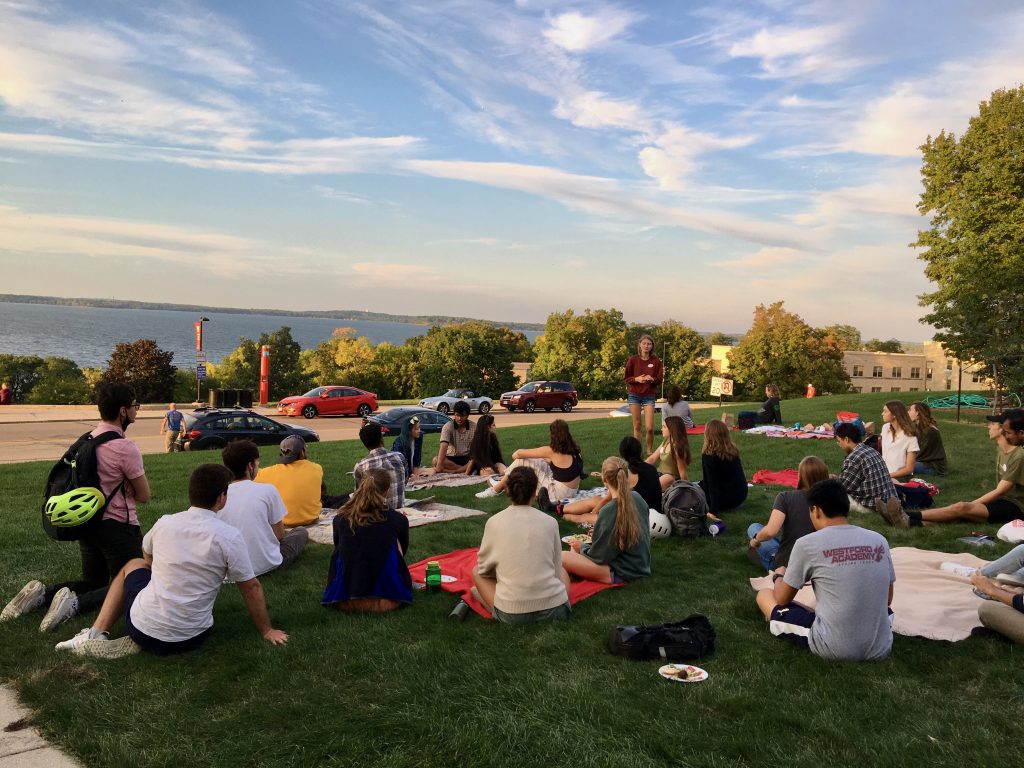 "The Office of Sustainability Intern Program brings passionate students from different backgrounds together to make transformational change on the UW-Madison campus and within the campus community," said Tim Lindstrom, the current intern program manager. "Interns put the promise of sustainability into practice by embracing the UW-Madison campus as a living laboratory where creative solutions to sustainability problems are conceived, implemented, and evaluated."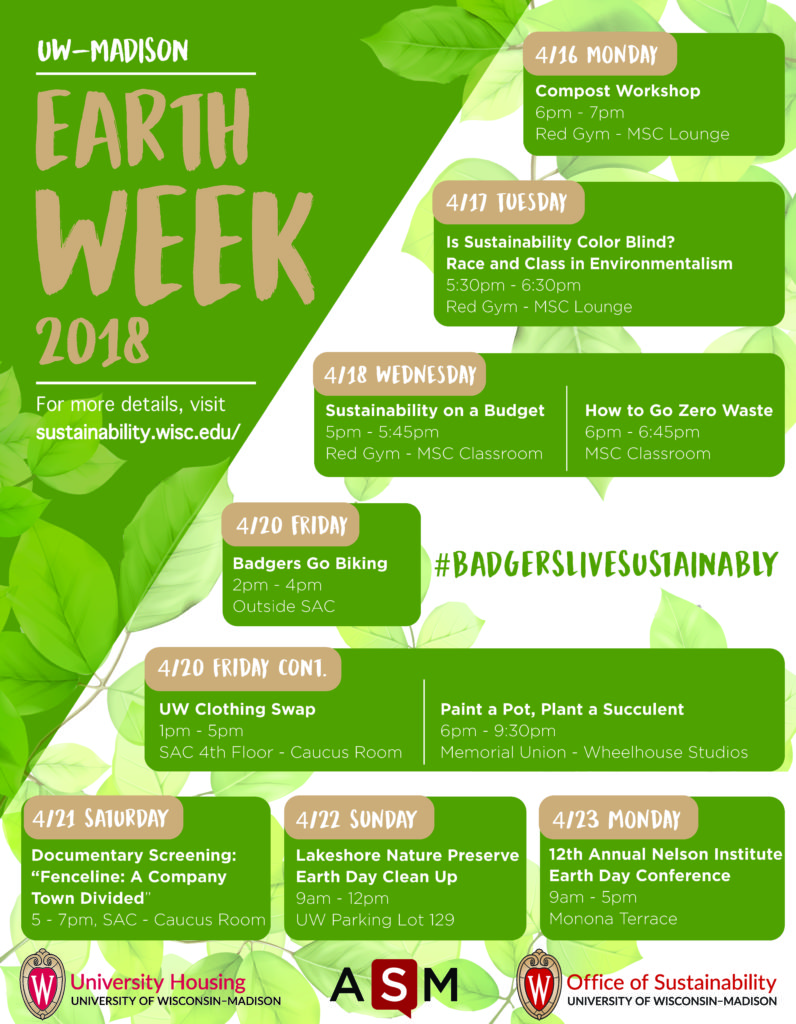 The associate director of sustainability, Nathan Jandl, stressed the importance of interns in creating and marketing events to engage other students in sustainability—most notably the Sustainability Symposium, an afternoon of flash talks and poster presentations, which more than 200 students, faculty, and staff registered to attend in October 2022;  Sustain-A-Bash, an introduction to sustainability for new students hosted in collaboration with University Housing on Gordon Lawn at the beginning of every fall semester; and Earth Week, a series of events hosted each April "to celebrate as well as critically examine our relationships with the natural environment and with each other."
"It's been an exciting growth space for the office," Jandl said. "We started the first Earth Week about five years ago: that went from two or three interns and me putting together some activities  to a relatively well-recognized campus event" that includes more than 20 campus partners, and a week-long schedule of programming.
The emphasis on students surfaces in the O.S.'s philosophical approach to sustainability, which in the past decade has grown beyond the waste and energy aspirations of We Conserve to include economic and social sustainability. Nergard offered the example of how large, bright field lights drain electricity when not in use late at night while also affecting the quality of sleep and learning of students living in nearby residence halls. In the long term, she said, success with all kinds of sustainability depends on student engagement, as having thousands of inspired students graduating and each individually benefitting sustainability in their communities would make a more significant effect than organizational directives. Current and former O.S. staffers praised Nergard in interviews for her ability to establish structures to facilitate dialogues with students and other communities and entities on campus.
"When I first came to the office [in 2017], because we had some staffing turnover, including the loss of our co-director in the facilities space, there was a period when things were pretty quiet," Jandl said. "We were just trying to keep ourselves going. Since Missy has been hired, I've sensed quite a bit more connection, communication, and conversation between top leadership and the O.S."
The next ten years: challenges, opportunities, and goals
Now, several years into Nergard's tenure, the Office of Sustainability continues to embrace a unified approach to human, environmental, and economic wellbeing. This brings new opportunities as well as new challenges for the next decade of the O.S. It will need to further progress toward the Second Nature Resilience Commitment, Jandl said, work to achieve a gold rating via the STARS assessment, and create " a Climate Action Plan that we can pursue—not just words on a page and aspirational targets—for how we are going to reduce our emissions." Part of the climate action plan will include continued work on programs such as the Zero Waste initiative, which was hampered by the loss of the university's composting vendor in July 2021.
"Our campus community has great interest in responsibly purchasing materials, dutifully utilizing our existing resources, and correctly discarding items at their end-of-life," said Travis Blomberg, the campus resource coordinator, who is in charge of university's Zero Waste efforts.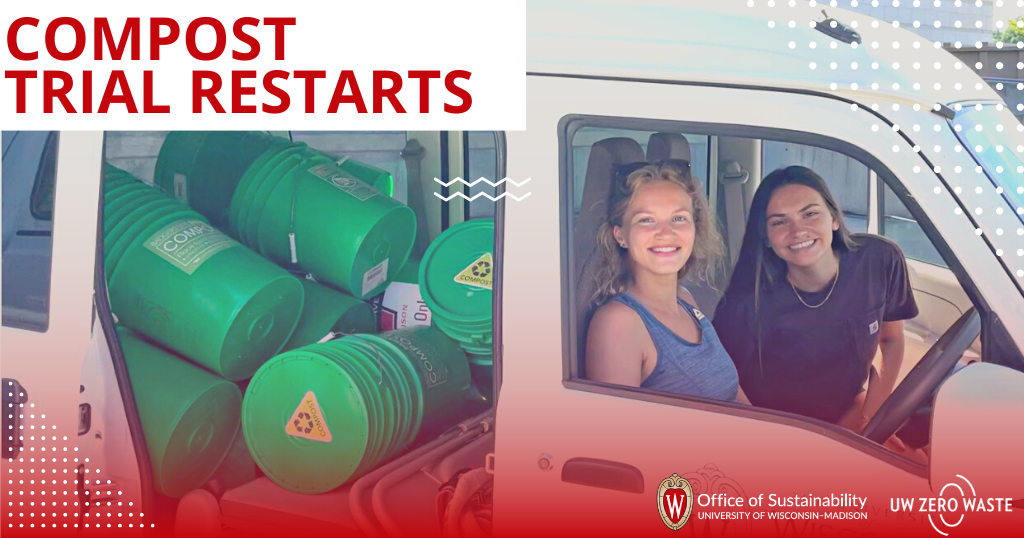 Nergard identified the continued challenge of overcoming "that legacy understanding that sustainability is just environmental and it's someone else's responsibility." The O.S. has managed to connect more student organizations to promote sustainability, and Lindstrom similarly views students as crucial to overcoming misconceptions and to accelerating sustainable procurement and divestment.
"Sustainability efforts at UW–Madison always have been and will continue to be driven by the energy, creativity, and leadership of the students," he said. "Be it through remaking campus systems or re-envisioning a just campus community, the actions and voices of students play a critical role in pushing the envelope of sustainability at UW–Madison by holding the university accountable and challenging those with power and influence to do more."
Jandl also spoke of the actions of those with power and influence, as he noted the broader difficulty of practicing sustainability in Wisconsin's political context.
"UW–Madison is a large, complex public university that is both benefited and impacted by its relationship with the state … so it is understandable there would be a slower rate of change in terms of certain sustainability measures," he said. "Advocating for change can be perceived as partisan, or look like a kind of activism. There are people on this campus that wish we were a lot more aggressive in terms of what we were demanding or asking for, but it's always a balance. Building enduring change requires that we build good relationships. In a way, we look to our stakeholders to be the activists, and we want to help amplify and channel what we're hearing from our stakeholders so that we can use that to help drive how the university runs."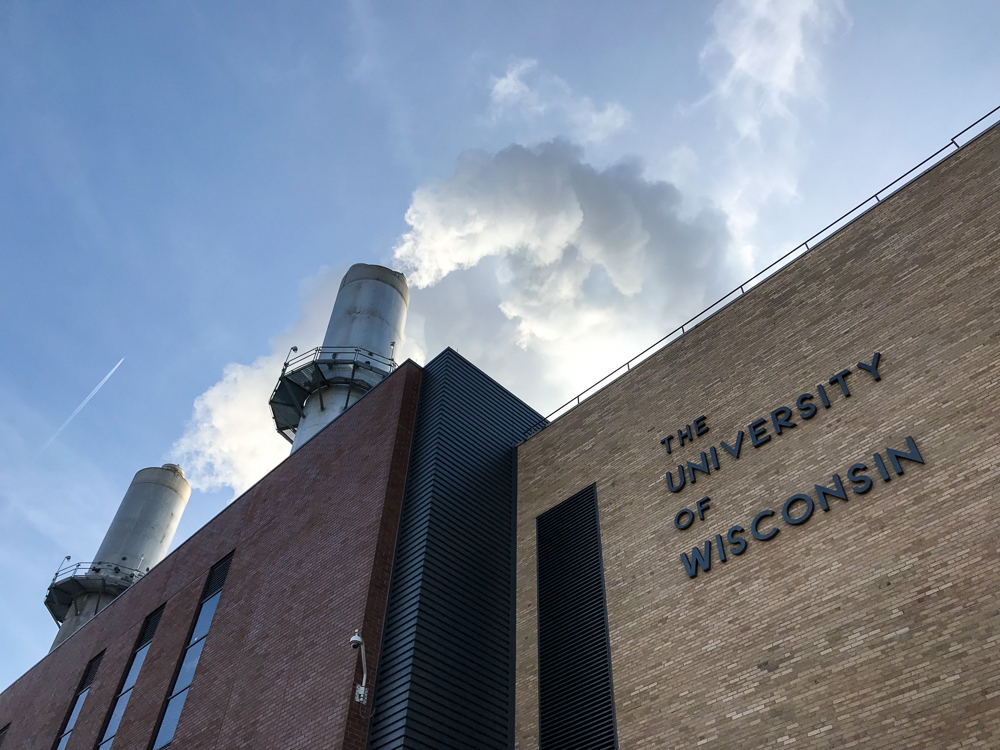 The Office of Sustainability will also need to find ways to keep pace with the growth of its large, far-reaching expectations. With the worsening of the climate crisis, students, community members, and local media have looked to the O.S. to expedite university action on climate change. The office, however, only staffs eight full-time employees, and, given its place in the university structure, can only advocate for university policy and action.
"One of the misconceptions is where exactly the Office of Sustainability sits in the university and where we have delegation power," Jandl said, noting the support of the central administration in creating the O.S. and supporting its student programs. "We're not sitting at the tippity top of the university telling all the divisions, Here are your new standards and guidelines and policies and procedures to make sure everything is sustainable."
"I think it's still crucial that the mission of the university—teaching and research—is built into the way we strategize to make operational change on campus. But our efforts have been, for a long time, divided between two different branches within the academic space and the operational space, and that can be confusing for our stakeholders. In the end, we are greater than the sum of those things because we are the institutional office."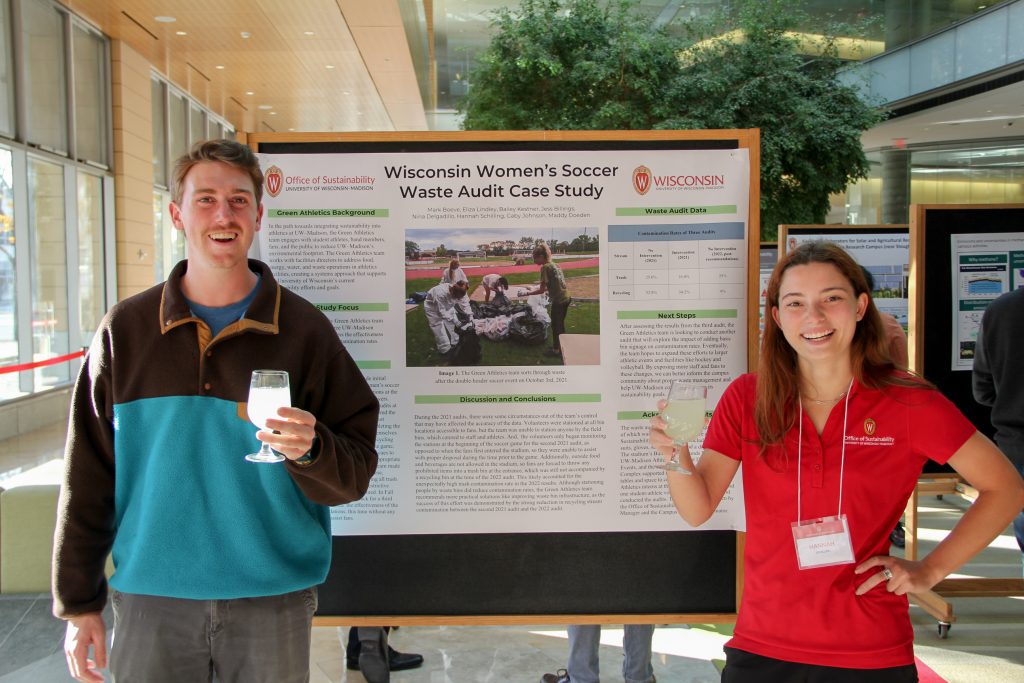 As Nergard spoke on the growth of the office and how it could achieve ambitious future goals, she called the current structure "a challenge."
"Everything we have to do is through influence, or altruism," Nergard said. "We have recommended a different organizational structure that would allow a different line of sight and more positional authority to affect policy."
Middlecamp, now professor emerita and retired from the O.S., voiced the same opinion, stressing that a new structure would elevate sustainability at UW–Madison.
"I'll be candid: I think we still have a lot of work to do," Middlecamp said. "Other universities—I could reel them off—are way ahead of us academically in establishing it as a field, hiring faculty, getting students through at the undergraduate level and the graduate level, having the discipline well-funded… we're still struggling with that. There's so many things that have to do with sustainability on our planet, and they're not all in the Nelson Institute."
One idea Middlecamp offered would be to reward teaching and researching sustainability as part of the tenure process, which would not only motivate faculty to consider sustainability as a crucial, interconnected aspect of research and life, but it would allow them to involve more students across various departments in thinking about sustainability.
Nergard also described the need to strengthen the university's message about sustainability, especially to engage alumni, as crucial to UW–Madison's future efforts, noting that "in the last alumni survey, sustainability was the number one priority of interest."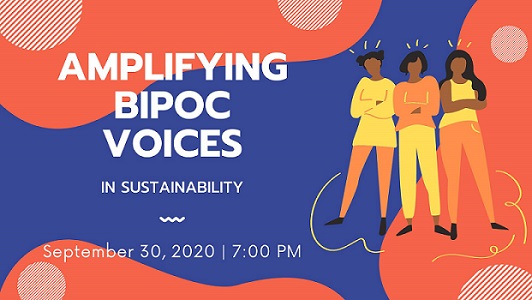 When asked about the future of the Office of Sustainability, Sakai, the former communications director, looked to its origins.
"It was born out of this desire to do the right thing now and set up the university to be sustainable into the future," she said. "A campus that's larger than small cities, and this academic juggernaut—how can we put all of these capabilities and assets together to be able to create something really positive for the future?
"I hope that, whatever shape the office moves forward, [it] can keep some feeling of that aspiration. I think that's the drive that needs to be there to keep things moving forward, staying focused on what was really the big-picture goal that everyone is trying to achieve."