Nathan Jandl
Assistant Director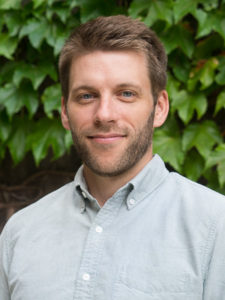 Nathan Jandl works to cultivate, coordinate, and communicate sustainability initiatives at UW-Madison, with the broader goal of creating a vibrant culture of sustainability in higher education. As Assistant Director, he supports Prof. Cathy Middlecamp and Missy Nergard to ensure the smooth day-to-day operation of the Office, as well as participates in decision making about strategy, vision, and budget. Nathan served for nearly two years as Communications Director for the Office of Sustainability; in his current role, he continues to manage communications strategy and work closely with the student intern program.
Prior to joining the Office of Sustainability, Nathan served as PA Director of Communications for the UW Department of English, where he was responsible for outreach, alumni engagement, and website and social media management. Meanwhile, he was an active member of the Center for Culture, History, and Environment, where he helped to conceive and edit the interdisciplinary digital magazine, Edge Effects. As Managing Editor, Nathan gained extensive experience in shaping environmental content for a wide and diverse audience. Nathan's editorial background also includes a decade of experience as a freelance editor. He has worked on both critical and creative projects, including book manuscripts, journals, novels, and poetry. Finally, he is an artistic and freelance photographer; most recently, he has documented events and people for the Center for the Humanities.
Nathan earned his B.A. in English from Middlebury College. After working as a carpenter, a PR professional, and an internet service migration specialist, he returned to the world of language and environmental studies. In 2016, he received his Ph.D. in English from UW-Madison. His academic work addressed the environmental humanities and 20th-century American literature and art.