About
At UW–Madison, sustainability is an ongoing, collaborative effort between students, staff, and faculty, and you can find sustainability in action all around campus. The Sustainability Map enables you to discover and explore campus sustainability features such as solar panels, certified Green Offices, cultural centers, water efficiency upgrades, and learning communities.
This map is organized around the United Nations Sustainable Development Goals (SDGs). You can learn more about the SDGs and why we used them to create this map in the FAQ section below.
UW–Madison Sustainability Map
Click on the link above to explore the map in full screen mode. You can adjust which layers you're viewing with the menu on the left hand side of the map.
To learn more about a map feature, simply click on any icon.
For more details on how we built this map, or to suggest a feature, see the FAQs below.
FAQs
Click the image above or "View the UW–Madison Campus Sustainability Map" to open the map.
Select which layers appear by checking or unchecking the box.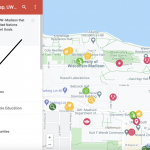 See sublayers and individual features by clicking the arrow.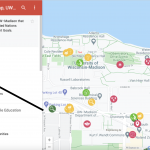 Click a feature to learn more.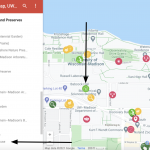 Zoom in or out to get a new view of campus.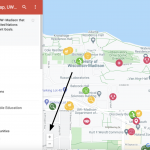 The United Nations Sustainable Development Goals are a product of international collaboration to define global sustainability targets. Recognizing the ways in which human rights and climate action are intertwined, the Goals follow a multi-perspective approach that defines sustainability through social, environmental, and economic perspectives. Read more on the UN SDG website.

| | |
| --- | --- |
| Layer | UN Sustainable Development Goals |
| Climate Action | |
| Quality and Accessible Education | |
| Equity and Justice | |
| Affordable and Clean Energy | |
| Innovative Design and Infrastructure | |
| Sustainable Cities and Communities | |
| Clean and Protected Waters | |
| Habitats, Gardens, and Preserves | |
| Healthy Lives | |
| Waste and Responsible Consumption | |
Icons source: https://www.un.org/sustainabledevelopment/news/communications-material/
The map was made by two students, Audrey Stanton and Mackenzie Thelen, with help from Professor Cathy Middlecamp. The project was supported by the Office of Sustainability.
The map is a living project that will grow as more campus work incorporates sustainability and as our interpretation of sustainability evolves. We welcome your ideas for new map features.
Would you like to submit a campus sustainability feature to the map? If so, email us at info@sustainability.wisc.edu with the title of the feature, a short description of how it connects to campus sustainability, and a website link.
This map was last updated October 2021.
For a useful resource, see Mapping for a Sustainable World by M.J. Kraak, R.E. Roth, B. Ricker, A. Kagawa, and G. Le Sourd, 2020.
New UW–Madison campus sustainability map goes live by Audrey Stanton, Mackenzie Thelen, and Nathan Jandl.
Stanton, A. P., Thelen, M. J., & Middlecamp, C. H. (2021). A Campus Sustainability Map Organized by the UN Sustainable Development Goals. Sustainability and Climate Change, 14(4), 202-208.