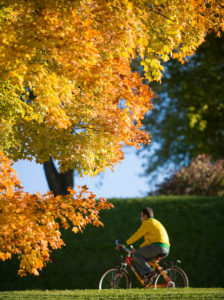 You can make your everyday life more sustainable by changing your mode of transportation. The University of Wisconsin–Madison offers many options for sustainable transportation:
UW–Madison Commuter Solutions
Commuter Solutions, a unit of Transportation Services in Facilities Planning & Management, is your sustainable transportation resource. Commuter Solutions offers assistance with getting to, from, and around campus, including custom route planning that takes the worry out of getting to campus without a car.
Bus
UW–Madison offers greatly subsidized bus pass programs for eligible students and employees. Taking Madison Metro Transit to UW–Madison is easier and more convenient than you might think. With the variety of routes, catching a bus is less stressful—and better for the environment—than driving alone to campus. There are also fare-free campus bus routes, including routes 80, 81, 82 and 84.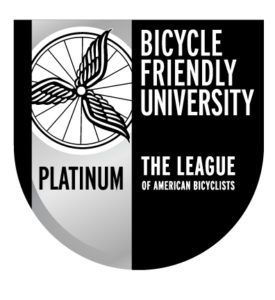 Bicycle
Madison is one of the five best cities for bicycling in the nation and was recently named one of only eight Platinum-rated universities. Commuting by bike is a simple way to cut down on campus congestion, save money, and help preserve the environment. With more bicycle parking on campus than automobile parking, thousands of students, staff and faculty commute by bicycle to UW–Madison!
Don't own a bike? BCycle offers rentals of e-bikes with pick-up locations all over Madison and discounts for UW affiliates. You can also rent bikes long-term through the Red Bike Program. More information on bikesharing and rentals.
To learn about bike tune-ups and other mechanical details, check out the University Bicycle Resource Center. As of Spring 2021, their physical office is closed, but they are offering virtual bike repair classes (which are recorded for later viewing).
For air and repair stations, as well as where you can park bikes, visit this map.
Carsharing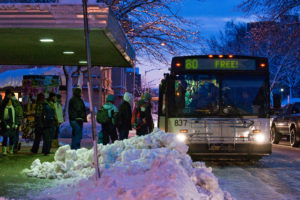 Need a car occasionally? Carsharing is a great alternative to owning or bringing a car to campus. Zipcar, UW–Madison's carsharing partner, provides cars that "live" on campus and around Madison. Vehicles are available by the hour or day, with gas and insurance included. Discounts on personal memberships for UW students, staff, faculty, and UW Health employees are available. For vehicle locations, membership information, and to sign up, visit the Zipcar website.
Additional Transportation Options
Commuter Solutions has many other transportation options including:
EV Charging Stations
If you own an electric vehicle, you can park and charge in various locations across campus.
Emergency Ride Home program
The Emergency Ride Home program is a "safety net" for those who do not drive alone to campus, providing a free ride home in case of an emergency. Program specifics are available on the Transportation Services Emergency Ride Home page.