Join University Housing and the Office of Sustainability from September 18-22, 2023 for a week-long celebration of sustainability and campus life! Pedal fast on the blender bike or cycle through the Sustainability Showcase. Pick up a meal at the Green Fund Kickoff or drop off clothes at the all-campus swap. Whether you're a first-year resident or a returning Badger, Sustain-a-Bash invites students to come together, have fun, and learn how #BadgersLiveSustainably.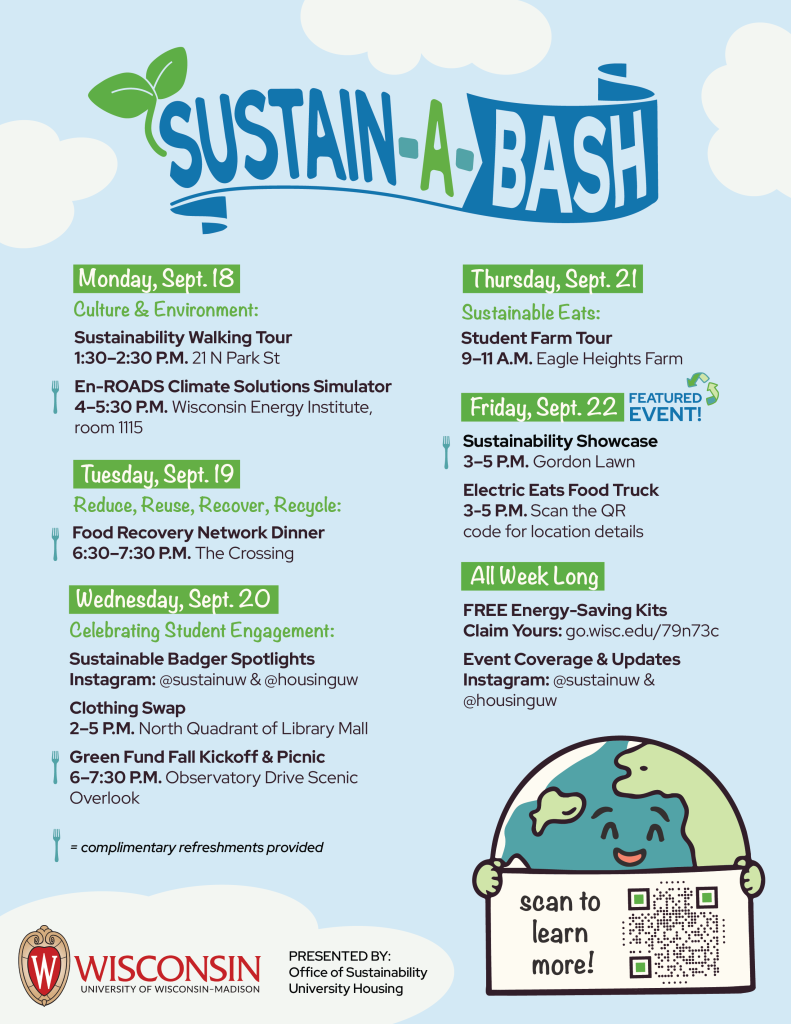 Follow us on Instagram for event coverage and updates!
Event Details
1:30–2:30 P.M. – Sustainability Walking Tour
Meet outside of 21 N Park St
Join the Office of Sustainability for a leisurely stroll to explore some of the sustainability features and initiatives across campus. Leave feeling empowered and educated on how you can get involved and help implement positive change.

4–5:30 P.M. – Climate Solutions Workshop: En-ROADS Climate Solutions Simulator
Wisconsin Energy Institute, room 1115
Work together to identify climate solutions and test their impacts on global temperature using the cutting-edge computer simulation, EnROADS! WEI will lead the group through evidence-based modeling and engaging conversation as you create your own future climate scenario of success. Free vegetarian snacks will be provided.
6:30–7:30 P. M. – Food Recovery Network Dinner
The Crossing
The Food Recovery Network invites you to a buffet-style dinner featuring a variety of pre-prepared dishes recovered from dining facilities across campus. Make new friends while preventing food waste!
Sustainable Badger Spotlights
Instagram: @sustainuw & @housinguw
Learn how students are leading the way on countless sustainability initiatives on campus through a series of features and stories posted throughout the day. Want to spotlight a student, project, or organization doing great work on campus? Share it to your story and tag @sustainuw for a re-share!
2–5 P.M. – Clothing Swap
North Quadrant of Library Mall
Bring your old clothes or just pick up someone else's at this collaborative swap! Comb through contributions from Re-Wear It, SuccessWorks' Career Closet, and Hillel to look both your sharpest and most sustainable for any occasion.
6–7:30 P.M. – Green Fund Fall Kickoff & Picnic
Observatory Drive Scenic Overlook
Come eat tasty food, meet other students, watch the sunset over Lake Mendota, and share ideas for how to make the UW campus more sustainable! All are welcome. Feel free to invite friends! We will provide food and picnic blankets. No need to have an idea or group before the event, or to stay the whole time. Please RSVP here and learn more about the Green Fund here.
9–11 A.M. – Student Farm Tour
Eagle Heights Farm
Join University Housing and FH King for a tour and harvest at Eagle Heights Gardens! Eagle Heights Gardens is one of the oldest and largest community gardens in the United States with growing techniques and food culture from many countries.
3-5 P.M. – Sustainability Showcase
Gordon Lawn
Organized by the Office of Sustainability and University Housing, the Sustainability Showcase introduces Badgers, especially first-years, to sustainability through a celebration of campus and community resources. Join us to shoot your shot at trashketball, make a smoothie on the blender bike, enjoy music from WSUM, and connect with over 45 local sustainability groups! Complimentary refreshments will be provided. In the event of rain or inclement weather, the event will be moved inside Gordon.
3-5 P.M. – Electric Eats Food Truck
Location details to be posted on Instagram
Grab some quick sustainable snacks from Electric Eats, UW–Madison's all-electric food truck! Electric Eats offers a variety of responsibly sourced food items in low-waste packaging options to help Badgers live sustainably, even on the go. Check @sustainuw on Instagram on 9/21 to learn where the truck will be on campus.
FREE Energy Saving Kits
With lower temps and higher energy bills on the horizon, the Office of Sustainability is here to help Badgers prepare and save. This fall, UW–Madison is participating in the Focus on Energy Higher Education Kit Challenge, a program that enables eligible students and employees to claim a free home energy-saving kit by October 31st, 2023. To support UW–Madison in the challenge, participants should enter the code HE-UWMD when they claim their free kit. Learn more and claim your kit today!
Previous Years
Sustain-a-Bash 2022
In its ninth year, Sustain-a-Bash returned to East Campus Mall, featuring time-tested crowd favorites: the blender bike and a five-foot tall inflatable globe.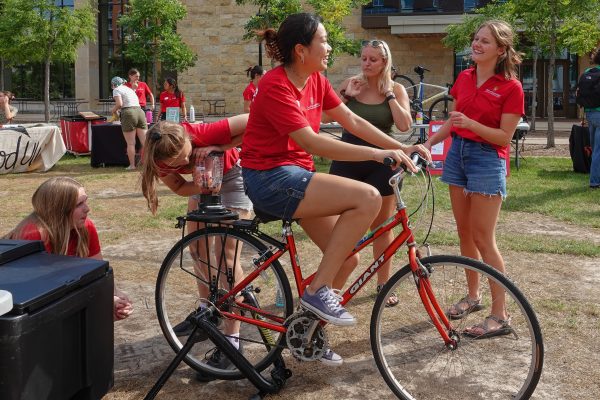 Sustain-a-Bash 2021
Sustain-a-Bash shifted again in 2021 to a weeklong hybrid event with both virtual and in-person activities, including tabling by orgs and groups, a spikeball tournament, a raffle, and locally-sourced snacks from Dining & Culinary Services.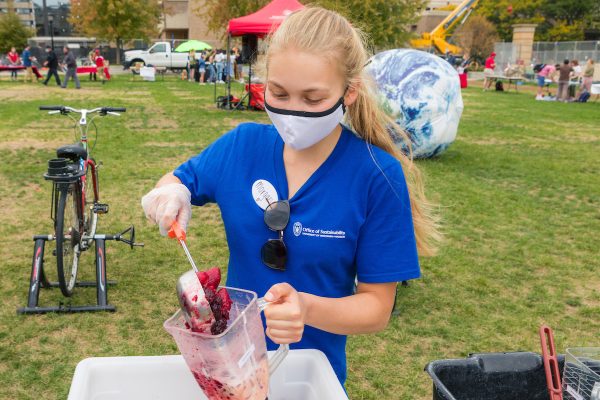 Sustain-a-Bash 2020
Presented virtually over the course of a week, Sustain-a-Bash 2020 focused on the topics of social sustainability, sustainability 101, food, water and energy, and conscious consumerism.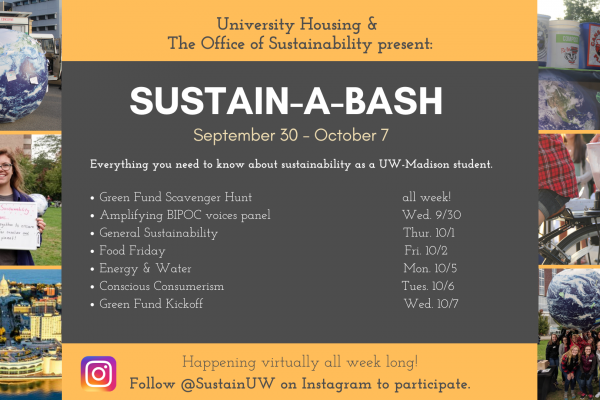 Sustain-a-Bash 2019
Twenty groups and orgs, from Slow Food UW to the Lakeshore Nature Preserve, invited students to learn and interact during Sustain-a-Bash 2019.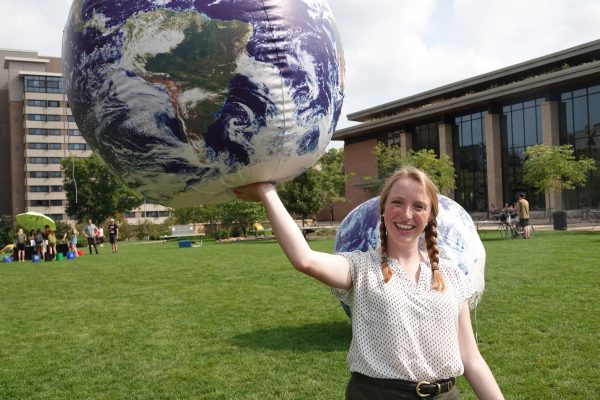 Sustain-a-Bash 2018
From seed bombs to blender bikes, Badgers braved the cold for a great afternoon of activities.
Sustain-a-Bash 2017
"Sustain-A-Bash gives a well-rounded, holistic look at sustainability. It showcases a variety of ways that students can get involved on campus and by volunteering in the greater Madison community."