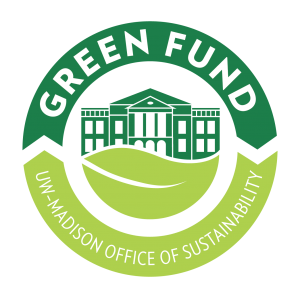 The UW–Madison Green Fund supports student-initiated projects that address the environmental footprint, social impact, and operating costs of campus facilities. Both graduate and undergraduate students are welcome to apply.
The Green Fund is not a revolving fund; however, cost savings and return on investment are important considerations in the proposal evaluation process. Equally important to the mission of the Green Fund is that students gain practical experience translating their ideas into operational realities.
Since launching in Spring of 2017, the Green Fund has supported a solar array on Gordon Dining & Event Center, an energy-efficient greenhouse cooling system, a water-efficient toilet retrofit, a compost collection pilot program, mobile water bottle refilling stations, and other projects.
The Green Fund Process
Start with a pre-proposal, short and simple. These can be submitted anytime. Next, submit a full application ahead of either the fall or spring deadline. Read more about the application process.
Developing a high-quality proposal takes time. If you have an idea to reduce resource consumption at UW–Madison, now is a great time to get to work. After reviewing the FAQs, contact Ian Aley, the Green Fund Program Manager, at iraley@wisc.edu. He can help you find a path forward, moving your ideas to action.