The Green Office Certification program helps campus offices of any size to become more sustainable workplaces through a three-step certification process. The program is designed to give UW–Madison employees the information and tools they need to learn about sustainability, better understand the impacts of their practices, and create healthy and sustainable work environments.
Join the Green Office program to become part of a campus community where sustainability is meaningful and widespread!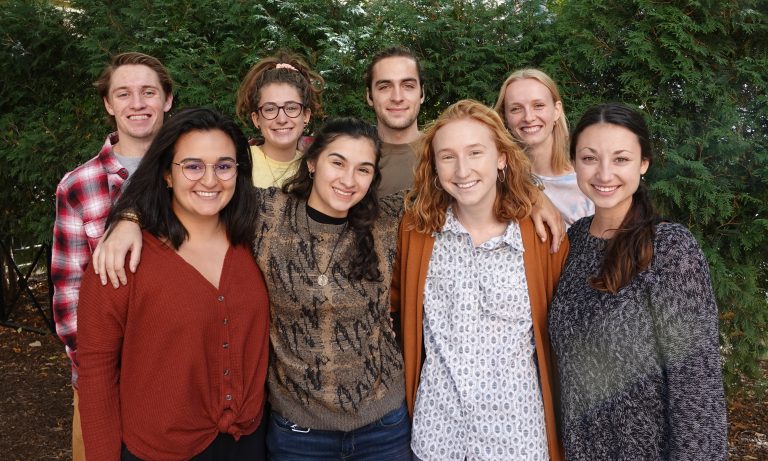 The Green Office Process
What does a green office look like? Some ideas may spring to mind quickly: turning off lights, recycling, and using less paper—and these are a good start! But sustainability encompasses much more, from purchasing choices to employee health and wellness.
The Green Office Certification consists of four levels. For each level of certification, participating offices receive an educational presentation from the Green Office team, a checklist of action items to complete, and a two-week check in to discuss their progress and move forward.
Offices can take a step above and beyond at each level to achieve Platinum level certification. The Office of Sustainability is available as a resource throughout these steps.
These certification steps won't take up much of your office's time, but can have meaningful and lasting impacts on our campus and community. The average certification process requires three 30-minute meetings over the course of 3 months, but can be adapted to your office's needs. Begin your journey through certification now!
Bronze
Waste and Recycling Streams
Silver
Energy and Water Savings
Gold
Sustainable Purchasing
Platinum
Complete Additional Steps at Each Level
How to get started
Contact us
Contact our Green Office Team to schedule an initial overview presentation. The OS interns will visit your office to give a short presentation (around 15 minutes) about the Green Office Program, how it might work for your staff, and why it is important for our campus community. We'll then invite you to designate a Green Officer to lead your office through the certification process.
Get Educated
The Green Office team will present to your entire office about sustainable practices and what sustainability looks like on our campus, beginning with the Bronze Level. They will give a short but comprehensive overview of how recycling works on campus and will answer questions you might have about office recycling.
Take Action
For each level, complete the action items on your checklist to make your office a more sustainable workplace. If you're hoping to achieve Platinum certification, complete extra action items during each level.
Move Forward
The Green Office team will check in after two weeks to go over your progress and answer any questions you may have. Typically, offices move on to the Silver Level after four weeks.
To learn more or join the program, read on or contact our staff at greenoffice@lists.wisc.edu.
Certified Offices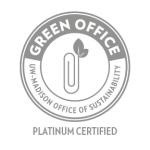 DeLuca Biochemistry, 420 Henry Mall – January 24th, 2020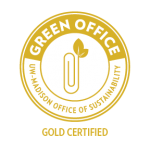 Morgridge Center for Public Service, The Red Gym – November 1st, 2018
Economics Career Office, Sewell Social Sciences – April 26th, 2019
Office of Sustainability, 445 Henry Mall – June 19th, 2019
Grainger Hall Facilities, 975 University Avenue – November 1st, 2019
Medical Scientist Training Program, Health Science Learning Center- January 1st, 2020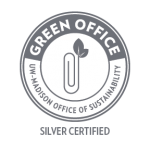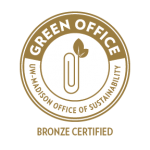 The Daily Cardinal, 2142 Vilas Communication Hall
WSUM 91.7 FM, 333 East Campus Mall
Office of Academic Planning and Research, 170 Bascom Hall – June 26, 2019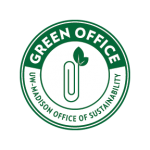 Campus Planning and Landscape Architecture, 30 N Mills
BioChemistry, 433 Babcock Drive
Microbial Sciences Building, 1550 Linden Drive
Economics Advising Department, Sewell Social Sciences Building
Nelson Institute for Environmental Studies, Science Hall
Wisconsin Energy Institute, 1552 University Avenue
Primate Center (WNPRC), 1220 Capitol Court
Medical Scientists Training Program, Health Science Learning Center
Career Exploration Center (CEC), 114 Ingraham Hall
Horticulture Department, 1575 Linden Drive
Discovery 2 Product (D2P), 1403 University Avenue
Physical Therapy, 1300 University Avenue
Office of Compliance, 361 Bascom Hall
Grainger Hall, 975 University Avenue
Sociology Department, Sewell Social Sciences Building
Student Print, 333 East Campus Mall Suite 3301
Grainger Hall, 975 University Avenue
Environment, Health and Safety (EHS), 30 East Campus Mall
Center for Integrated Agricultural Systems, 1535 Observatory Drive
International Academics Program, 716 Langdon Street #301
Educational Sciences, 1025 W Johnson Street