At the inaugural UW-Madison Sustainability Symposium, Josh Arnold presented a major pilot project that could allow UW–Madison to generate more renewable energy.
"Our students, staff, faculty, and alumni—including many in this room—are demanding bold climate action now," said Arnold, the Campus Energy Advisor for the Office of Sustainability. "Producing electricity using renewable energy such as solar panels is an important way to advance climate goals. As a result, we're seeing more solar projects throughout Wisconsin."
"How might we plan a solar and agriculture project with the Wisconsin Idea top of mind?" he continued. "How might we center people-based resilience and equity while creating a unique research-based laboratory for faculty and students? And how might we accomplish these lofty goals with a zero-dollar project budget?"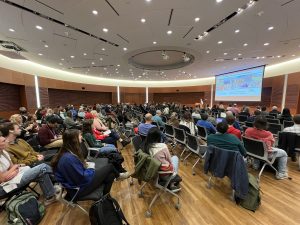 The answer is "Badgervoltaics," a pilot project that will install solar panels at the nearly-300-acre Kegonsa Research Campus (KRC) near Stoughton, a short drive from the Madison campus. Badgervoltaics will involve students and faculty in studying agrivoltaics, a rapidly growing field that joins agriculture with solar energy production. At KRC, there is the potential, "at this time next year," to "produce enough energy to power more than 450 homes per year." In addition, the project may serve as a model for addressing farmers' and other residents' concerns about solar installations on agricultural land.
Arnold's presentation came during the flash talks portion of the Sustainability Symposium hosted on October 26 at the Discovery Building. The Office of Sustainability and the Nelson Institute for Environmental Studies co-organized the event so that students, faculty, and staff members could share their research about sustainability, inspire participation in future research, and solicit ideas. Presenters each spoke for five minutes about a variety of topics relating to sustainability, including carbon conversion technologies, battery chemistry, sustainable inputs for carbon-nitrogen bond formation, and polylactic acid cup disposal on campus. A poster session following the flash talks allowed for networking and conversation about even more topics.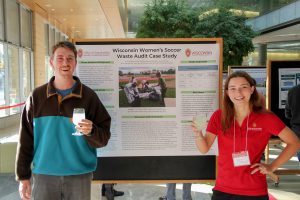 Mikhaila Calice, a PhD candidate in the Department of Life Sciences Communication, discussed two workshops she created to learn more about opinions on community energy management across the state.
"There have been a lot of … recent efforts around the state and by the state government to deal with clean energy in Wisconsin, such as the Sustainability and Clean Energy Office and the Clean Energy Plan that was introduced this past spring," she said. "But, in Wisconsin, less than a quarter of our energy comes from clean energy resources."
"Will Wisconsin become a leader of the clean energy transition? If so, what would that look like for the state of Wisconsin? More specifically, what would that mean for local communities throughout the state?"
Calice's workshops, funded by Holtz Center, brought together a range of community members in different areas of the state, students, employees for energy nonprofits, private industry workers, and researchers. Participants voiced support for energy technologies, a belief in the responsibility of local governments to address climate change, and "mixed views" that their communities have the resources to combat the climate crisis.
"Because the energy transition and climate change are such intersectional issues, a range of community members need to be engaged throughout the entire process," Calice said.
In her keynote address, Andrea Hicks, the Director of Sustainability Education and Research for the Office of Sustainability, spoke about the kind of collaboration Calice mentioned.
"We have a myriad of cascading issues relating to climate change," Hicks said. "So we really need to think carefully about how we're solving these and what the potential impacts are to what we're doing. And that's really where sustainability comes in."
Hicks summarized the history of sustainability efforts on campus, which began with the We Conserve campaign in 2006 and led to former Chancellor Biddy Martin to announce the UW–Madison Sustainability Initiative in 2010. That year, the Sustainability Task Force recommended the creation of the Office of Sustainability; in March 2012 it materialized, with Craig Benson and Faramarz Vakili serving as co-directors. In recent years, the Nelson Institute created the undergraduate Sustainability Certificate, while the Office of Sustainability has developed the UW Zero Waste Initiative, founded the Sustainability Advisory Council, and benchmarked university progress through self-reported STARS assessments.
While UW–Madison has maintained its silver level status through the STARs report, it still ranks in the bottom three in sustainability among peer universities, as detailed in a recent Cap Times article.
"I think often the question is, why is there opposition?" Hicks said in response to an audience question about overcoming opposition to sustainability efforts. "Understanding what the challenge is and seeing where we can have situations where there are wins for multiple people. Sometimes it's taking the walk in the other person's shoes: understanding what is the challenge and are they opposed, or is it something else?"
Sometimes, though, ideas and proposals can be rejected, and another "challenge is that often university progress is slow," so "it's kind of hard to see the long view of that progress when your time on campus is very, very short."
In her closing comments, Chancellor Jennifer Mnookin suggested sympathy and possibly a greater willingness to accelerate sustainability projects on campus.
"I just want to emphasize that I think this work is incredibly important. It's incredibly important for our world; it's also important for our university," she said.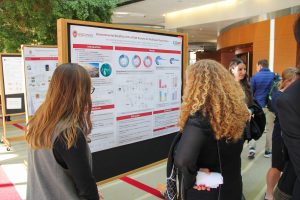 Mnookin previously served as dean of the School of Law at UCLA, which holds a gold STARs rating. She appeared to carry that initiative into her presence at Wednesday's symposium, as she spoke about the need to act quickly, on campus and in the world, to advance sustainability against climate change and its "disproportionate effect" on the most vulnerable communities and communities of color."
"This is a potential existential crisis, maybe even more than potential," she said, lowering her voice, not reading from her prepared remark and looking directly at the audience. "Here we are in a world that is quickly at risk at becoming unsustainable for the means of existence that we've in many ways taken for granted. And it feels very, very hard to figure out what to do about it fast enough, deeply enough, and effectively enough to bring about change."
"And in the face of that you are not being resigned, or quiescent. You are finding ways to move forward and make a difference and to pull people together collaborative to engage around these issues of sustainability. We need that, we need you, and we all need to figure out what we can do to help create a world that can sustain itself."
By: Marek Makowski