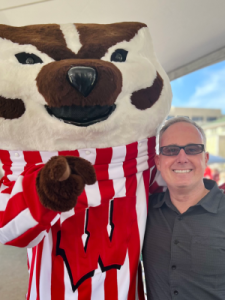 Josh Arnold is the Campus Energy Advisor with the Office of Sustainability, where he is responsible for coordinating energy conservation, renewable energy and strategic planning efforts at the campus of the University of Wisconsin-Madison. Working with campus and community stakeholders, he coordinates and implements energy efficiency and renewable energy projects that advance clean energy for people, planet and shared prosperity.
Josh has 20 years of experience in the sustainability industry, including energy efficiency program implementation with the Wisconsin Focus on Energy program, stakeholder engagement and market development with the U.S. Green Building Council, and management consulting with Navigant Consulting (now Guidehouse), where he developed the 100% Renewable Madison report for the City of Madison, WI.  Josh started his career in Portland, Oregon with the City of Portland Office of Sustainable Development.  His education includes a J.D. in environmental law from Lewis & Clark Law School and an M.B.A. from Portland State University.  He has a B.A. from Tufts University in Boston, MA and certificate in Ocean Resources Policy from the University of Hawai'i at Manoa in Honolulu, Hawai'i.
Current and Recent Activities Include:
Industry Advisor, Energy Analysis and Policy Graduate Certificate program, Nelson Institute for Environmental Studies
Research Collaborator, WEREWOLF (Wisconsin Expansion of Renewable Electricity with Optimization under Long-term Forecasts) Scenario Planning for the Wisconsin Energy System of 2050, Wisconsin Institute for Discovery.  Develop policy interventions and discussions with policy makers to inform scenarios for moving Wisconsin to a clean energy future.
100% Renewable Madison Report, City of Madison, Wisconsin.   Josh worked with the City of Madison to develop a roadmap to meet their goals for 100% renewable energy and zero-net carbon emissions. We developed a comprehensive approach with 20 climate actions that were technically and financially feasible within the current regulatory environment. In 2019, the Madison Common Council unanimously approved a resolution to implement the 100% Renewable Madison report's recommendations to meet Madison's ambitious energy goals.