The first Student Sustainability Leaders Meeting took place on October 10, 2022 at The Crossing on the UW–Madison campus. The event was hosted by Angelina Mico, the co-executive director of Slow Food UW; Jacob Breit, the sustainability chair for the Associated Students of Madison; and Melina Nguyen, Ben Yang, and Maya Barwick, students affiliated with the Office of Sustainability (OS).
Student organizations and campus entities—such as the Madison chapter of Engineers for a Sustainable World, Helios, Audubon Society, UW–Madison,  GreenHouse Learning Community, and many others—brought representatives to the event. Nguyen, an OS intern and event organizer, said the event was established "to identify some of our common goals that we will be able to work towards as a campus."
"The original idea for the event was to host a space where different student orgs and leaders in sustainability can come together and talk about the projects and campaigns that they're working on this semester," Nguyen said. "We hope that, if this is successful, we can continue this in the future and have regular check-ins with different sustainability organizations so we can hold each other accountable for what we're trying to accomplish."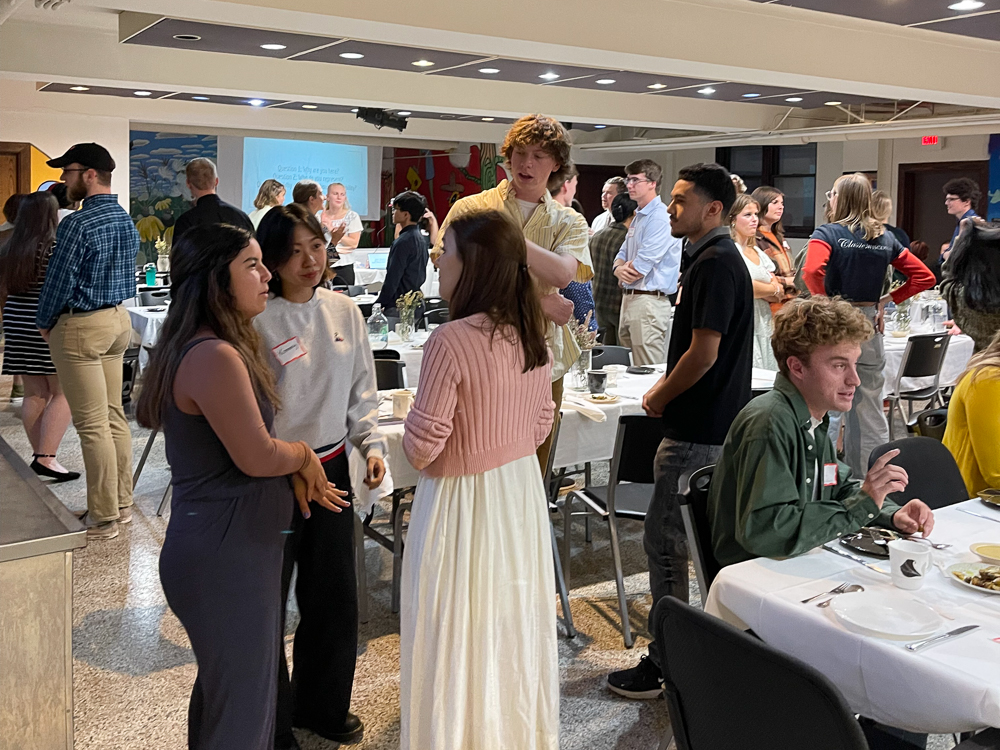 Slow Food UW, a campus nonprofit "supporting local and sustainable food production," prepared food for attendees, while F. H. King: Students of Sustainable Agriculture, which cultivates a sustainable garden at Eagle Heights on campus, provided the kale and artichokes for the event. 
The event fostered a conversation about collaboration and ideas for creating a stronger, united front on sustainability at UW–Madison. Organization representatives introduced themselves, and students presented opinions about how they—along with university leaders and organizations—can improve.
"I'm really excited for this year," Breit, the ASM sustainability chair, said at the event. "I want to make sure that everyone is open and transparent, that they want to be collaborative: make short-term, medium-term, and long-term goals and stick to them."
Topics ranged from how professors teach climate change to how new students can get involved in the sustainability movement on campus. Below, you can read selected quotes from the event.
On expanding the sustainability community


Graham Stigler, finance co-director for

Slow Food
"I think communication between sustainable orgs is something that is crucial to move forward … but I want to caution us from thinking that this is enough. … We need to make sure that people that aren't familiar with ideas of sustainability, that aren't familiar with ideas of doing work for a better future, are educated and having a sustainability group with another sustainability group doesn't really spread that out."
"Make sure that you just let as many random people know how you feel, and these random people are maybe more important than people that might already get the gist, that might already sign the petition, might already do the work."
On Office of Sustainability resources


Maya Barwick, undergraduate project assistant for the

Office of Sustainability (OS)
"My main goal is to foster relations between the OS and students and vice versa … I just use the resources at the OS, basically as many as I can find, and provide them to an org, so if you guys come to me I will do my darndest to get you what you need."
"We also want to hear from you guys … so I created … an anonymous student dropbox. Please go submit comments to the OS about what you want to see them work on [and] how you want them to use their money."
On current ways of teaching sustainability in non-sustainability-related majors


Maya Barwick, undergraduate project assistant for the

Office of Sustainability
"When professors in non-sustainability-related courses try to work in sustainability it's usually in the form of a climate change documentary … that's only focused on like climate doomism and paints the picture in the worst way possible. Granted it does need to be painted that way sometimes—like, come on, it's really bad—but it just paints it in such a doom and gloom way that most people, including myself, just walk away from the class thinking, 'Wow, it doesn't matter what I do because we are [doomed].'"
On food sustainability


Angelina Mico, co-executive director of

Slow Food UW
"Our mission is to provide good, clean, fair food for all members of our community. … Typically a lot of people think that we're just for students, but we do welcome all community members in Madison. How we go about solving our food security, food justice goals [is] sourcing ingredients from farmers' markets and local farmers. We try to get as much attention to local farmers as we can by inviting them into our kitchen to cook with us—lots of local chefs and things like that, just trying to basically feed everyone in a sustainable way."