"Zero waste"—it's an idea that can feel slightly naïve in our consumerist culture. Nearly everything we do produces waste of some kind. And when large groups of people gather for an all-day event—say, hundreds of attendees at the 2018 Earth Day Conference, hosted by the Nelson Institute for Environmental Studies and held at Monona Terrace—the challenge of significantly reducing waste, much less whittling it down to virtually nothing, is all the more daunting.
Appropriately, however, the theme for the conference was "Up for the Challenge," and a small team of students and staff from the Nelson Institute, Monona Terrace, and the Office of Sustainability made good on that promise.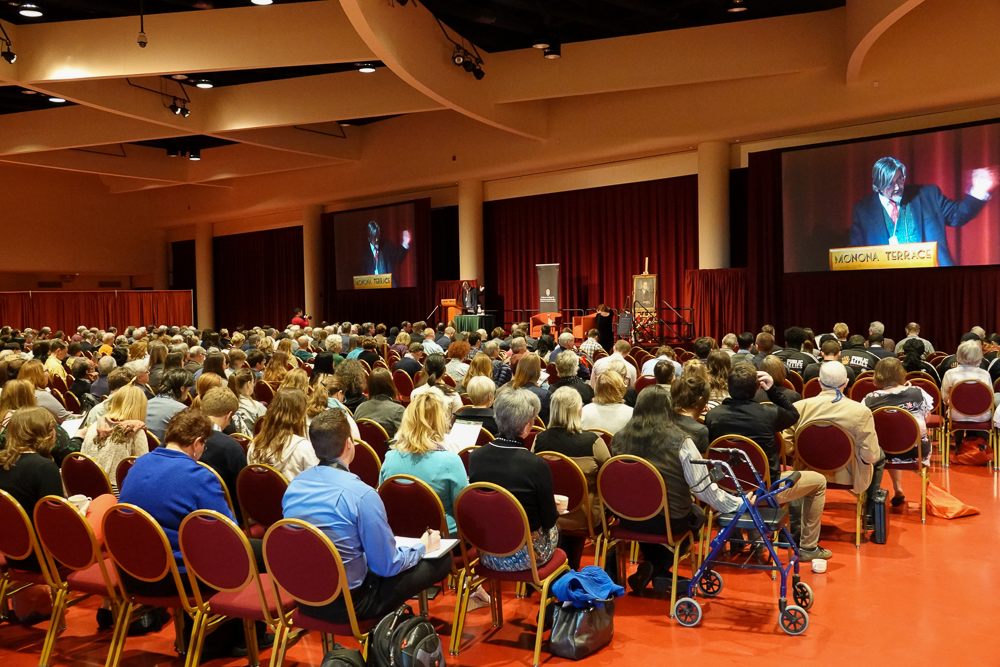 The technical definition of zero waste is diverting at least 90% of waste from the landfill—that is, by recycling, composting, and/or reusing—with 100% diversion as the ultimate goal.
Office of Sustainability interns Ally Burg and Noemy Serrano had been researching zero waste ahead of a presentation for Earth Week. But their presentation focused mainly on zero waste for individuals, and they were eager to identify an opportunity to test their programming on a larger, public scale. So they reached out to the Nelson Institute to propose a zero waste pilot at the Earth Day Conference.
The Nelson Institute jumped at the opportunity to take advantage of the interns' knowledge and enthusiasm in order to improve the waste stream at the 2018 event, as well as lay the groundwork for an official zero waste Earth Day Conference in 2020, which will be the 50th anniversary of Earth Day and of the Nelson Institute.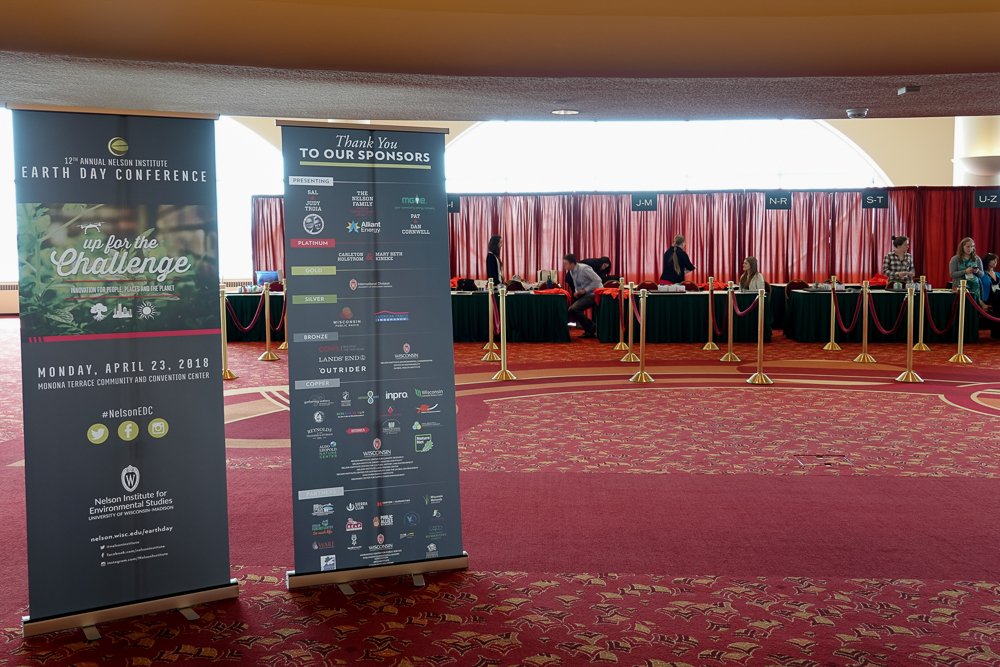 A series of planning meetings followed, in which Emily Reynolds, who is Assistant Director of Community Engagement and Alumni Relations at the Nelson Institute, met with Burg and Serrano to pore over the Monona Terrace floor plans.
A zero waste event, after all, comes down to nitty-gritty details. Monona Terrace is a large, beautiful building built on the shore of its namesake lake. The conference events are split between two floors and include multiple rooms, so the zero waste team had to account for a variety of spaces and crowd movements. In addition, there were not only water stations available throughout the conference—which featured compostable, plastic lookalike cups—but two breakout sessions in the exhibitor hall with coffee, tea, and snacks, as well as a catered vegetarian lunch.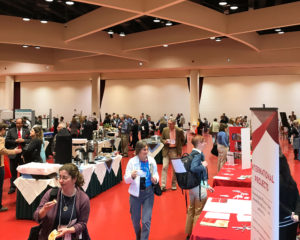 These factors led to a number of tricky questions. How should signage be designed and displayed to maximize proper waste disposal? Could ceramic dishware and metal cutlery be used for all meals or only for some? Who would bring the compost to the loading dock, and were there enough tip carts to handle the increased quantity? Were the plastic lookalike cups that are labeled compostable actually compostable? (Thankfully, the answer was yes.)  And what should be done about those darn tea bag wrappers?
Fortunately, the Nelson Institute already designed their conferences with sustainability in mind, so Burg and Serrano's anticipated a relatively small amount of initial waste from the get-go. With Reynolds, they decided that the key to achieving that 90% or better diversion rate—or, at least, aspiring toward it—was in proper messaging, hard work during the conference, and the participation of the dining and custodial staff at Monona Terrace.
In the weeks leading up to Earth Day, Reynolds sent a message to all conference attendees asking for conscientious participation in the zero waste pilot and suggesting that attendees bring reusable water and/or coffee containers. Meanwhile, Burg and Serrano designed and printed custom signage, finalized plans for acquiring enough compost buckets, and maintained contact with Lyle Jelle at Facilities Planning & Management, whose crew would be making the eventual waste pick-up.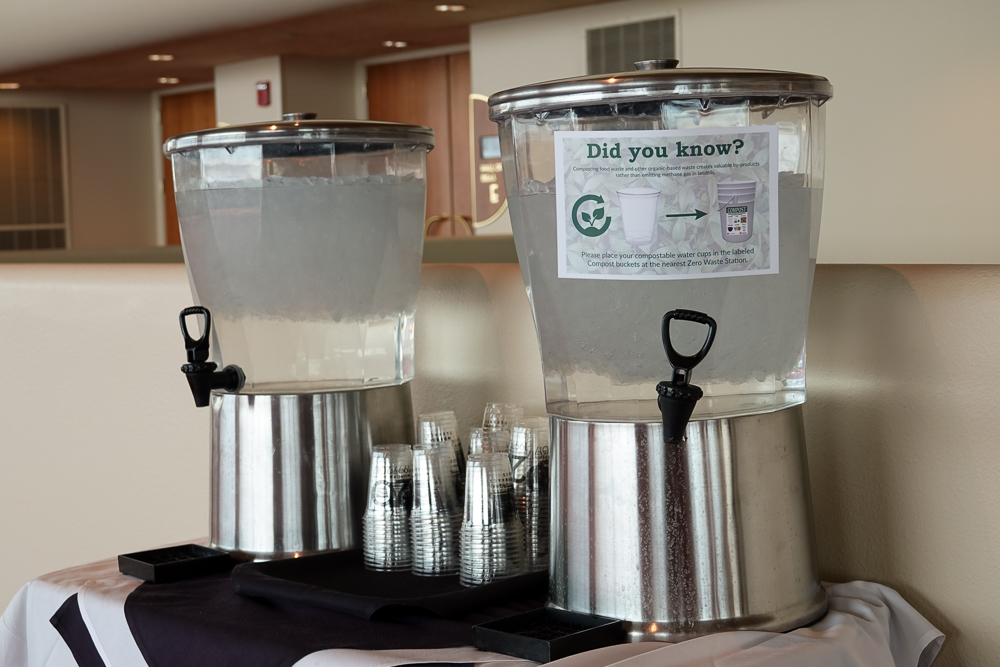 On the day of the event, Burg directed a rotating pool of Office of Sustainability interns, who volunteered as zero waste experts to monitor the different waste stations and help answer attendees' questions. Meanwhile, she and Serrano hauled compost buckets back and forth from the loading dock for dumping and coordinated with Monona Terrace staff to ensure that the lunch leftovers (which were served on conventional dishes and collected by the servers) were sorted properly.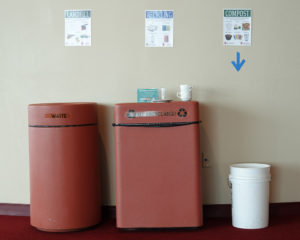 "Monona Terrace staff from different departments worked with our team to make all parts of the event a huge success," Burg said. "They were friendly and helpful from the get-go, and this made a big impact throughout the day."
Following the last plenary session, Burg and Serrano descended to the loading dock to weigh the trash, recycling, and compost and calculate the diversion rate. After lots of lifting and measuring, they poured all of their data into a spreadsheet, added formulas, and held their breath.
"Noemy's messages were open on my phone while I was doing the final calculations at 8pm that night," Burg recounted. "She was excited and impatient to hear our results."
What they found was a wonderful affirmation of this collective experiment: a 96.3% diversion rate, well within the acceptable range for a zero waste event.
"Working towards Zero Waste was really exciting and working with the Office of Sustainability to get there was a pleasure. Next stop: carbon neutrality!" said Paul Robbins, Director of the Nelson Institute for Environment Studies.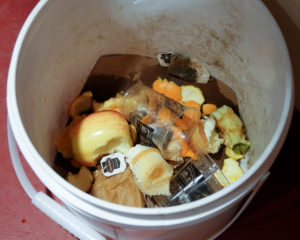 Reflecting afterwards on the pilot, Burg, Serrano, and Reynolds shared their happiness as well as thoughts on further improvement to the program. Reynolds received positive comments from many attendees on the zero waste implementation; in addition, many attendees brought their own reusable containers to the conference and took advantage of the digital program instead of the printed version.
On the flipside, some imprecision necessarily crept into the calculations. Burg and Serrano had to estimate certain numbers —such as the exact weight of coffee grounds composted, or of uneaten lunches (which were estimated by weighing a complete meal on its plate, subtracting the plate weight, and multiplying by the number of uneaten meals). With more volunteers and additional lead-time for collaboration with Monona Terrace, both goals for future years, precise numbers might have been easier to obtain. In addition, some supplies for the conference were not included in final calculations (like cardboard boxes for programs and paper scraps left behind in the exhibitor hall). But both of these factors would likely have made the diversion rate better rather than worse, Burg noted, because they would have led to more compost and recycling as opposed to more landfill waste.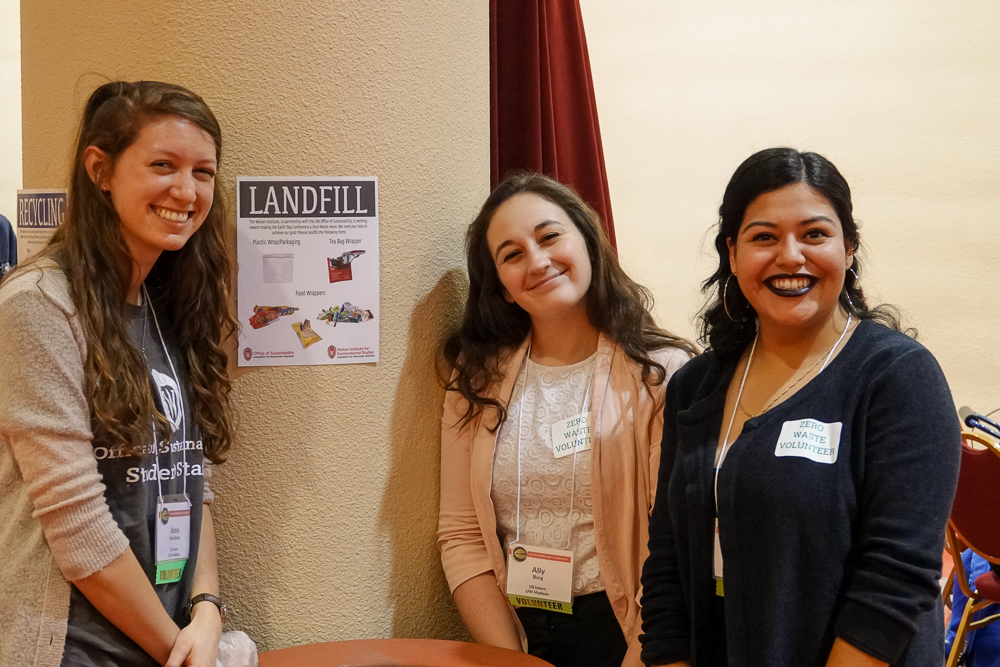 Finally, the heroic efforts of interns to optimize the waste stream played a critical role in the team's success. Though signage indicated that the water cups provided at the conference were compostable, many made it into the trash or recycling. Likewise, hundreds of tea bag wrappers found their way to the compost, likely because the tea bags themselves, including the paper tags, were in fact compostable. This kind of sorting problem is rampant in waste stream management; think of the challenge of getting consumers to pull apart coffee cups and place plastic tops, cardboard sleeves, and waxed paper bodies in different bins. Showing typical initiative and enthusiasm, Office of Sustainability interns voluntarily plucked out as many of these improper items as possible and placed them in the correct waste stream prior to the final diversion calculations.
Does this mean the event was not "truly" zero waste? Hardly. The diversion of waste from the landfill was, after all, the point—however it happened. For the hundreds of attendees on Earth Day, only 11 pounds of waste was sent to the landfill.
But in future years, Reynolds, Burg, and Serrano know that the messaging will have to be better, the signage bigger and clearer, the volunteers more numerous, and the integration with Monona Terrace more comprehensive. Perhaps, they hope, their diversion rate can inch up even closer to the 100% goal.
One can be sure that this team, and those that follow them, will be "Up for the Challenge."
__
Text and photos by Nathan Jandl