UW–Madison is a PLAN Member until December 31st, 2023. All UW–Madison students, staff, and faculty are eligible to take advantage of the campus membership offerings. Below, you can learn more about benefits and registration details.
The Post-Landfill Action Network (PLAN) "aids college students, as well as campus faculty and staff, in tackling unsustainable infrastructure on their campuses. To do this … [they] provide digital and in-person support via leadership trainings, resources, consulting, and zero waste programming. "
PLAN Member Benefits
To access these benefits, register your account at www.postlandfill.org and log in today!
Discount Directory – PLAN partners with socially responsible companies to provide campuses with purchasing discounts on products and services that foster zero waste program success. These can be accessed by individual students/staff, by departments, or by campuses ordering in bulk. Check out the Partner Discount Directory.
Events – The Beyond Waste Student Summits are now FREE to all members in 2021. Use the discount code found in the Member Hub.
Digital Resources and Manuals – PLAN offers a variety of digital campus resources including a program case library, manuals, and toolkits.
Leadership Courses & Certification – Courses are available for free to students of member campuses. Gain and strengthen your skills as a zero waste changemaker on campus by completing the Beyond Waste Leadership Certification program.
Steps to Register and Login
Visit www.postlandfill.org and click on "Login"
2. Click "Register"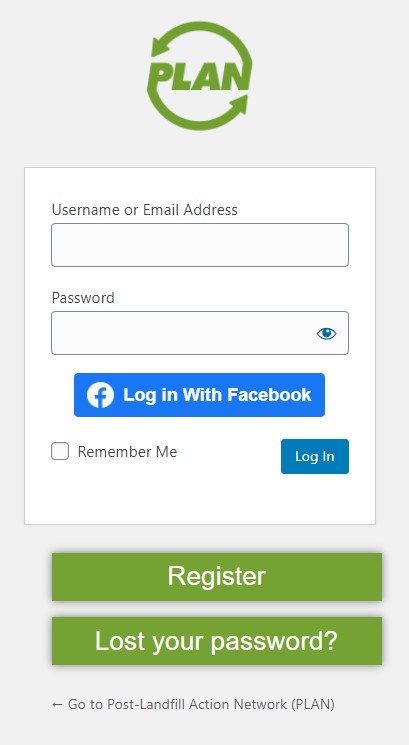 3.  To Register, create a Username and add your Email address (Must be your @wisc.edu email)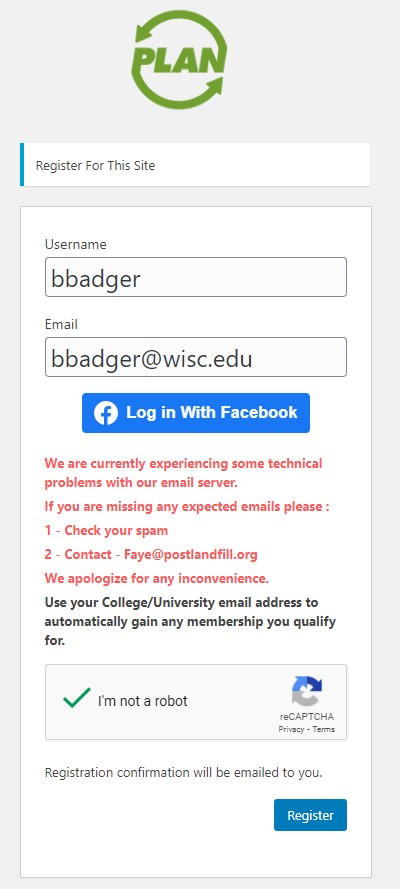 4. Click Register and check your email inbox to activate your account. Your registration is now complete.
Enjoy your member benefits!
For more information, contact UW-Madison's Zero Waste Team zerowaste@sustainability.wisc.edu.