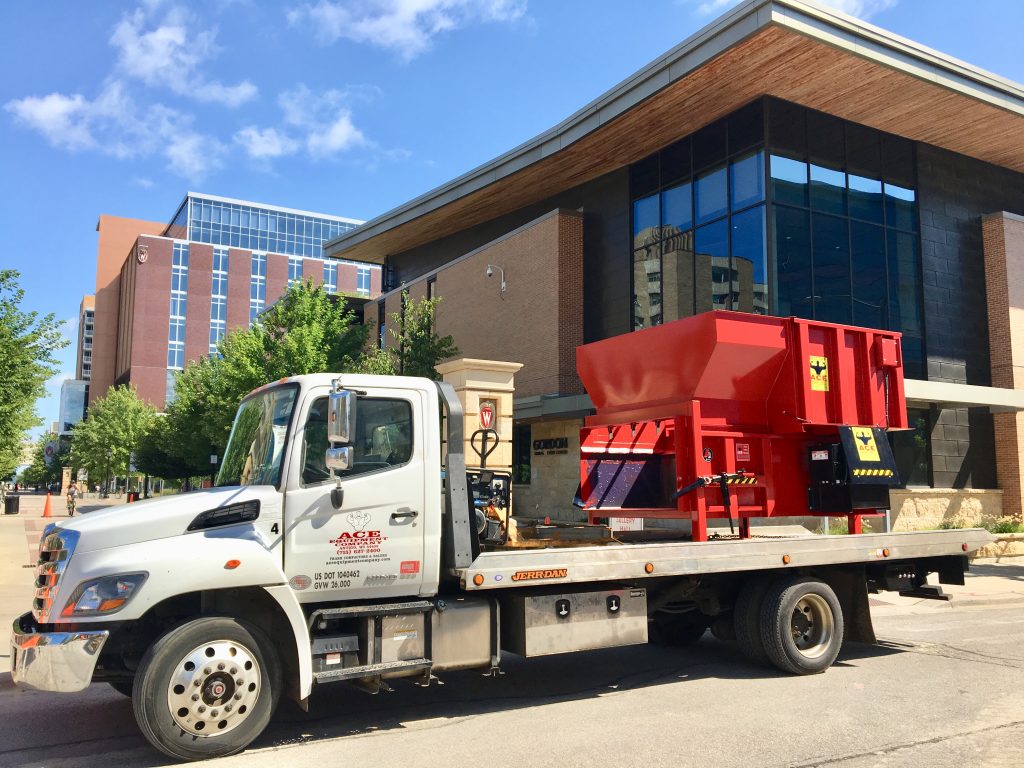 If you had to guess the consumer material that causes the biggest sustainability headaches, what would you pick?
For most, the answer would probably be plastic, and for good reason.  Plastic is literally everywhere: on the highest mountains, in the deepest ocean trenches, in the atmosphere, even in your table salt. And because of the changing recycling market and the widespread problems with contamination of waste streams, it has become substantially more difficult to recycle plastic, even when it is sent to a recycling facility.
But there is another material that is becoming similarly problematic: cardboard. UW-Madison handles a massive quantity of cardboard—five to seven tons a week on average. That's equivalent to approximately 10,000-15,000 standard-weight, 12"-square cardboard boxes every seven days.
Some of this tonnage derives from regular deliveries of food items, equipment, office materials, and so forth, the standard packaging for which is single-use cardboard. But consumer behavior plays a big role, too: e-commerce sites like Amazon, which offer discount prices and fast shipping for practically any product imaginable, have become the go-to shopping solution for many people. Meanwhile, meal delivery services are booming. Everything, it seems, fits in a box. All told, in the United States alone, we ship approximately 165 billion packages—that's billion with a "b"—every year.
What can we do about this glut of cardboard? At UW-Madison, a team of staff and students followed the money—and took some important first steps towards a sustainable solution.
Unpacking the Problem
Prior to the drastic changes in the global recycling market, UW-Madison sold mixed paper—that is, clean paper and cardboard products—to a local materials recovery facility (MRF), where it was bundled and resold to a recycler. Now, this source of income has become an expense: instead of earning money, the university pays around $70/ton to recycle mixed paper.
Pure cardboard, however, retains some market value, at about $15-20/ton, so it makes good financial sense to separate it from other paper products. The trick is to create a system for processing and reselling cardboard waste as cleanly and efficiently as possible.
Lyle Jelle, the Waste and Recycling Supervisor for Facilities Planning & Management, consulted with the Office of Sustainability to devise just this kind of system. With the assistance of Green Fund Program Manager Ian Aley, Jelle teamed up with a group of undergraduate students—Meg DiPoto, Maddie Clarke, and Jackie Millonzi—as well as facilities supervisors Mark Mueller and Dan Kerkman, to create a pilot project at Gordon Dining & Event Center.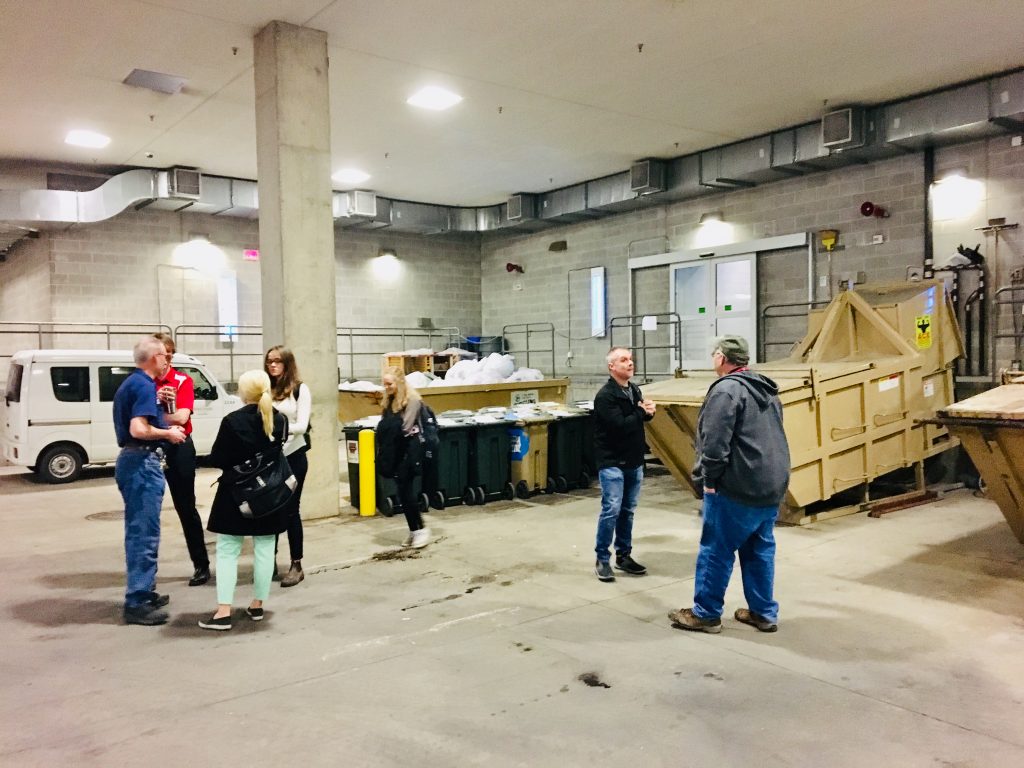 At first, the team explored cardboard balers as a potential solution. These machines crush cardboard into large, discrete cubes weighing up to a half ton, which must be wrapped in baling wire and moved around with a forklift. Because of workflow and safety concerns, however, the team decided instead to invest in a large, 40-yard compactor. The compactor packs cardboard into an enclosed dumpster, and the dumpster is then trucked to the MRF for processing.
The new compactor, which was paid for by the Green Fund, creates a sufficiently large load to justify a direct trip from Gordon Dining & Event Center to the MRF without needing to first combine the load with other mixed paper at the UW Waste & Recycling warehouse. This revised process thus enables the UW to maintain a single stream of cardboard and sell it as a commodity. The student team members estimate that the new compactor will save the UW $50,900 each year between labor savings, revenue from cardboard sales, and avoided mixed paper charges. Over the 15-year life of the compactor, which cost $23,500, the students therefore estimate an ROI of 2,800%.
Maddie Clarke noted that learning about day-to-day realities of facilities and custodial staff paid great dividends for the success of the project. "This project would not have been possible without all the help we received from staff, who were willing to take time out of their day to explain the finer points of loading dock politics," Clarke said. "Seeing this level of dedication to sustainability from staff at UW was by far my favorite part of the project."
Cleaning Up and Moving Forward
The new compactor will only provide a return on investment, however, if cardboard is the sole material the university feeds into the system. If staff at the MRF find contaminants like plastic film, office paper, and other materials in the load, they will reject the delivery. Too many rejections and the university will be forced to pay for all cardboard as mixed paper once again.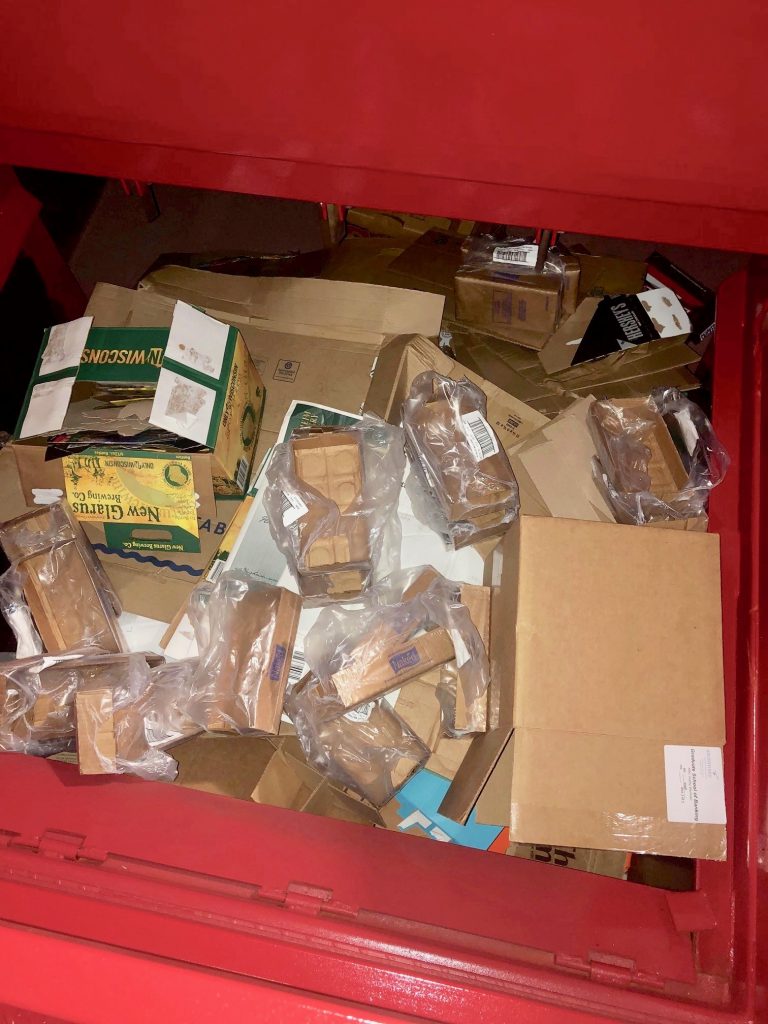 To get ahead of this issue, the student team worked with University Housing Dining and Culinary Services—including Greg Heintz, the Dining manager for Gordon—to determine how to communicate proper procedures to the large, diverse, and ever-changing group of people who use the new compactor. Office of Sustainability (OS) staff collaborated with University Housing to design and print signage in English, Spanish, Hmong, and Tibetan, with pictures indicating what can and cannot go in the compactor. In addition, OS interns Jackie Millonzi and Riley Collins conducted trainings for over 200 staff members. As Millonzi pointed out, "everyone can play a part in better valuing our resources."
University Housing Dining and Culinary Services will purchase handheld trash-grabbing mechanisms so workers can safely remove contamination. Meanwhile, Housing will introduce a day counter, like those used at work sites for "days since last injury," to count the number of days since the last contamination complaint. The Green Fund project team will then work collaboratively with staff to adjust the educational and monitoring campaign based on feedback.
Ultimately, the new compactor system will handle a moderate portion of the total cardboard waste at the UW-Madison, as Gordon Dining & Event Center processes about one ton per week. But if this pilot proves to be successful, UW Waste and Recycling will look to other locations across campus that generate large volumes of cardboard to set up similar infrastructure and user education systems.
A shifting recycling landscape requires that we think "outside the box." And it is important to remember that reducing and reusing are the more sustainable steps before recycling. Nevertheless, this Green Fund project demonstrates the power of convening a multidisciplinary team of students and staff to generate creative and practical solutions, in the interest of deepening our commitment to sustainability on campus.
If you are a student who is interested in getting involved with the Green Fund, you can email Green Fund Program Manager Ian Aley and also join us for the Green Fund Fall Kick Off event on Wednesday, September 18 from 6:00 – 7:30pm at the Memorial Union. Meet other students, eat tasty food, and brainstorm ideas for sustainability projects on campus. Please RSVP via email to Ian Aley.

By: Nathan Jandl