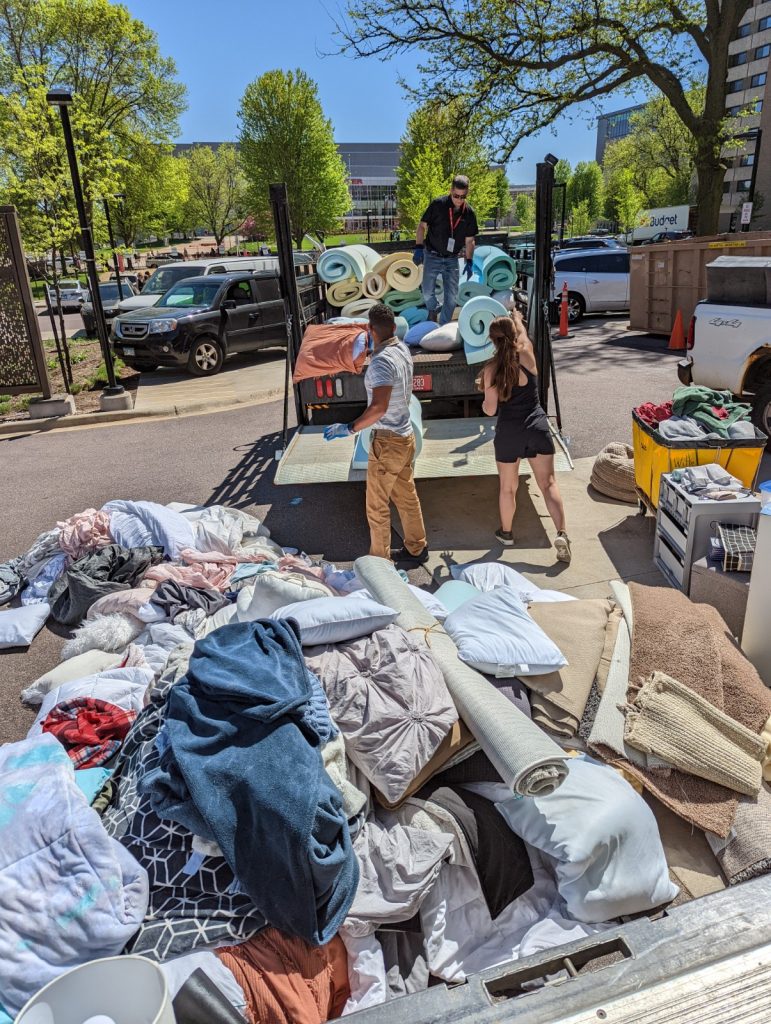 When Malorie Garbe became the Sustainability Coordinator for University Housing in July 2020, she faced a unique experience with Sustainability Move Out. Her predecessor, Breana Nehls, had developed the program to donate or recycle as many belongings as possible when first-year students departed the residence halls at the end of the spring semester. But in 2020 the pandemic had arrived; the two-week campus lockdown had extended indefinitely; and students rushed to pack their belongings and vacate the residence halls. 
"The process was very different," Garbe said. "Students had left campus in a hurry and items were just left in every single residence hall, so the process was more of me going to every single hall and sorting through items throughout the entire summer and into the fall and finding homes for every item."
Those months of clearing objects from residence halls, room by room, in personal protective equipment, have made Garbe appreciate the standard process, which the university returned to in 2021: "a really concentrated effort every year to set up the proper partnerships and recycling outlets so that students have these options and it's not just a leave-everything-behind situation."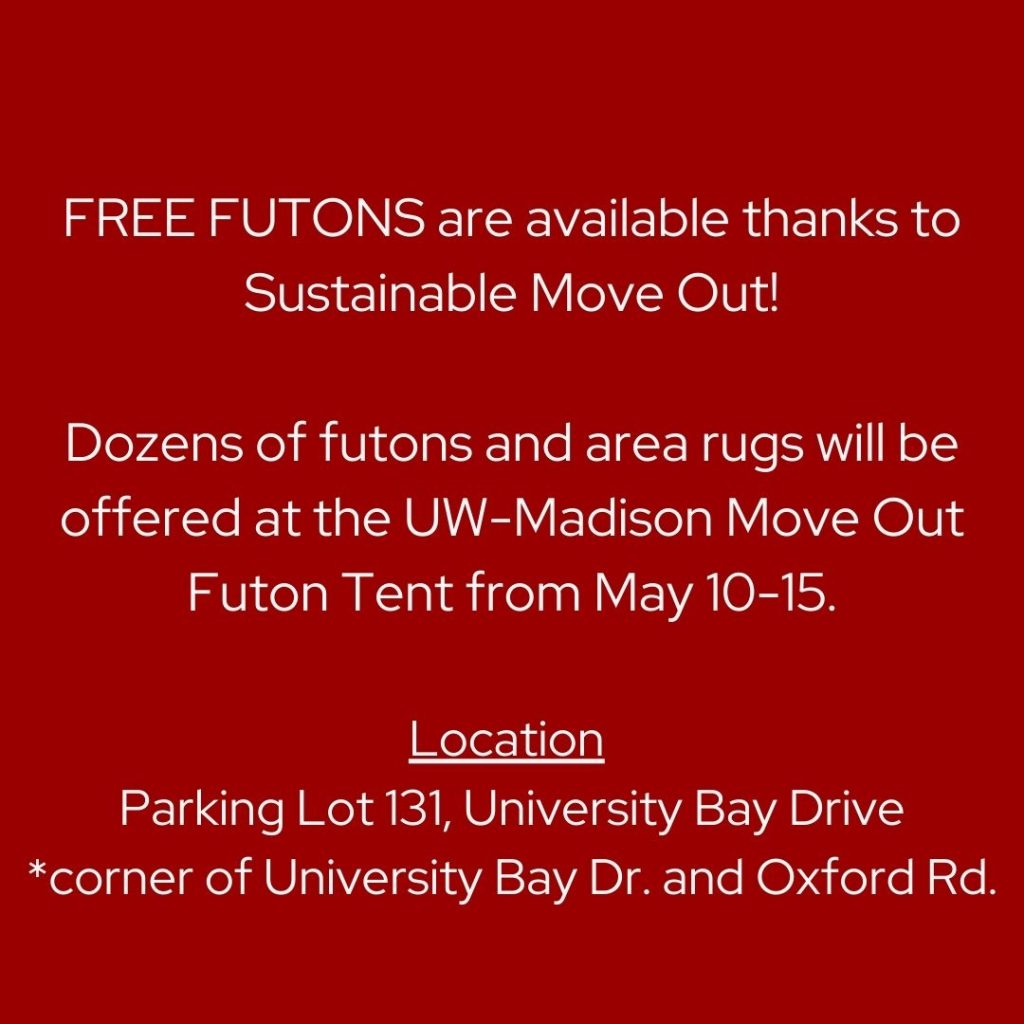 This year's Sustainability Move Out, which will collect items from the 8,690 first-year students leaving residence halls, officially started on Friday, May 5, and will last through Saturday, May 13. But the process began months ago, in January, with planning and coordinating with campus and local partners. The Sustainable Move Out Steering Committee—consisting of members from University Housing, Waste and Recycling, Campus Services, a student representative, and a project assistant from the Office of Sustainability's Zero Waste Initiative—met regularly to discuss the kinds of items expected at Move Out; the best options for recycling, donating, or disposing them; numbers of volunteers needed; and locations and their capacities.
"Every year we have to go back to the drawing board when it comes to where we can take these items because sometimes things have changed with recycling guidelines or the different partners have changed their accepted materials," Garbe said.
This year, Garbe's team organized seven different recycling streams and seven different donation streams. Sustainability Move Out works with campus partners to recycle light bulbs, batteries, and metal. It donates clothing and houseware to Goodwill of South Central Wisconsin, books and school supplies to Saint Vincent de Paul, and non-perishable food to local food pantries. It collects, cleans, and tests microwaves, then donates them to community partners or to new students in the fall. Garbe's team also transports futons and large area rugs to a tent at Parking Lot 131 on the corner of University Bay Drive and Oxford Road, where anyone interested can take the objects for free from May 10 to May 15.
To measure its success and ensure they recycle and donate more than they throw away, Move Out and its partners collect metrics on the amount of items donated or recycled. Last year, they kept more than 115,603 pounds of material out of landfills. The most recent publicly available data  shows that, in 2021, Sustainability Move Out worked with 11 campus partners and 102 volunteers to donate more than 160 microwaves, 200 futons, 700 pounds of electronic waste, 1,700 pounds of metal,  1,900 pounds of food, and 9,000 pounds of carpet, amounting to 96,910 pounds of material diverted from landfills.
"The amount of stuff we're seeing during sustainable move in and move out has greatly increased over the years, and we have metrics from the last couple years to demonstrate that," Garbe said. "We've seen a huge increase in the amount of packages that students receive, and it seems like during Move In we see many residents bringing their own microwave, their own coffee maker, their own futon, and a bunch of other amenities to make the space feel like home."
"It's a huge effort, and when we talk about sorting and what that looks like, we really rely on volunteers … made up of students from classes or University Housing residents who have a passion for sustainability," Garbe said.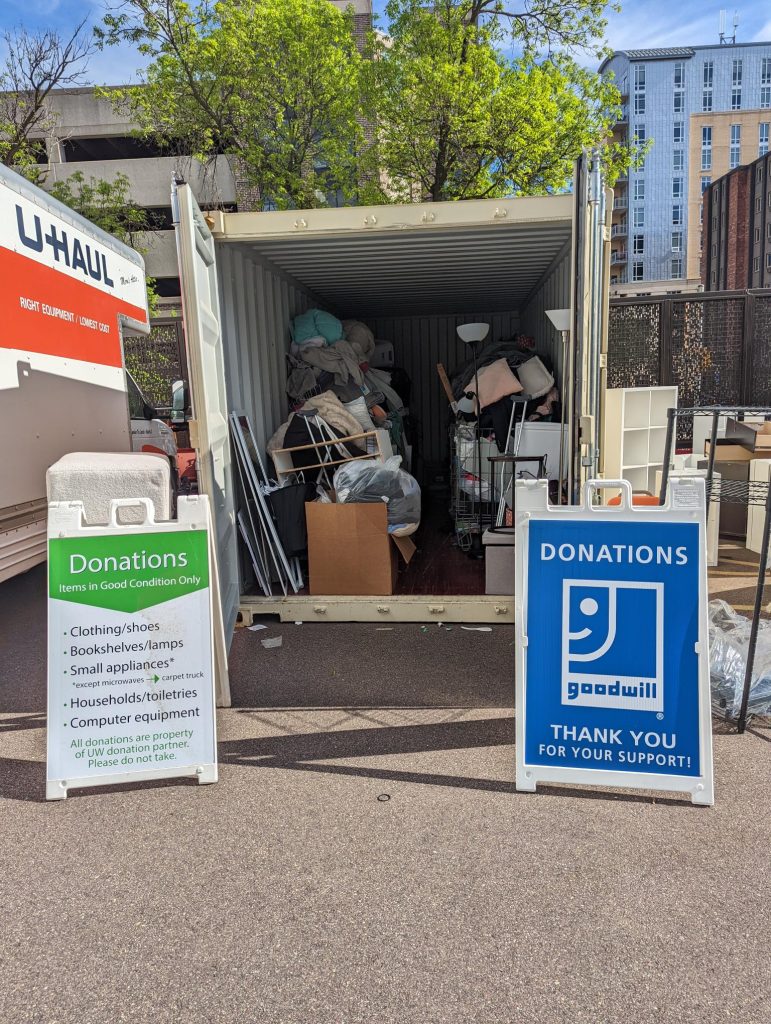 People can still register to be volunteers during this year's Move Out on the sign-up page. Garbe described the experience as "eye-opening" for volunteers, as it shows them the physical realities of sustainability, recycling, and waste management.
"A lot of times when we're learning about sustainability concepts in class or we have an interest in general in climate change or other sustainability topics, we don't often think about how significant our own personal footprint is," Garbe said. "Seeing it at scale is so significant when you're talking about almost 9,000 residents. And prior to implementing a lot of these sustainability initiatives for Move Out and Move In, things did just get tossed in the trash because there's not always an option to take everything home.
"Sustainable Move Out … helps us better understand every day what we're purchasing and what our end of life use for that item is. 
"I think it's important to be mindful of those sustainable decisions when we're looking forward to any aspect of our life. How are we going to use this? How long are we going to use it for? What's our plan for it when we no longer have a use for it? And so I think just putting that into perspective through something like Sustainable Move Out is really helpful."
By: Marek Makowski