On August 4th, 2021, the Office of Sustainability informed campus users of changes to the UW–Madison food waste collection program. As part of the announcement, a survey was circulated to assess the thoughts, opinions, and ideas of the UW–Madison community. Note: If you have not already completed the survey, please consider providing your feedback.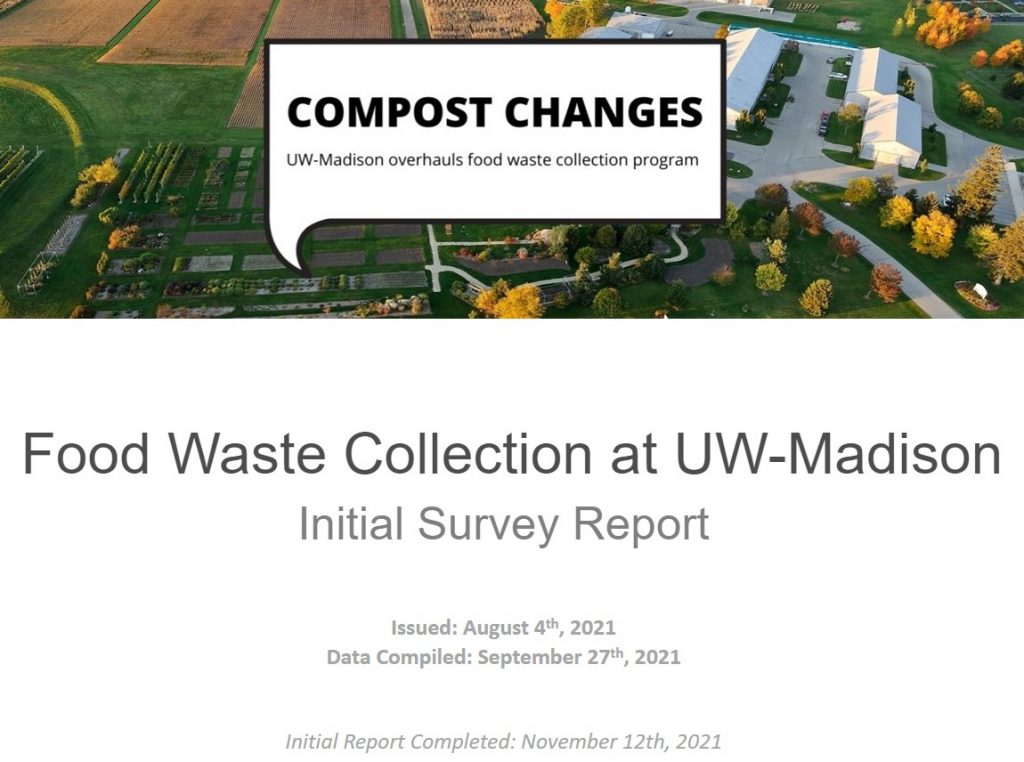 Initial Results
Preliminary survey results were compiled on September 27th, 2021. At that time, 830 people completed the entire survey. The Food Waste Solutions Team, a subgroup of the Zero Waste Team, analyzed the initial results to gauge the sentiments of campus users. You can view the initial survey report here or by clicking the image to the right.
Key findings
Over 99% of respondents are concerned about food waste generated at the UW—Madison.
Over 93% of respondents believe it is unacceptable that the UW—Madison has no outlet, other than the Dane County Landfill, to send food waste.
Over 88% of respondents stated they would utilize the food waste collection program if it is re-introduced.
Selected comments from survey participants include:
"Sustainable food waste management is necessary for us to move forward as a society. The University ought to be on the cutting edge of things like this, not trailing behind and blaming a lack of existing infrastructure; if a system does not exist yet, who is going to make it happen, if not us??"

"A productive food waste management system is an essential component of a sustainable, green campus!"

"I have very high standards for UW Madison's sustainability programs as we are a university that is actively providing education for sustainability."
Next steps
The UW Zero Waste Team is working on two different options to collect "back of the house" food waste from campus operations.
Large Generation Sites
Over 50% of the total campus food waste is generated at 5 locations. A pilot project is being considered for the UW-Madison Physical Plant – Waste & Recycling group to collect from these 5 locations and transport food waste to the West Madison Agricultural Research Station (WMARS).
Small Generation Sites
There are roughly 15 market locations that generate a smaller volume of food waste on campus. A student group is exploring options to collect, transport, and compost this material at the F.H. King – Eagle Heights Farm.
---
Dane County, Department of Waste & Renewables – Sustainability Campus
In related news, the Dane County Department of Waste & Renewables is working with the City of Madison to determine the feasibility of utilizing a portion of the Yahara Hills property for the development of a sustainable business park aka the "Sustainability Campus." Along with a other material reuse and recycling operations, the project hopes to establish two methods of processing organic waste: composting and digestion. For more information about the proposed project, visit the link below.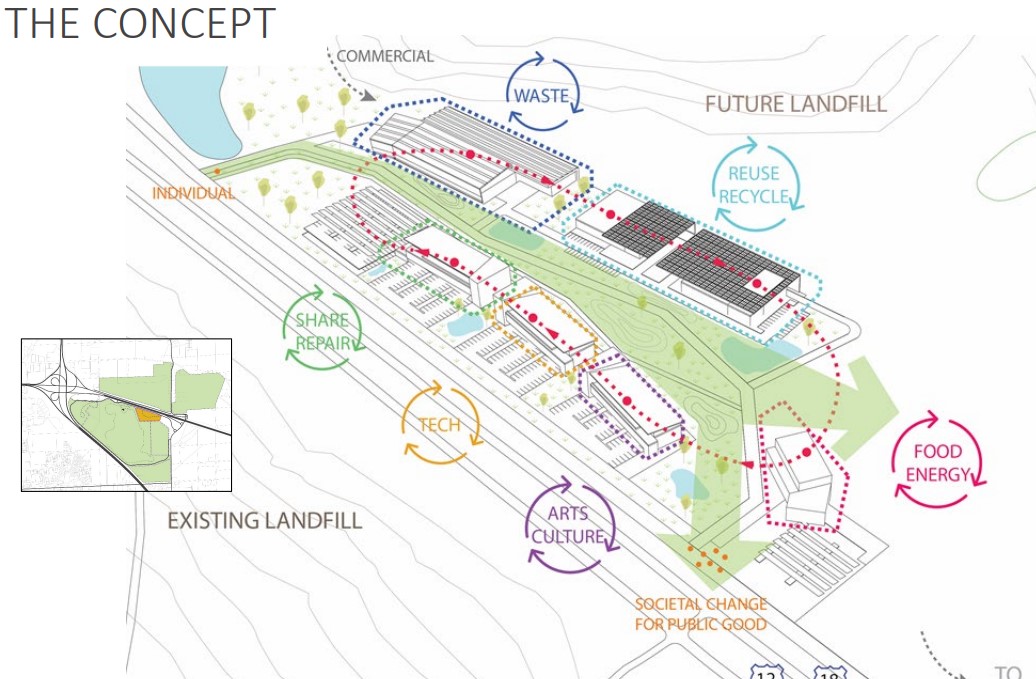 Dane County Sustainability Campus
For more information, contact the Zero Waste Team at zerowaste@sustainability.wisc.edu.
By: Travis Blomberg, Campus Resource Coordinator