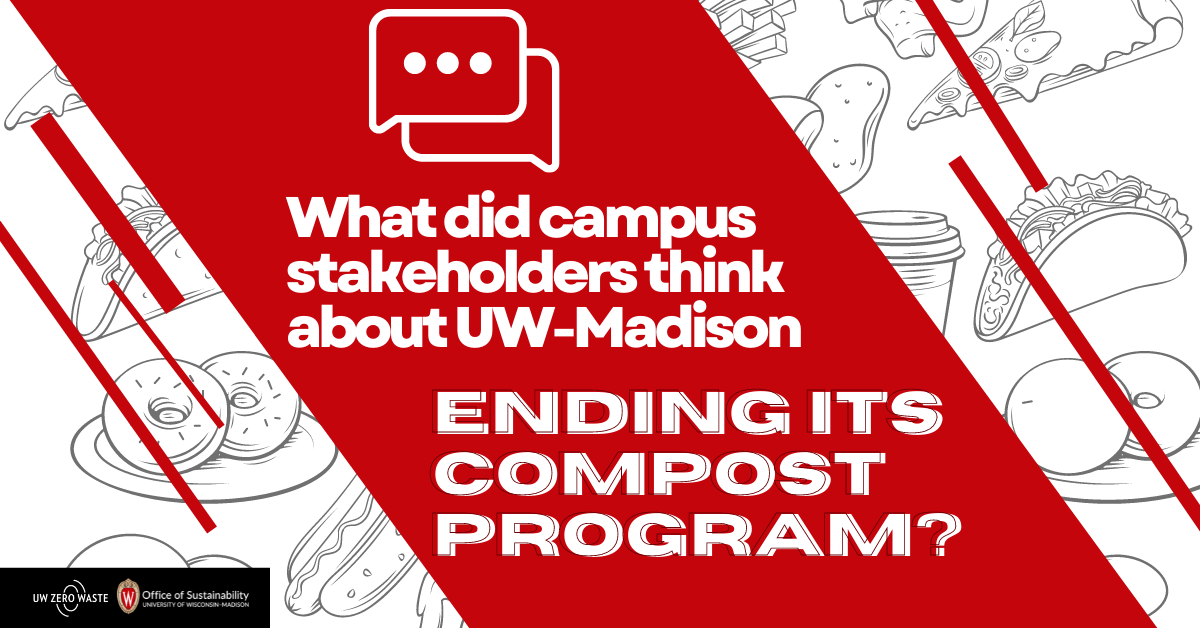 On August 4th, 2021, the Office of Sustainability informed campus users of changes to the UW–Madison food waste collection program. As part of the announcement, a survey was circulated to assess the thoughts, opinions, and ideas of the UW–Madison community.  The following graphic and article describes survey responses, background details, and next steps.

Final Survey Report
Before August 2021, food waste (commonly referred to as "compost") was collected in a variety of locations at UW–Madison, such as buckets, carts, and dining facilities. The organic material was hauled away to an anaerobic digester. When the digester was sold to a new owner, however, the operator of the digester, Clean Fuel Partners LLC, notified UW–Madison that it would no longer accept food waste due to its conversion to a renewable natural gas (RNG) production facility. Now, the facility only accepts manure as a feedstock.
UW–Madison sought out a new vendor and issued two different simplified bid requests. However, neither attempt was successful, so UW–Madison was forced to suspend the collection of food waste. While UW–Madison could collect and haul the food scraps, it did not have an outlet to accept the material. Without any immediate options, UW–Madison halted its general collection and management of food waste generated on campus. All containers including carts and buckets used in the Compost Stewards program were collected.
UW–Madison wanted feedback from campus stakeholders before issuing its next steps. The Office of Sustainability sent out a survey, which was available from August 4th, 2021 – June 20th, 2022. It asked respondents a series of questions and offered stakeholders an opportunity to provide feedback. There were 9,484* responses from 1,276 people**.
*Does not include responses about contact information, "How frequently did you utilize the previous food waste collection program," and "Are you interested in helping with a new food waste collection program at the UW-Madison?"
**Though 1,276 people took the survey, not everyone completed every question.
Key Findings
The survey was taken mostly by UW–Madison students and staff, with few identifying as faculty. Most respondents had some awareness of the program; however, 21% of respondents didn't know it existed. The previous service was not used often by survey takers; only a third participated in the program. For the respondents that utilized the program, many claimed the service made them feel purposeful.
Program Improvements and Suggestions
Respondents said that they would use a new food waste program if it were introduced, though they said that the service would need to be improved. Suggestions for improvement mostly centered on creating awareness and the bins' locations, designs, and signage. All suggestions purposed by the survey respondents, including universal design and better education, were documented. They suggested the bins should have had a distinct, easy-to-understand design about what is and what isn't acceptable (including home food waste). Respondents stated the signage contradicted itself in different buildings, if it existed at all.
Respondents were concerned about how much food waste the university produces and believed it was unacceptable that the material was going to the Dane County Landfill. They said that both UW–Madison and the City of Madison should have a solution for food waste. Survey takers preferred the vendor not be a private company.
Next Steps
Opportunities to prevent waste and recover healthy food still exist on campus.
In Spring 2022, University Housing Dining and Culinary Services received financial support from the Green Fund to implement a food waste reduction technology system called Lean Path. The staff at Rheta's Market will pilot the technology in order to measure and prevent food waste–saving time, money, and helping the environment. This project will also be used as a living-learning lab for student and faculty research.
As of August 2022, the West Madison Agricultural Research Station (WMARS) started accepting "back-of-house" food waste on a trial-run basis from a limited number of campus locations, including Dejope Residence Hall, Gordon Dining & Event Center, Union South, and Memorial Union. The FP&M Physical Plant Waste & Recycling team collects and hauls the food waste to WMARS. WMARS processes the food waste using a windrow composting method to create finished compost. A long-term outlet/processor is still under consideration.
The Food Recovery Network – Madison Chapter (FRN) is a student organization that recovers leftover food from dining halls and makes them into delicious, free meals for the campus community. During the 2021-2022 academic year, the organization saved ~7,000 lbs. of food from the Dane County landfill. FRN continues to improve and expands its services.
Preliminary Results
Preliminary survey results were compiled on September 27th, 2021. At that time, 830 people completed the entire survey. The Zero Waste Team analyzed the initial results to gauge the sentiments of campus users. You can view the initial survey report here.
For more information, contact the Zero Waste Team at zerowaste@sustainability.wisc.edu.
By: Travis Blomberg, Campus Resource Coordinator & Emily Johnson, Zero Waste Project Assistant