At the end of UW–Madison's "Teach-in on Climate and Justice," Nathan Jandl, the Assistant Director of the Office of Sustainability, spoke of the present.
"What I see here is the immense potential on campus," he said. "We have incredible research; we have fantastic students; we have dedicated, interested staff; and we have this willingness to push ourselves and the things that we do, thinking broadly about sustainability and climate change, indigenous rights, and justice. We're in a key moment at this university when we can become a real leader within the Midwest."
This moment crystallized the broad set of topics discussed at UW–Madison's "Worldwide Teach-In On Climate Solutions and Justice" on March 30, 2022. The event marked the university's participation in a global effort by the Graduate Programs in Sustainability at Bard College and the Open Society University Network. Additional universities, schools, and non-governmental organizations hosted their own teach-ins in dozens of other countries, including Nigeria, Peru, Mexico, Japan, India, Kazakhstan, Turkey, and Spain. The UW–Madison teach-in occurred in Mechanical Engineering, where last week Dr. Barbara Hendrie, the Director of the North America Office for the UN Environment Programme, spoke about local resolutions to the global climate crisis.
The teach-in also engaged with Solve Climate by 2030, a broader initiative that responds to the Intergovernmental Panel on Climate Change (IPCC)'s warnings that "global net human-caused emissions of carbon dioxide would need to fall by about 45 percent from 2010 levels by 2030, reaching 'net zero' around 2050" to avoid the most catastrophic effects associated with climate change—which, according to some estimates, already cannot be achieved. 
"Why climate and justice?" Eban Goodstein, the director of the worldwide teach-in, asked in an introductory video at the event. "Global warming is profoundly unjust. People in low-income communities are already suffering the most as the planet heats up. In the last year, tens of millions of people have been forced to leave their homes by climate change, more refugees than from conflict and violence combined."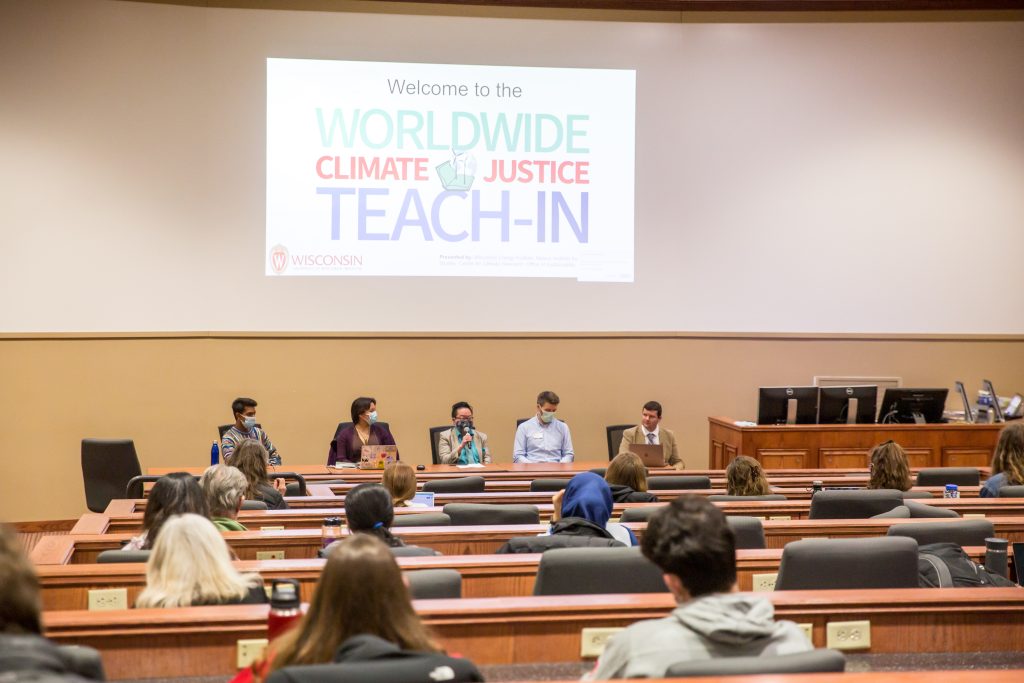 Scott Williams of the Wisconsin Energy Institute, who organized the UW–Madison event with colleague Allison Bender, described the panels as an opportunity to think about climate justice from a diversity of perspectives.
"There's so many issues that intersect that we need to be thinking more holistically about, and also thinking in a just way, so that we're not leaving certain populations behind," Williams said. "The more that we can have these opportunities to get people together, it might inspire more people to work together for these things."
One session, "Climate Change and the Midwest," addressed how the university should not just practice sustainability on campus but collaborate on solutions with local communities. This includes waste management: Jim Tinjum, the Director of the Geological Engineering Program, spoke about efforts to recover methane from trash decomposition at the Dane County landfill, clean it, and reuse it in the natural gas pipeline.
Other panelists, speaking about global climate wisdom, voiced experiences growing up and working in countries such as India and China, as well as applying different kinds of knowledge in response to climate change. Dekila Chungyalpa, the Director of the Loka Initiative, described her organization's faith-based climate outreach–which, she claimed, can lead to significant benefits due to the substantial land ownership and philanthropic efforts of religious organizations. Other panelists spoke of the need to collaborate with communities toward sustainability, rather than applying technological solutions without understanding their needs.
The panels all considered one of the three facets of sustainability known as social sustainability. Inevitably, these conversations raised "the issue of justice," which Sumudu Atapattu connected to "the fact that those who contributed least to the problem are being disproportionately affected. So how do we deal with that?"
Atapattu, the Director of Research Centers at the Law School, suggested creating a legal framework for climate refugees, as climate is not currently recognized as a ground for claiming asylum. On another panel, Michael Bell, the Chair for Community and Environmental Sociology, offered a different solution.
"Food and farming is work—it's essential work," he said. "It's as essential to our wellbeing as healthcare, childcare… Maybe we should speak of foodcare, too. By that I mean the essential ways that we care for one another through care for the land and care for its bounty."
Bell went on to cite the low wages of essential workers, including those who cultivate and transport food, noting how "the medium farm income in the United States has actually been negative in four of the past five years," as "at least half of US farm households have actually lost money on their farming in four of the past five years and are forecast to do so again this year."
"We have to do better," Bell said. "We have to care for those who are doing foodcare—and that includes caring for the land itself, the ultimate source of all foodcare."
Before panelists and attendees gathered in the atrium to converse about how to enact the night's ideas, a final group of panelists spoke about what the university and its members could do. Pranav Srivastava, the President of the Senior Class Office, and Ashley Cheung, the Chair of the Associated Students of Madison Sustainability Committee, stressed student and faculty movements for divestment. Cheung stated that the Wisconsin Foundation and Alumni Association, "first" need to "disclose how much they have invested," then "divest as soon as possible."
That might be the future. Jandl spoke of the present. But what of the past?
Steph Tai, a professor in the Law School, turned to the past and spoke about personal motivation for climate action.
"I sort of characterize myself as an accidental environmentalist," Tai said.  "I happened to work for a professor when I was in college who was one of the people who discovered anthropogenic ozone depletion. He [Mario Molina] later won a Nobel Prize for it, and he always talked about how important it was for scientists to get into actually informing decision-makers about global issues. … His optimism stuck with me. I really came to the climate change issue in order to represent the scientific voice and scientific consensus." 
Tai did this as a clerk for the U.S. Court of Appeals, an appellate attorney for the Department of Justice's Environment and Natural Resources Division, and as a U.S. Supreme Court Fellow. According to their university page, Tai also "actively represents amici in federal circuit court and Supreme Court cases."
"But one of the things that drew me back to Wisconsin is that there's this thing called the Wisconsin Idea," Tai said. "The idea is that we as professors should bring back our research, bring back our scholarship, and apply it back to Wisconsin. … At the same time, what drives me is Professor Molina's voice, that we can do something if we all stand up to it."
By: Marek Makowski