In our In Case You Missed It series (also known as ICYMI), student interns from the Office of Sustainability offer reflective reports on sustainability-related events and lectures at UW–Madison. The following entry is by Julia Tuttle. 
The UW Now Livestream Series brings experts from the UW–Madison community to talk about new and exciting research being conducted on campus. In the Climate Trends and Impact episode that aired on July 13, 2021, host Mike Knetter interviewed Professor of Atmospheric and Oceanic Sciences (ASOS), Jonathan Martin, to discuss the record-breaking temperatures in the Pacific Northwest, tropical storm Elsa in the Northeast, and their relation to global climate change. 
Professor Martin first addressed the unprecedented heatwave that occurred in June 2021 in the Pacific Northwest. Seattle, Washington sizzled above 100°F for three days in a row (June 27-29). Prior to this, the temperature had exceeded 100 degrees only a handful of times in the city's history. Temperatures in Portland, Oregon also broke the all-time-high record three days in a row: 108°F, 112°F, and 116°F, each day beating the one before. During this same period, British Columbia set a national all-time record for high temperature. "This kind of thing never happens," Professor Martin emphasized. 
People readily connect summer heat waves to climate change, but don't immediately see how winters are affected, too. In order to illustrate this issue, Dr. Martin showed a map of a region in the northern hemisphere where he studied temperature data over a 72-year period. What he found is that the hemisphere is not able to get as cold anymore as it used to. 
In addition, when evaluating extreme weather events, the public often wants the scientific community to definitively state whether an event is linked to climate change. Professor Martin explained that it is impossible to attribute an individual weather event to climate change. Nevertheless, he said that we can expect more extreme temperatures and unusual weather phenomena.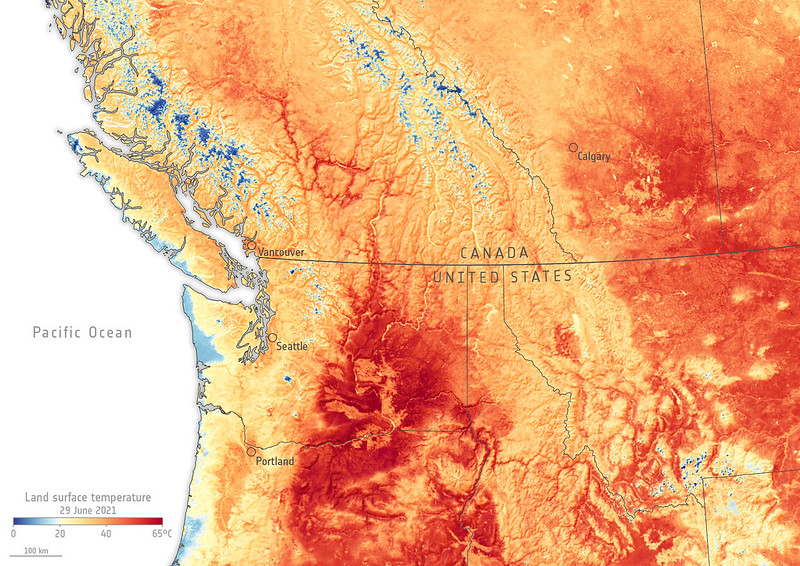 Professor Martin suggested that weather, not climate, was the main factor in the 3-day heatwave in the Pacific Northwest. Martin presented a weather map of Portland during this timeframe, and showed the unique wind flow and pressure patterns. 
Mike Knetter asked Dr. Martin if he believes that the media is sensationalizing weather by using terms like "polar vortex" or "snowpocalypse" in order to create skepticism around the science behind climate change. Dr. Martin replied that in some ways, yes, the media is focused on capturing people's attention and therefore sensationalizes weather events. He also emphasized that if people are truly interested in weather and climate, that they will find the real, scientific description of things is even more interesting than the sensational ones.
Knetter concluded the episode by taking questions from the viewers. Questions covered topics ranging from the mini ice age prediction by the Royal Astronomical Society, to historic carbon dioxide levels, geoengineering, and even "firenados." 
The UW Now Livestream Series can be accessed here and previous episodes, like "Climate Trends and Impact," can be accessed at any time. I would not only recommend this talk to students and staff in the ASOS department, but to those interested in weather and climate or interested in learning more about the extreme weather events taking place across the United States.