During the fall of 2014, the campus buzzed with environmental enthusiasm at the first ever Sustain-A-Bash. Students and other community members gathered at two locations, the Gordon Lawn and the Dejope Lawn, and took part in an array of spirited activities. Some could be seen tossing around an inflatable Earth, while others engaged in an animated game called "Trashketball," aiming to reduce waste by gleefully shooting recyclables into bins perched on ladders.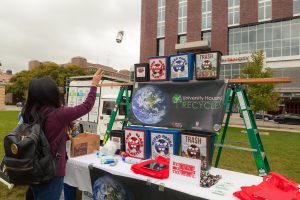 Jodi Krause, one of the assistant directors for Building Services with University Housing, fondly remembers these early years of Sustain-A-Bash. With 24 years of experience working in University Housing, Krause has observed the transformation of their commitment to sustainability.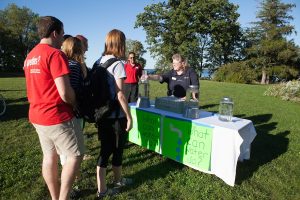 "There was definitely a huge push in 2014, but it wasn't the beginning of sustainability in University Housing," Krause said. When she started as a staff member, Krause recalls an initiative known as RecycleMania, in which residence halls competed against each other to be crowned the winner of the cleanest recycling stream. 
Fast forward to this September, and the tenth annual Sustain-A-Bash has evolved into a week-long series of in-person events. Some of these events included a clothing swap with Re-Wear It Wisco, dinner with the Food Recovery Network, and the Green Fund Fall Kickoff. The highlight of this year's celebrations was the Sustainability Showcase on Friday, September 22, when more than 250 attendees gathered on the Gordon Lawn to engage with 42 student organizations, campus departments, and community groups.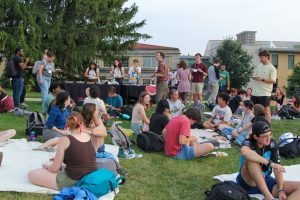 Attendees enjoyed snacks provided by the Electric Eats Food Truck while touring tables hosted by different organizations, departments, and community groups. University Housing set up a table elaborating on sustainability initiatives within residence and dining halls. Madison Gas & Electric engaged with students passionate about clean energy. And student organizations were present and eager to connect with first-year students sharing a similar passion for sustainability. 
Engineers for a Sustainable World (ESW), a student group on campus, attended Sustain-A-Bash for the first time this year. Elle Lettner, a junior at UW–Madison and the Co-President of ESW, spoke about how the event empowers the club to "spread awareness about different forms of sustainability and allow students from all disciplines to gain hands-on experience working on engineering projects." Lettner praised this year's Sustain-A-Bash, highlighting the presence of local businesses and the opportunity for students to cultivate connections within the greater Madison community.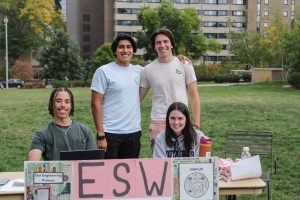 While Sustain-A-Bash has expanded over the years, the event has upheld many of its special traditions. The beloved blender bike, where students use pedal-power to run a blender that creates fruit smoothies, remains a favorite among the interns with the Office of Sustainability. Likewise, the inflatable Earth and Trashketball continue to captivate the enthusiasm of attendees.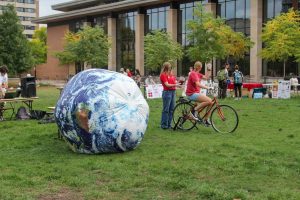 Malorie Garbe, the sustainability coordinator for University Housing, reflected on the importance of Sustain-A-Bash as a platform for students to come together and share their passion for sustainability. She noted that Sustain-A-Bash began in 2014 to introduce first-year students to the sustainability initiatives in University Housing. Ten years later, Sustain-A-Bash serves as a celebration of sustainability on campus, within student organizations, and across the Madison community. 
"We often talk about how Sustain-A-Bash can grow," Garbe said, "but I'm excited to see it sustained for years to come and for others to enjoy."
By: Chandler Wells