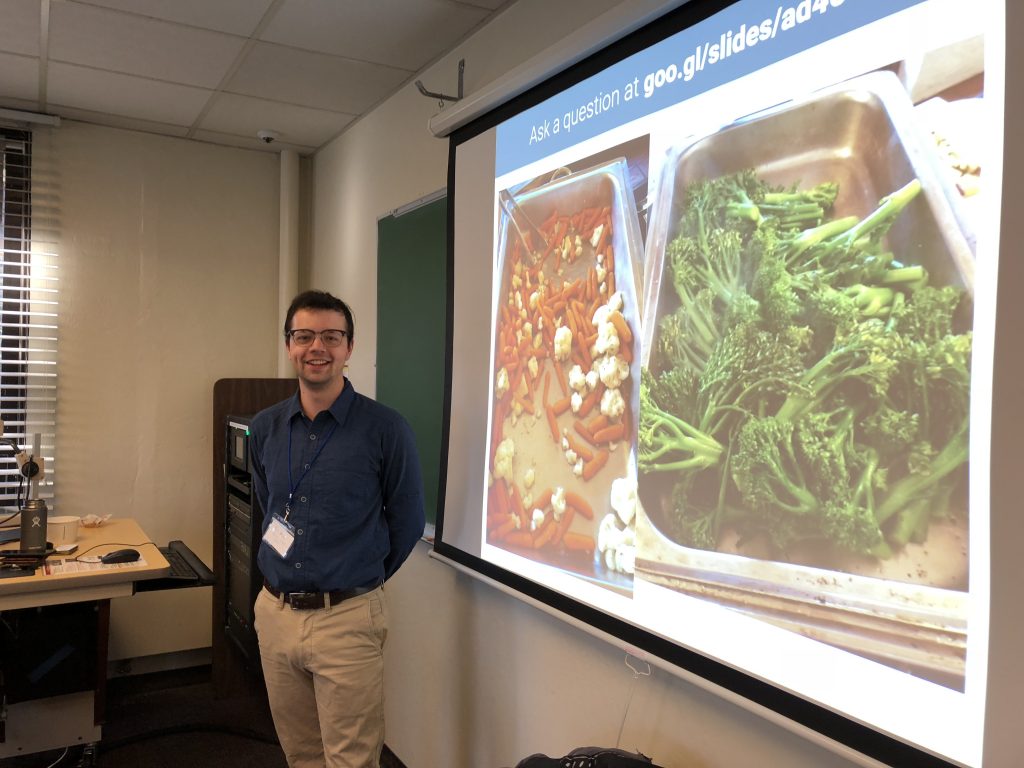 "The University of Wisconsin–Madison will be a living model for sustainability, exemplifying values and actions that demonstrate our commitment to stewardship of resources, respect for place and the health and well-being of the broader community, now and for the future."

UW-Madison Sustainability Initiative Task Force Final Report (2010)
Of the guiding lights for sustainability at the University of Wisconsin-Madison, perhaps none shines more brightly than this vision statement from the Sustainability Initiative Task Force.
Nelson Institute doctoral students Tom Bryan and Tim Lindstrom, both advised by Professor Cathy Middlecamp, seek to spread the word about what a "living model for sustainability" can mean when designing and teaching science courses. Having presented their work earlier this summer at the Association for Environmental Studies and Sciences conference, Tim and Tom joined Cathy to bring their collective show on the road once more, this time to the 2018 SENCER Summer Institute, which was held in August at Santa Clara University, CA. At the Institute, they teamed up to present three sessions under the banner of "Cross disciplinary conversations on sustainability."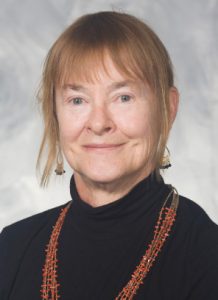 SENCER—Science Education For New Civic Engagements and Responsibilities—is a 15+ year national curriculum reform project funded by the National Science Foundation, the Keck Foundation, and others. SENCER works to "strengthen student learning and interest in science, technology, engineering, and mathematics (STEM) by connecting course topics to issues of critical local, national, and global importance." Professor Middlecamp was an early pioneer of SENCER— "before it had a name," as she related—and has long sought to teach science in a cross-disciplinary, approachable manner, with a focus on real-world issues. Most recently, and joined by graduate students Bryan, Lindstrom, and others, her focus has been sustainability-related issues on the UW-Madison campus.
At the Summer Institute, the three scholars from UW-Madison presented on energy, food, and trash, each a sustainability-related topic that offers multiple points of entry for student engagement. These topics also happen to serve as focal points for Environmental Studies 126, a well-loved undergraduate offering in which students gain firsthand knowledge of the UW-Madison campus and its operations. Indeed, as Tom Bryan put it, "Our campus served as the textbook, the field site, and the laboratory for our course."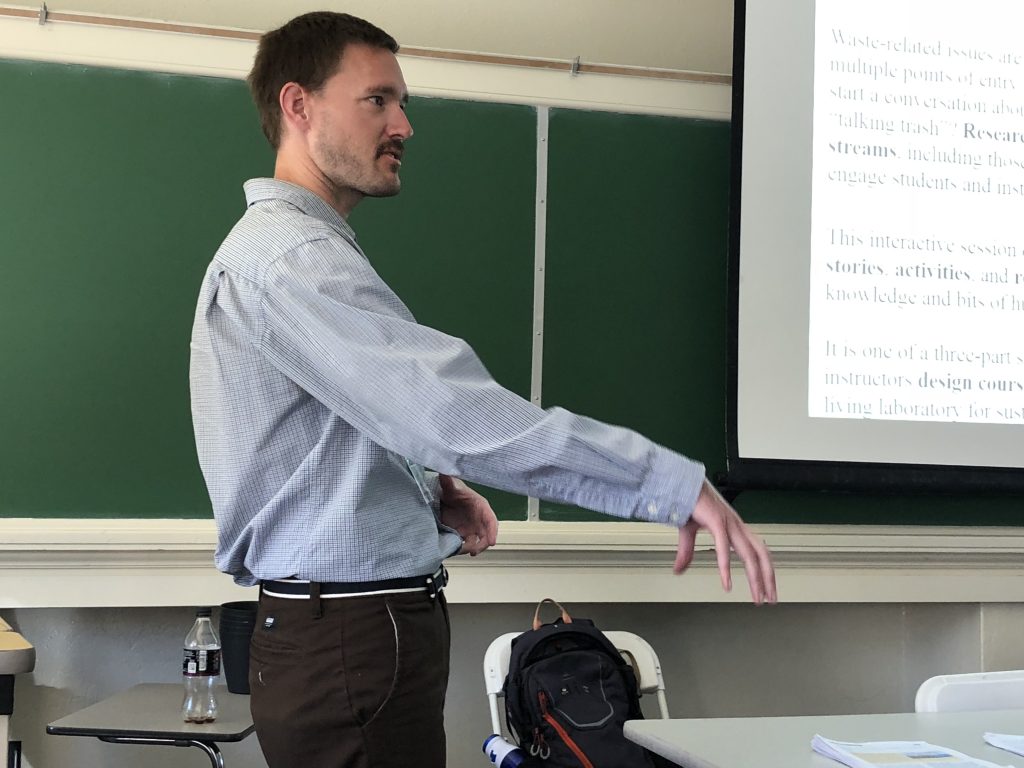 Bryan, Lindstrom, and Middlecamp's presentations pivoted on the idea of connections: that is, helping students to understand concepts like food, waste, and energy both from the context of their campus and also in relation to the wider world. To make those contexts visible, they employed basic ideas and objects from which students could build an understanding of sustainability. For instance, the instructors noted that electricity is "well-suited to engage students around energy concepts." By teaching students about kilowatt-hours (kWh), the instructors could reveal how those kWh "must come from somewhere, and the somewhere provides the connection to sustainability." Studying lighting systems, similarly, "connects power, energy, electricity, and efficiency"—ideas that, in turn, light the way for a discussion of the Triple Bottom line of People, Planet, and Profit.
Food, as with energy and waste, encourages students to think broadly about their impact on larger systems of people, animals, and natural resources. In a pre-semester survey, the instructors asked students: "As you select your food each day, to what extent do you make connections between what you eat and the wider food system (growing, harvesting, transporting, and dealing with waste)?" A majority responded "A little bit" or "Not at all." But this seeming dead-end for a sustainability class set up a simple yet effective pedagogical question: "Could a shared meal be a starting point?" As Lindstrom, Bryan, and Middlecamp reasoned, everyone eats, and every campus has an eatery—usually multiple. So asking students to begin with a meal and work backwards into where their food came from, what natural and human capital contributed to its production and distribution, and so forth, provided a concrete way of infusing the ideas of sustainability into a common experience.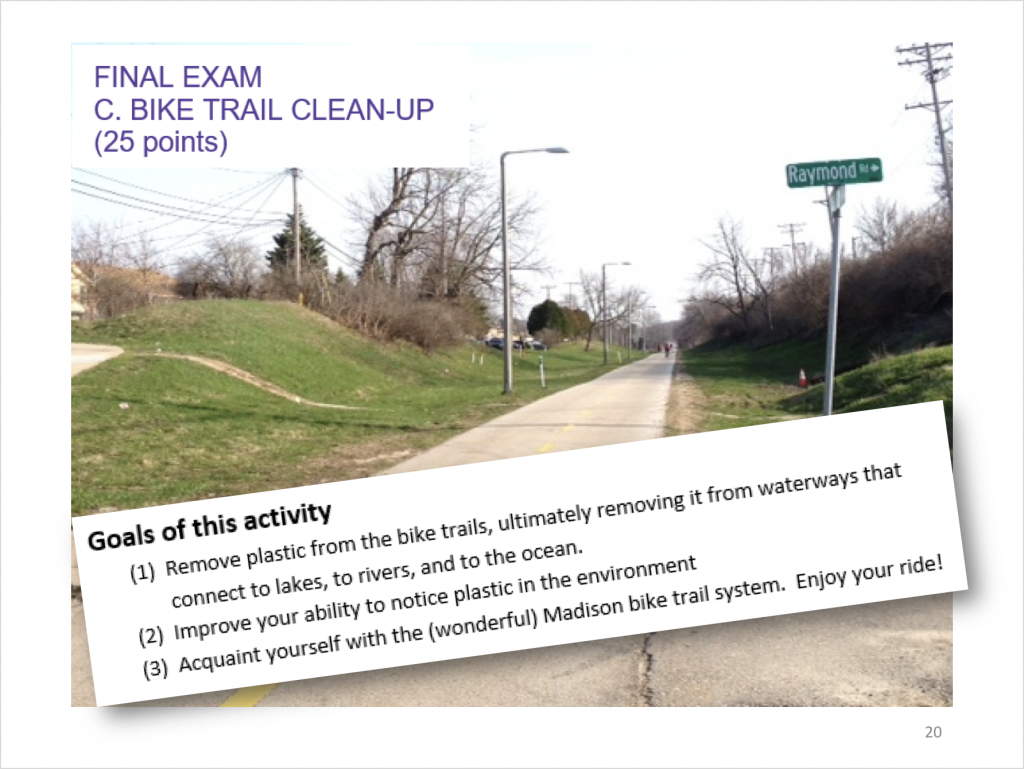 The challenge of waste looms large in sustainability conversations. Plastics, in particular—most recently, straws—have become tangible symbols of over-consumption and the cost of convenience. At the same time, the span of a semester only affords so much time for students to intervene meaningfully in such a massive issue. Bryan, Lindstrom, and Middlecamp, however, offered multiple options for final exam projects that gave students the opportunity to collaborate and connect waste stream practices with their campus community. Students chose three out of four activities: participate in University Housing Move-Out, which diverts enormous amounts of waste from landfills; cook a meal from the Amazing Waste Cookbook and provide feedback on the recipe; go on a bike trail clean-up mission; or calculate the energy usage and carbon dioxide emissions of their home shower (which dovetailed with the energy unit).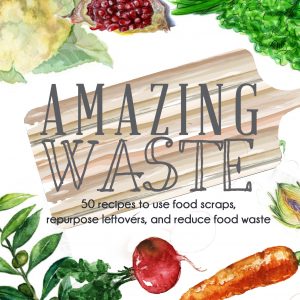 Hilary Miller, a student in the course, noted that "the take-home finals were a great way to show that environmental sustainability extends beyond the UW campus … [and] that people can make small behavioral changes that positively impact the environment. Realizing the quantity and temperature of water I use when showering was alarming, informing, and ultimately inspired me to make a structural change in the way I live. Further, seeing the many ways in which food can be reused and repurposed motivated me to produce less waste when I cook."
Hilary also praised the quality of her teachers. "The charisma of these instructors, and the passion with which they teach, made me a more curious and engaged student for the entire semester. With confidence, I can say that I learned something new each class … I believe that all students at UW should take it in order to get a comprehensive understanding of how their actions influence the environment."
By: Nathan Jandl