Cathy Middlecamp
Position title: Director of Sustainability Education and Research
Email: chmiddle@wisc.edu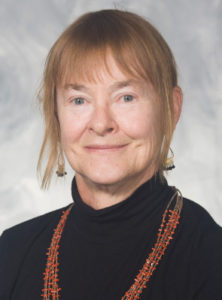 Dr. Cathy Middlecamp is a professor in the Nelson Institute for Environmental Studies where she serves as the faculty co-director of the Community and Environmental Scholars Program and is a member of the CHE community (Center for Culture, History, and the Environment). In addition, is an affiliate of the Chemistry Department.
Her scholarship lies at the intersection of science, people, and the planet. Sustainability education, especially in the context of the campus as a living-learning laboratory, is the focal point of the graduate student team that works with her. With her doctoral students, she teaches Environmental Studies 126 ("principles of environmental science"), a foundational course in the undergraduate sustainability certificate.
On the national scene, Cathy was elected a fellow of the American Chemical Society (ACS, 2009), of the American Association for the Advancement of Science (2004), and of the Association for Women in Science (2003). From the ACS, she received two national awards sponsored by the Camille and Henry Dreyfus Foundation:
2006 Award for Encouraging Women in Careers into the Chemical Sciences
2015 Award for Encouraging Disadvantaged Students into Careers in the Chemical Sciences
and a third national award sponsored by the ACS Division of Chemical Education:
2019 George C. Pimentel Award in Chemical Education
For over two decades, she was a member of the author team of Chemistry in Context, a national curriculum project that engages undergraduate students in learning chemistry in the context of real-world issues. She served as the lead author for the chapters on air quality, acid rain, ozone depletion, polymers, food, nuclear energy, and sustainability. For the 7th and 8th editions of Chemistry in Context, she was the editor-in-chief.
Cathy did her undergraduate studies at Cornell University (1968-72), graduating Phi Beta Kappa with distinction in all subjects. She was awarded a Danforth Fellowship for graduate study and earned her doctorate in chemistry from the University of Wisconsin–Madison in 1976.
You can read her full CV here.