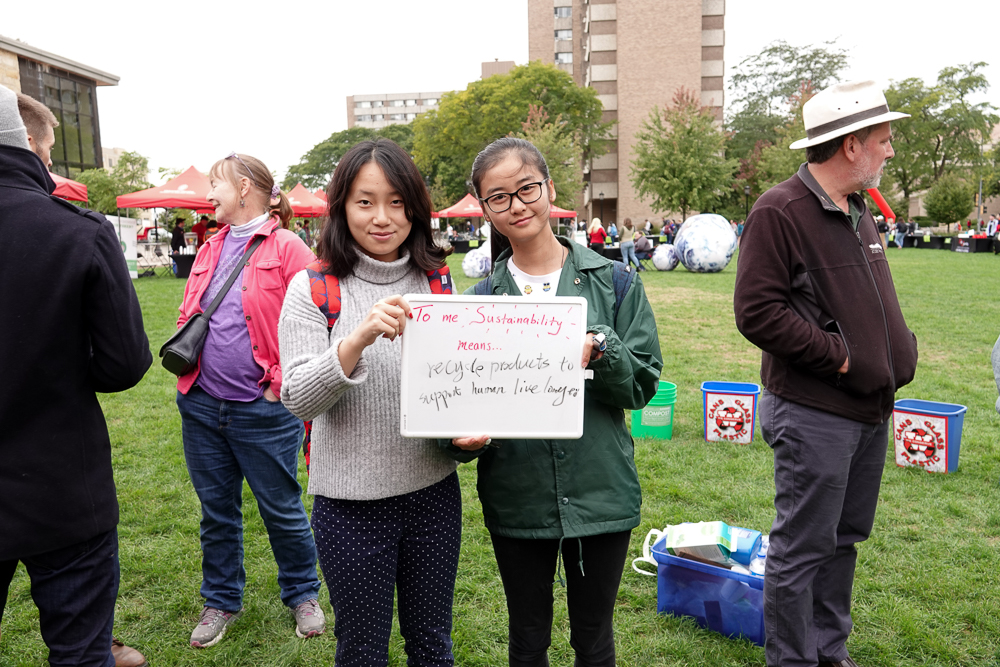 On a chilly, windy afternoon in late September, a total of 28 student orgs, campus offices and units, and community partners set up tables in a grand circle on Gordon lawn to share their respective approaches to sustainability. Organized by University Housing, Sustain-a-Bash's purpose is to inform, inspire, provide resources, and cultivate a sustainability community on campus.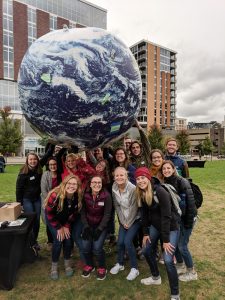 As always, participating organizations were encouraged to host fun activities; this year, attendees made "seed bombs" from native prairie plants, rode bikes that blended up fresh milkshakes (with lactose-free milk as a new option!), challenged themselves with a sustainability knowledge quiz, learned about "phantom power," and expanded their sustainability networks.
Despite the weather, Sustain-a-Bash was a bustling event with over 150 attendees. A giant earth ball bounced around, students lined up to convert their leg power into milkshakes, and the DJ kept the beats going all afternoon. Meanwhile, the Office of Sustainability sent out an intrepid correspondent, Carolyn Hamburg, to glean some of the most important messages from the participating organizations. So if you missed Sustain-a-Bash this year—or if you need a reminder about the information from all those tables—check out a dozen of their responses below. (We also keep a list of environment and sustainability-focused student orgs on our website!)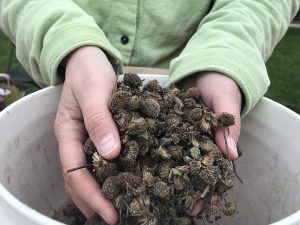 Question: If there is one thing you would want students to know about your organization, what would it be?
Arboretum: The Arboretum is a jewel of Madison that provides educational, public engagement, and stewardship opportunities in ecological restoration. The Arboretum relies on volunteers, providing a great opportunity for UW-Madison to get involved.
ASM Sustainability Committee: We recognize that the student voice is very powerful and we want to help students make a difference. Through student government, we strive to influence sustainable progress on campus through grassroots advocacy.
Bike Resource Center: Located under college library, the Bike Resource Center provides UW-Madison students, faculty, and staff with hands-on learning through bicycle workshops and bicycle maintenance practice.
Campus Food Recovery Initiative: This partnership between Campus Food Shed, the Food Recovery Network, and Campus Kitchen works to reduce food waste and food insecurity at UW-Madison. Our mission revolves around providing everyone access to affordable, but also healthy, food.
Environmental Science Organization: This organization provides volunteering, events, and career development for ALL majors with an interest in environmental science.

Office of Sustainability intern Ally Magnin preps a milkshake. Photo by Office of Sustainability intern team.

Ethical and Responsible Business Network (ERBN): ERBN is a student organization that works on projects to display how businesses can be both profitable and sustainable. With field trips, consulting opportunities, and lectures, students can become aware of the many alternatives for sustainable business.

Focus on Energy: Focus on Energy partners with utilities, such as MG&E, to help residents and businesses reduce energy waste. For students at UW-Madison living in off-campus housing, you are eligible to receive a FREE package full of energy saving products, delivered right to your home.
GreenHouse Learning Community: Learning communities on campus are for students interested in going beyond the traditional residence hall experience. The GreenHouse learning community brings together invested faculty, staff, and students to collaborate on common interests within a residence hall setting. At the Greenhouse Learning Community, you get the best academic and social experience possible!
Lakeshore Nature Preserve: The Preserve is an outdoor classroom of UW-Madison, with over 80 teaching and researching projects taking place at any given time. Students should get involved so they can have ownership over their campus—taking care of the Lakeshore Nature Preserve is preserving their home at UW-Madison.
Nelson Institute for Environmental Studies: More students, regardless of their major or career plans, should take classes from the Nelson Institute because it is important to learn about the most pressing environmental topics of the day!

Office of Sustainability intern Hannah Kasun with her definition of sustainability. Photo by Office of Sustainability intern team.

Sustain Dane: As a nonprofit organization committed to creating sustainable solutions for businesses, home, school, and municipalities, Sustain Dane provides an opportunity for students to get involved in local sustainable progress. On November 2, there is the Sustain Dane Summit, which students can earn free access to by volunteering at the event!

Water@UW: Our organization aims to represent everyone at UW-Madison with an interest in water, whether you are a student, faculty, or staff. We focus on sharing the stunning array of water research from Madison with people on campus and beyond.
By: Nathan Jandl and Carolyn Hamburg