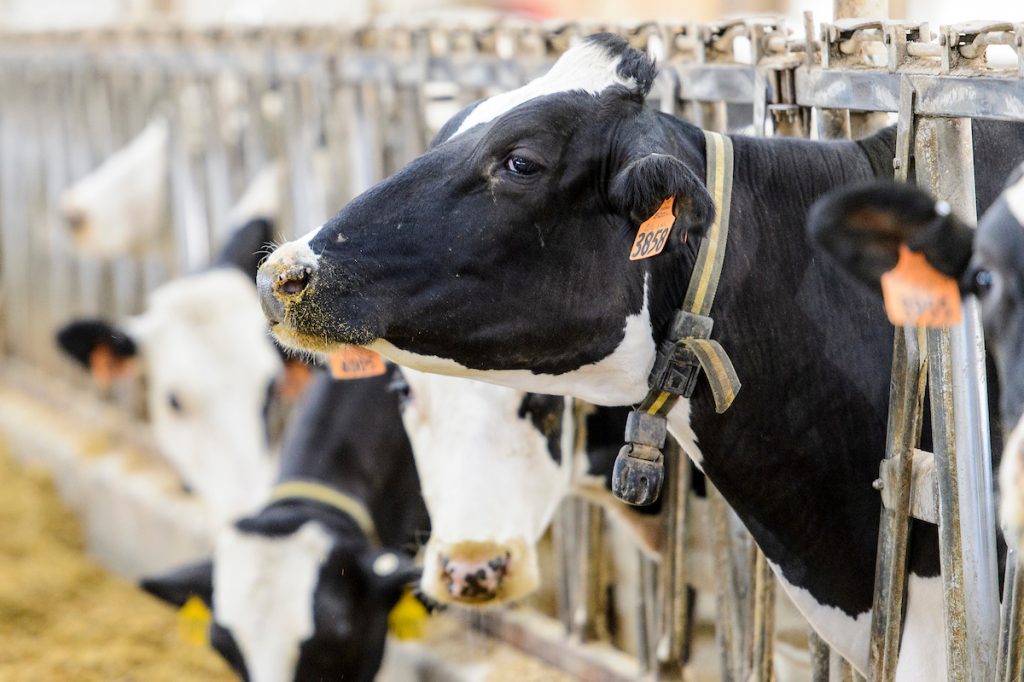 Katie Piel is a rising senior studying environmental studies and communication arts with a certificate in business. She began her internship for the Office of Sustainability in January 2018 as part of the Green Office team, which trains offices around campus in sustainable practices. She believes in the power of individual action in the fight against climate change, and that small, everyday actions can add up to make a positive difference.
Born and raised in America's Dairyland, I have grown up eating eggs and sausage for breakfast, grilled cheese during lunch, and pot roast for dinner (plus the occasional custard for dessert). I have battled with my own Wisconsin identity when it comes to enjoying meat and cheese nearly every day, while still wanting to protect our Earth and its resources.
At UW-Madison, we have a number of sustainability initiatives in place at our dining halls, such as compost bins for food waste, but few people give thought to the environmental impact of the food on their trays. The food on our plates sustains us, but we need to make sure our culinary choices sustain our planet as well.
The animal agriculture industry puts significant pressure on our natural resources, affecting all environmental domains including water, air, and land. Meat accounts for only 18 percent of calories but takes up over 83 percent of farmland, including the millions of acres of cropland solely dedicated to growing cattle feed. Animal agriculture leads to deforestation of wildlife areas and the destruction of habitats all around the world.
And the environmental impact of animal agriculture continues beyond the farm. Greenhouse gases are emitted throughout the processing, packaging, and transporting stages. By the time a burger is on the plate, it has used 660 gallons of water, which is the same as 32 showers, and emitted 6.5 pounds of carbon, the equivalent to a 20-mile drive.
In short, one of the biggest steps people can take towards reducing their carbon footprint is minimizing the amount of livestock products they consume, especially beef and dairy. Below, you'll find some of my top tips for how to enjoy meat and dairy in a more sustainable way.
Consume Less
The easiest option is simply to consume fewer meat and dairy products. Vegan and vegetarian lifestyles might not be feasible or desirable for some, but I encourage you to explore how you can best decrease the amount of livestock products you consume. Personally, I have adopted a pescatarian diet, where I eliminate all meat from my diet aside from fish. I also drink almond milk daily, rarely eat eggs, yet still enjoy eating cheese and ice cream.
If you're interested in reducing your meat consumption in other ways, try joining the "Meatless Mondays" movement by not eating meat one day a week. Another good option for beginners is to adopt the "Meatless Before Six" mentality, where breakfast and lunch are meat-free, but you could still enjoy steak at dinner. It will not ruin the environment to indulge in some Babcock ice cream every once in a while, but be more conscious of how often dairy is a part of your everyday meals. Any step, no matter how small, towards reducing meat and dairy consumption will be a step towards conserving our natural resources.
Consider Beef and Dairy Alternatives
Since vegetarian lifestyles are becoming more mainstream for both health and environmental reasons, there are a wide variety of meatless options to choose from. From veggie burgers and tofu to coconut milk and soy ice cream, there are a lot of options to try. Even imitation meat alternatives have become pretty convincing with regards to taste and texture. Try the "Beyond Burger" next time you dine at Der Rathskeller at Memorial Union.
If a full vegetarian diet is too much of a commitment, diversify your meals by swapping beef for chicken or fish. Although chicken, pig, fish, and turkey meat all have a significant environmental impact of their own, they are all still less harmful than beef because of the methane that ruminant animals (such as cows, lambs, goats, and sheep) emit throughout their lifetime.
Join the Buy Local Movement
If you still crave a cheeseburger, buy local grass-fed beef and dairy products to support your own Wisconsin farmers who manage their livestock sustainably. Sourcing products close to home supports the local economy and reduces transportation emissions. Farmer's markets are great places to look for local meat and cheese as well as some veggies to round out your meal. In Madison, visit the Dane County Farmers Market on Saturday and Wednesday mornings or Union South Farmers Market on Thursdays.
Got Milk? Drink it!
Food waste is another big contributor to environmental pollution. So if you do purchase meat or dairy products, make sure they end up in your stomach and not the garbage can!
Ultimately, the amount of livestock products you decide to consume is subject to your own ethical and personal tastes. Personally, I place great value on the health of myself and our planet, and I express those values three times a day by choosing plant-based meals. Going meatless certainly isn't the only way to reduce your carbon footprint, but I would argue it is an individual action that has a high impact for a minimal amount of effort. I challenge you all to reexamine your own beef and dairy consumption, and adopt a "less and better" approach. Even small steps towards conscious consumption of livestock products will make significant progress towards a healthier planet.