In our In Case You Missed It series (also known as ICYMI), student interns from the Office of Sustainability offer reflective reports on sustainability-related events and lectures at UW–Madison. The following entry is by Brooke Bowser.
The fight for environmental justice and a sustainable world is inextricably linked with the fight for social justice. This message was emphasized again and again during the September 28, 2020 debut of the Amplifying BIPOC Voices in Sustainability Series presented by the UW–Madison Office of Sustainability. This series was created as an effort to recenter the voices of Black, Indigenous, and people of color (BIPOC) who have long led movements to protect the planet and its people but are often silenced in mainstream environmentalism. Students, faculty, and community members all gathered over BBCollaborate to discuss the theme for this first panel: What does "amplifying" look like?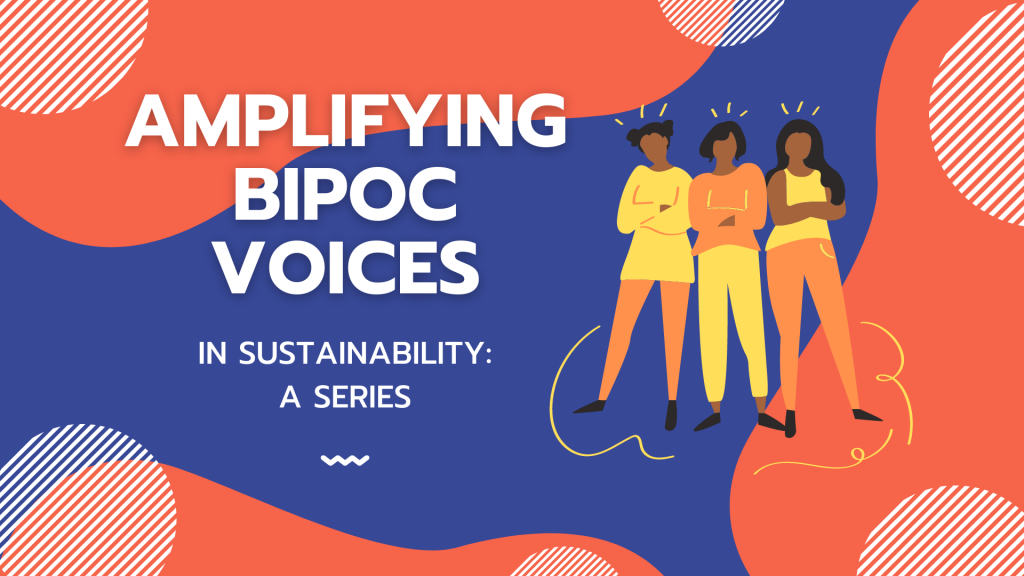 The first panelist was Sumudu Atapattu, the Director of Research Centers and Senior Lecturer at UW Law School. Sumudu opened the discussion with a conversation on the disproportionate impacts of climate change and environmental destruction on marginalized communities.
Caitlyn LoMonte, the Assistant Director for Social Justice Programs for the Multicultural Student Center, followed as the second panelist. She discussed her role as a social justice educator and how important it is to use one's power and privilege to advocate for communities whose voices may be suppressed.
The third panelist, Juliana Bennett, a founder and representative of the UW–Madison BIPOC Coalition, brought the discussion home to UW–Madison, where she joins other students who are actively working to make change within the University.
The question of how to amplify BIPOC voices quickly steered the panelists into a discussion on the damaging effects of performative allyship, or claiming to be an ally without doing the work. Avoiding this path, according to Caitlyn, starts with the personal work: Take a look at your identities, the power and privileges you hold, and what your position is within these systems. You have to be willing to interrogate the ways you have been socialized and accept new perspectives.
This personal reflection and growth is important, but as Caitlyn said, "Reading a book is not going to end racism on this campus. We need to be doing more and pushing for more." This push cannot only occur when it is convenient or socially acceptable. The three panelists spoke about the importance of analyzing one's motivation to do the work; doing it for an opportunity to post on Instagram, to fit in with the trend, or to receive praise are all warning signs of performative allyship. Caitlyn described the need to decenter oneself and start listening to marginalized groups instead. Let these groups take the lead; listen, follow, and show up as they need you to. As Juliana added, "Being a true ally is being a co-conspirator. It means that you're going to be with BIPOC through and through."
For members of the UW-Madison community, this need for "decentering" is inherently linked to the origin of this campus. UW–Madison was constructed on stolen Ho-Chunk land amidst violent attempts of removal and erasure of the Ho-Chunk from Wisconsin. Surrounding what is now referred to as Observatory Hill, many sacred burial mounds were destroyed. As Juliana pointed out, one of these mounds was located on Bascom Hill, where the controversial Abraham Lincoln memorial is now located. As Caitlyn reflected, land acknowledgements are an important step in reckoning with this history, but the effort cannot stop there. "Since we have acknowledged that we are on stolen land, how do we make sure that decisions moving forward are centered on indigenous folks?"
Some people may think it is easier to not get involved, or ask whether it is their place to do so, but Sumudu explained: "Silence is complicity. If you don't speak up and you see an injustice, that means you are contributing to that injustice. Being silent is not an option."
While each panelist came from a different background and position within UW–Madison, they all agreed the University still has a lot of work to do. Caitlyn acknowledged that BIPOC individuals have been doing this work since the beginning, and for students this is often uncompensated labor on top of being a full-time student and having a job. As a student activist herself, Juliana confirmed this: "I wish I could be a regular student, but I can't." For those holding oppressed and marginalized identities, the panelists emphasized, it is not an option to simply stop talking about social justice. This responsibility needs to be shifted onto the administration, staff, and faculty on campus who hold power rather than always relying on students to push for change.
"UW–Madison is not doing nearly enough to amplify BIPOC voices," said Juliana. She condemned the University's lack of action and stated that Chancellor Blank had  refused to meet with the UW–Madison BIPOC Coalition and listen to their demands. "We have to take actionable steps to fulfill the University's public mission of ensuring BIPOC students feel welcome and respected. All the demands [the UW–Madison BIPOC Coalition] put forward are a blueprint to ensure BIPOC students are welcomed and respected, but also it's an outline to create a truly diverse and inclusive campus."
The panel underscored how the process to achieve social justice is neither short-lived nor easy, but it is a fight we must all take on if we truly want to build a sustainable world. From reading about BIPOC experiences to signing petitions and having tough conversations with family members, the work must continue every day. No matter how small an action may seem, collectively it can make a difference. As Caitlyn said, we need to "be learning, growing, and doing this work … There are always additional ways in which we can be in solidarity, in which we can change and be working toward our collective liberation."
You can find a full recording of the event here.
Make sure to join in for part two of the series hosted by the Social Sustainability Coalition on October 28 at 7:00pm CDT to explore sustainability and the upcoming election.