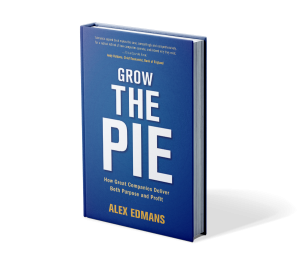 In our In Case You Missed It series (also known as ICYMI), student interns from the Office of Sustainability offer reflective reports on sustainability-related events and lectures at UW–Madison. The following entry is by Savannah Holt.
Sustainability and the economy are interconnected.  Business practices provide an opportunity for companies to connect their purpose with environmental and cultural aspects of society. Yet businesses, specifically within the finance industry, are known to be driven by profit. In this context, what does a "responsible business" look like?
On September 25th, 2020, Alex Edmans, who is a Professor of Finance at the London School of Business, traveled virtually from Great Britain to offer a presentation for the UW–Madison community on his new book, Grow the Pie: How Great Companies Deliver Both Purpose and Profit. Edmans' talk was supported by the Wisconsin School of Business Nicholas Center for Corporate Finance and Investment Banking.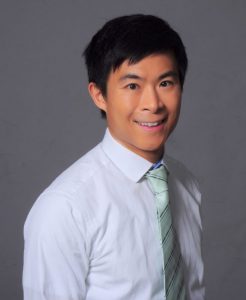 "Growing the pie" means that instead of solely focusing on financial value, companies incorporate innovation and societal benefits into their business models. In this sense, the metaphor illustrates how companies can focus on creating more societal value rather than focusing on their "piece of the pie." For this to happen, however, Edmans argues that there needs to be a new, more inclusive, definition of responsible business. Traditionally, "responsible business" practices might look like philanthropic donations or sponsorships. For instance, Edmans cited Unilever's unique ability to donate millions of dollars during the height of the coronavirus pandemic. Edman applauds this gesture but recognizes that it is not feasible for every company to donate large sums of money or continue to pay workers throughout a crisis. As a response, he laid out other considerations that companies could use to incorporate responsible practices. For instance, business leaders might ask: "What resources does my company have and how can my business benefit society?" A restaurant may donate their leftovers, or a marketing agency could partner with a non-profit to bring awareness of their cause.
Edmans ultimately suggested that the core idea of a new responsible business methodology is innovation. Companies all possess unique skills and can use their resources to create societal value for the communities and the environments that they impact. Edmans envisions a future where responsibility is the central focus of major business decisions.
After answering audience questions, Edmans shared different resources and other industry specialists. To learn more about sustainability and responsibility in the corporate world, consider reading the work of Caroline Flammer and George Serafeim. To learn more about Edmans research on responsible business see this list of talks.