A new Green Fund project that helps campus offices and buildings to collect their food waste aims to advance composting across campus, and you can hear the full story from the students behind it. Listen to the podcast above, or read the transcript and check out the photos below.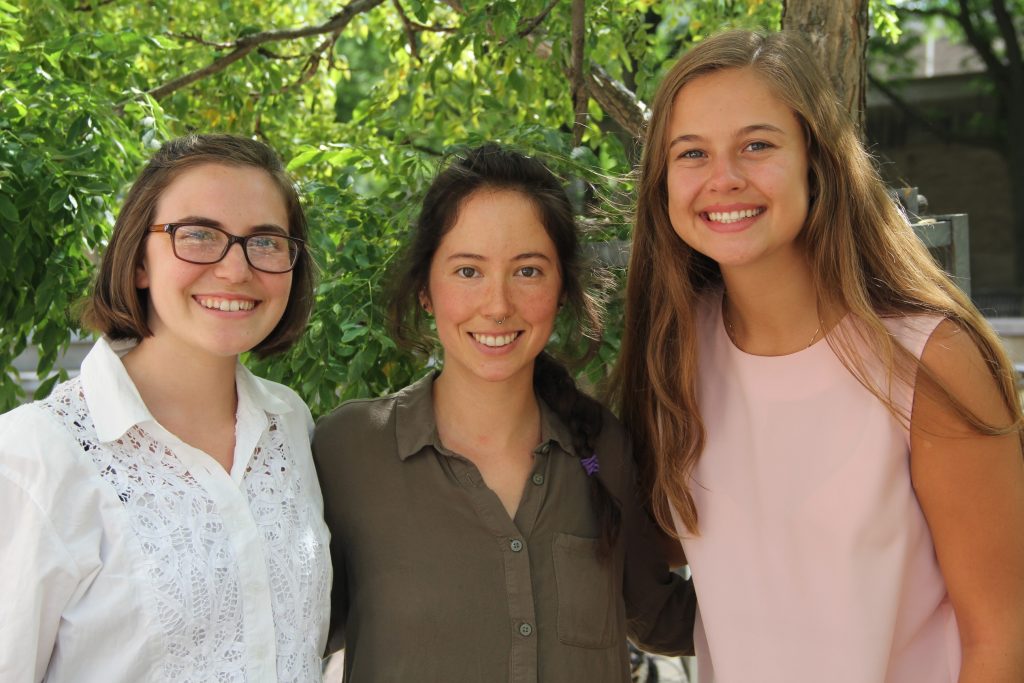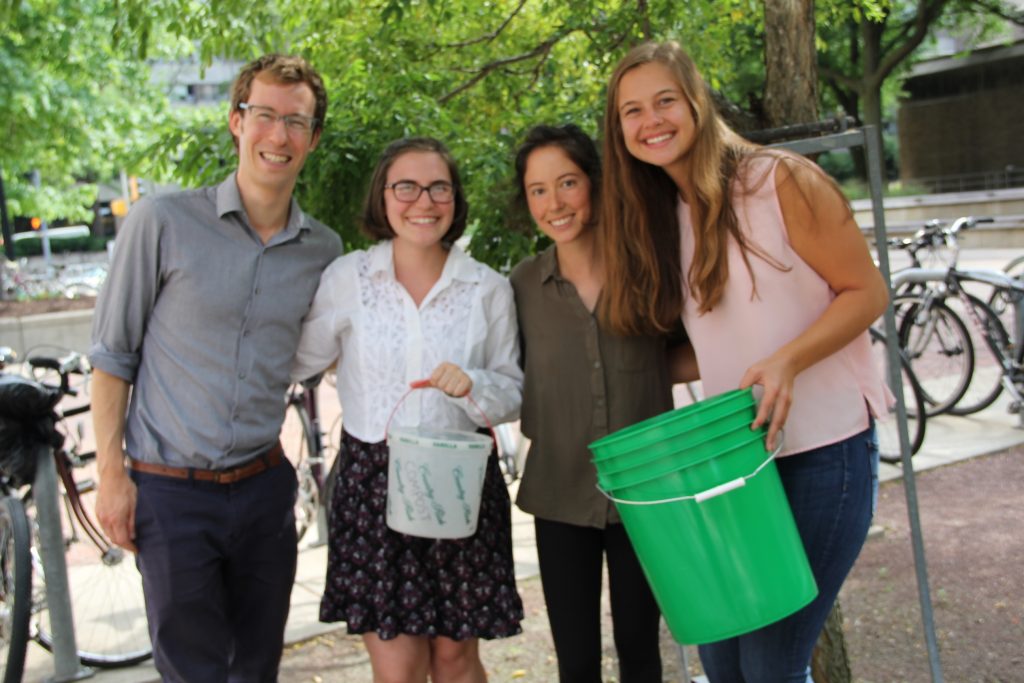 Transcript:
Ian: My name is Ian Aley. I'm the Green Fund Program Manager for the Office of Sustainability.  The Green Fund provides up to $50,000 in funding to student-initiated projects that reduce the environmental footprint and operating costs of facilities on campus.
Students can propose a project the reduces the energy, water, or solid waste consumed by a campus facility. Green Fund staff will support the students in connecting with facilities staff and writing their application.
I'm happy to report that we have some exciting news—the second year of Green Fund projects are in progress! Today, we'll be sitting down with the students behind one of the Green Fund projects called the Compost Stewards. The project supports campus offices and buildings collecting food waste by piloting new compost buckets. They'll tell us all about their backgrounds, how the project came to be, and its most recent developments.
First, let's get to know everyone who's here in the studio, and to get a sense for how they got this project off the ground:
Lauren: I'm Lauren Lucas, I'm a current PhD student in the microbiology program. I took the lead in writing the Green Fund application to purchase the compost buckets and labels.
Katie: I'm Katie Piel, I'm an intern on the Office of Sustainability's Green Office team. Our team has taken the lead on the education and logistics side of the Compost Stewards program.
Jackie: I'm Jackie Millonzi, an OS intern on the Waste and Recycling team. I'm also the secretary of the student organization called REthink Wisconsin, which focuses on promoting sustainable waste management practices on campus. REthink plans to support the educational side of the Compost Stewards project.
Ian: Thanks so much everybody for being here. I'm interested to hear: How did you come up with this idea and where does the project currently stand?
Lauren: I would say the idea started at a Green Fund information session with a group of people generally interested in increasing compost practices throughout the campus. Over the Fall semester, the project evolved from what was initially going to be the purchase of a compost sifter for at the end of the composting process to a more first-in-line approach involving a compost bin distribution and collection program.
Katie: To speak to where the project is now, 30 bins were purchased through the Green Fund program. Seven are currently distributed to the Office of Campus Planning and Landscape Architecture, the Biochemistry building, and the Microbial Sciences Building. Compost Stewards can check out bins from the Office of Sustainability and bring them to their location of choice. Then each person is responsible for maintaining their own bin and taking out the bin weekly or biweekly. There are compost pick up locations around campus where UW [Facilities Planning & Management] pick up compost alongside waste and recycling. The idea is that students and staff can take advantage of the current compost pick-up locations to divert waste from landfill and instead turn it into compost.
Ian: How do you plan to use this project to increase composting efforts on campus? If I were a building manager or a student on campus, what would I have to do to have a bin for the space where I work or study in?
Katie: Before the compost stewards program, composting efforts were largely centralized in the dining halls and residence halls, so this project expands compost efforts significantly.
In collaboration with the Office of Sustainability's Green Office team, like I previously mentioned, the Compost Stewards program is largely aimed at introducing composting into campus offices, but it's also available for students to pick up as well to bring in to their homes or jobs. In our Green Office program, which is led by student interns, we go into offices and train them on what composting looks like on campus, what can and cannot be composted in their bins, and in general where to take their compost once the bins get full. It's all part of the overall process of Office of Sustainability Green Office Certification Program.
Lauren: So if you want to get a compost bin for your office or building, just contact one of us or contact the Office of Sustainability directly and you can check out your own bin which you will be responsible for.
Ian: And if you're interested, the website for the Office of Sustainability is sustainability.wisc.edu. What do these buckets actually look like? And what actually can be put in them? What can we actually compost on campus?
Jackie: The bins themselves are durable green 5 gallon buckets with some nice handles so you can take them outside easily. We recommend that offices place paper grocery bags like from Fresh Market or Trader Joe's because these are compostable themselves. Just put that inside of the bucket so that you don't have to keep cleaning them out every time you dump them; you can just grab the bin and dump them into the facilities bin that facilities eventually takes to the digester. Inside the plastic buckets you can put food scraps like apple cores and banana peels, paper towels, coffee grounds, filters and other compostable materials including grease, meat, and dairy now in the compost bins! Some things like wooden materials similar to chopsticks and some plastics like disposable forks and spoons cannot be composted. We actually provide some signage that you can just put on the bins themselves, and keep referring to every time you have something to throw out.
Ian: What are your hopes for the project's future? What effects do you hope it will have on the campus community in future years?
Lauren: In the immediate to near future, I hope to see more students and staff in my building interested in contributing to the Compost Stewards program. I have listed contact information on my bin hoping that people will contact me about obtaining their own bin. In the next year I would love to see this program grow past the initial 30 bins, to the point where an additional funding request will be needed. Ultimately, I think we would all like to see a campus-wide integration of composting into the custodial job description following the example set by the UW Housing.
Katie: On the Green Office side of things, as the Green Office continues to expand and we continue to go into offices and educate them on waste and recycling practices on campus, I hope to promote composting within offices as well and so as more offices get certified, hopefully we can get more bins in offices and really get this program off the ground.
Jackie: Additionally, I personally didn't know much about composting before coming to college, and I think others may be in the same boat. I hope that this project, along with the OS and REthink, can educate our general campus community on this simple way of recycling organic materials and being good stewards of the earth.
Lauren: Really the ultimate goal is to reduce landfill waste so hopefully we will see some sort of impact in weight over the year that we can actually measure.
Ian: Thank you so much for all your work on this, this is a really exciting project. Again, if you're interested in having one of these compost buckets, you can visit us at
You can visit sustainability.wisc.edu/greenfund, and that's also the place where you can learn more about the Green Fund in general.
If anyone listening has an idea for a Green Fund project related to solid waste, energy, or water conservation, we have opportunities to apply twice a year, in Fall and Spring. We welcome applications from all students. Thank you again for listening and talk with you soon!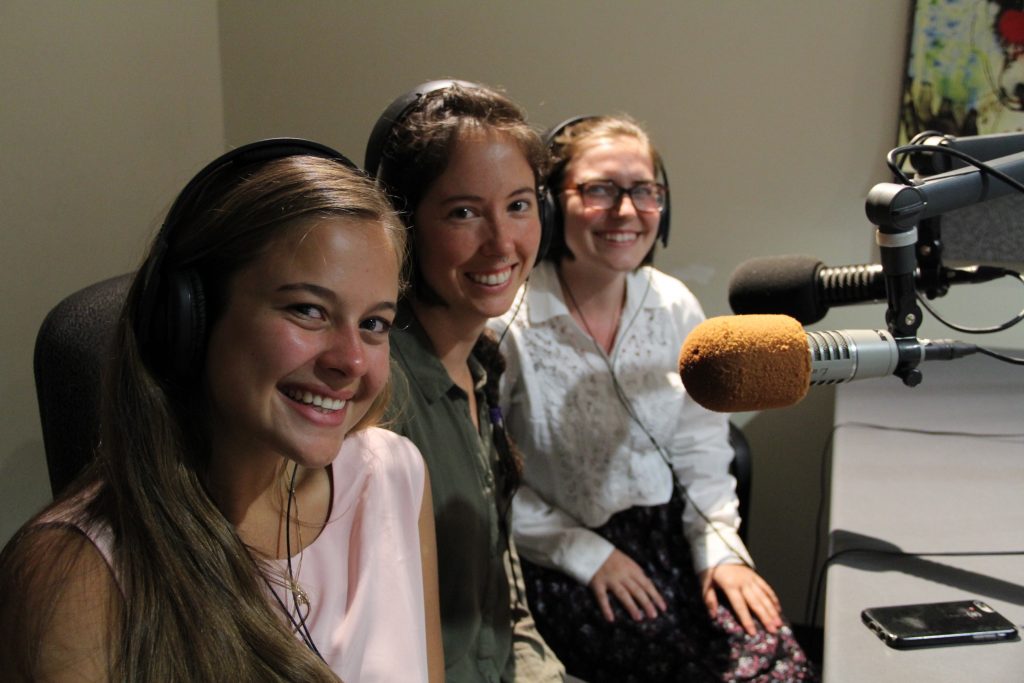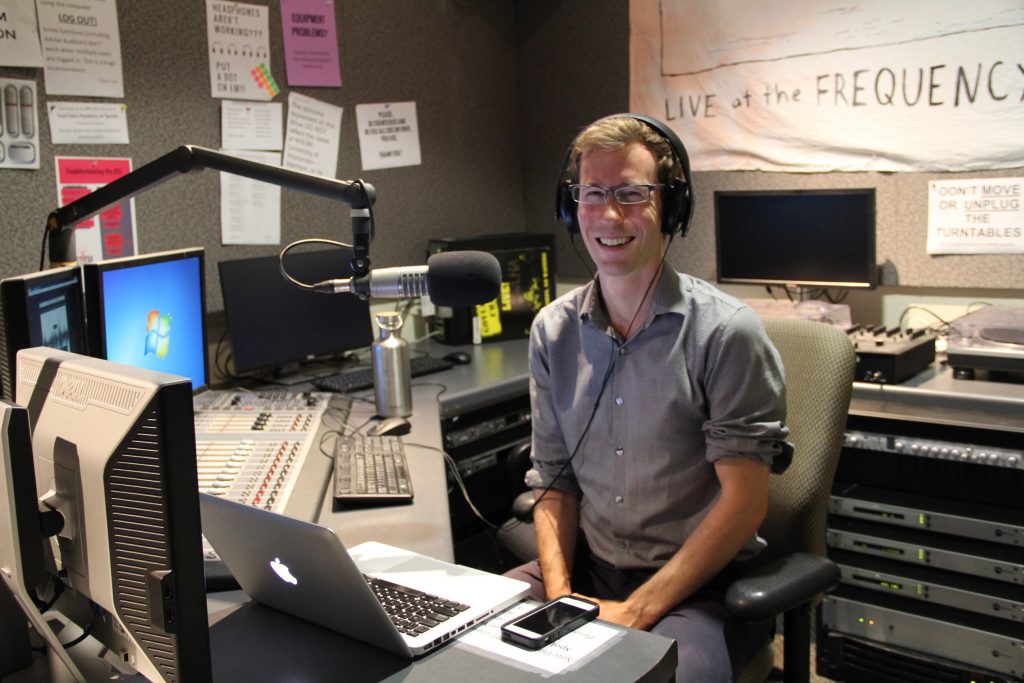 Produced By: Trina La Susa