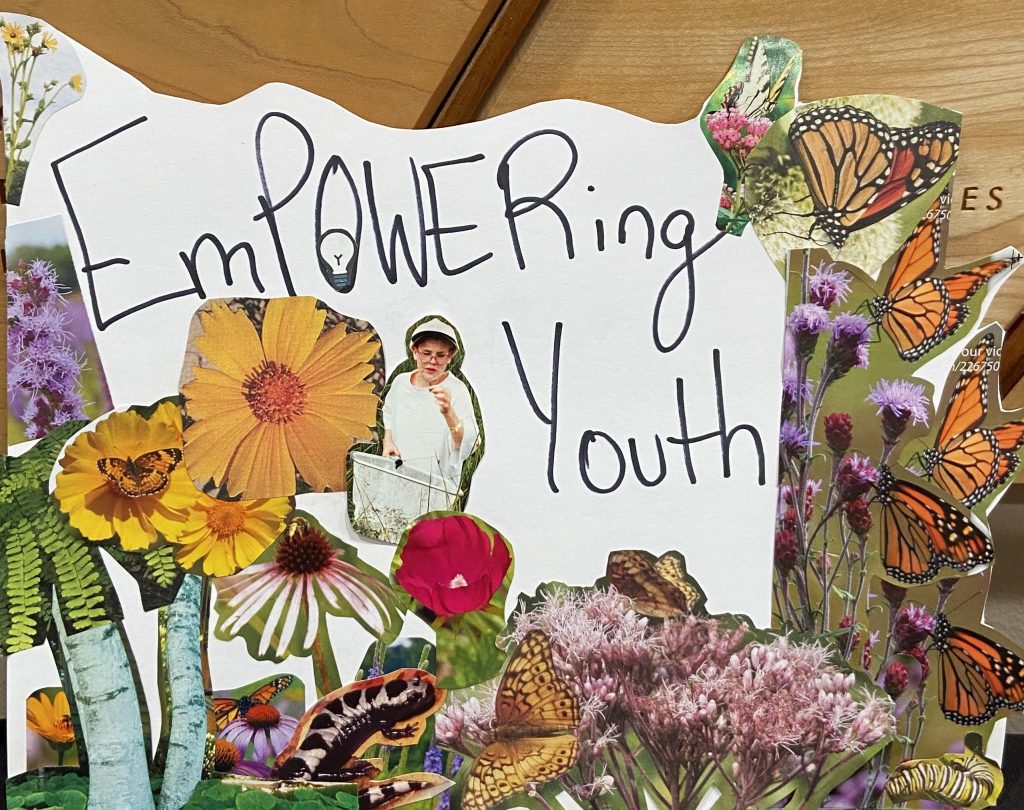 Three years ago, the summer between her first and second years at UW–Madison, Eliza Lindley became involved with the new solar installation at the UW Arboretum Visitor Center. The UW–Madison chapter of the Sierra Student Coalition was looking for help promoting the solar installation; Lindley joined a team working on the project. Her team came up with the idea of a "solar dedication ceremony," which quickly became a lesson in the long, daily challenge of event planning, community building, and acting against climate change.
"We were hopeful that we would have [the dedication event] in the fall of 2020," Lindley said, "but obviously that didn't work out" because of the pandemic. "We made a video and some different promotional materials, and I still stayed in touch … and when it finally became time to work on the event, I was the programming team lead."
The day finally arrived this spring, with the "EmPOWERing Youth for a Brighter Future" event marking the end of Earth Week and the culmination of years of planning and execution. The event built on decades of work at the UW Arboretum, starting in 1977 with the McKay Nature Awareness Center, which according to Arboretum Communications Coordinator Susan Day "included a solar thermal collector on the roof that captured heat from the sun and stored the energy in a rock bed in a basement room, to be used to supplement building heating." Next came a solar photovoltaic (PV) system, or one that generates electricity, that integrated with the roof shingles and went into use on Earth Day 2001. Twenty-two years later, on Earth Day 2023, the Arboretum celebrated its third system, which was installed in October 2020. It consists of 66 photovoltaic modules, producing approximately 30,000 kWh of energy per year, and saving nearly $4,000 in electric costs per year. An online dashboard provides live data on the project's savings and environmental contribution.
The sourcing and installation of the panels themselves involved collaboration across various local groups. Solar for Good, an initiative of the Couillard Solar Foundation and RENEW Wisconsin, provided the panels for free, while Friends of the Arboretum provided $25,000 for labor and installation (by SunPeak) and the Office of Sustainability's Green Fund contributed an additional $20,000, along with student support. The Green Fund helped bring together the project's various campus partners, including Focus on Energy, the Nelson Institute, the Wisconsin Energy Institute, and two student organizations, CLEAN and Helios. A related Green Fund grant submitted by the Sierra Student Coalition and Helios contributed $30,000 to a lighting retrofit in the Visitor Center that replaced fluorescent bulbs with LEDs, leading to a reduction of nearly 70% of energy use of the lighting.
"The Green Fund has worked with the Arboretum for many years, and this was sort of the culmination of a couple of those projects," said Ian Aley, the Green Fund program manager. "Karen Oberhauser, the executive director there, has really made a point of walking the talk and having their operations and their staff policies reflect their ethics, and they're certified as a platinum-level green office."
"A lot of times people describe [the Office of Sustainability] as the sustainability hub on campus," Lindley said. "It's about creating connections and creating space for people to connect with each other and with resources, and I think this was a real-life example of that."
The "EmPOWERing Youth for a Brighter Future" brought together more than fifty high school and college students, which were brought in by student event organizers from the organizations listed above and the Dane County Youth Environmental Committee. The Office of Sustainability, Wisconsin Energy Institute, and Arboretum staff also joined in "a joyful celebration of the work of addressing climate change," Aley said, underscoring both the large and small aspects in addressing climate change.
"Meetings, email, purchasing policies, and other nitty gritty details are necessary parts of creating positive change, as are imagination, joy, and community connection," Aley said. "The idea was to tell the story about these projects, but also to gather young people together for inspiration and connection around climate change and potential career paths in climate change mitigation."
Participants separated into small groups to discuss climate justice and the challenge of fighting climate change with students facilitating the conversations. The students went on to view the solar panels and lighting fixtures at the Arboretum, complete a scavenger hunt, eat sustainable food furnished by Electric Eats, and speak with community and campus organizations focused on climate change, including Focus on Energy, Madison Gas and Electric, Sun Peak, RENEW Wisconsin, University Housing and Dining. Lindley worked with a team to coordinate the programming on the afternoon of the event.
"We talked a lot about eco-anxiety and how easy it is to fall into a nihilistic perspective just because the measures we need to take are so drastic and so vast [that] it can get overwhelming," she said. "I think there's some level of just finding the right mindset for going into climate action and then actually implementing a plan. And I think that's really hard to think about on an individual level … a lot of people who care about the environment end up  feeling there's a gap between what has to be done and what you can realistically control."
Lindley, who also served as an Office of Sustainability intern, graduated in May;  "EmPOWERing Youth" was her last major sustainability project and event at UW–Madison. This summer she is working with the National Park Service in California on aquatic invasive species mitigation. The event sent her off to this new work mindful of collaboration, hope, and change.
EmPOWERing Youth "helped me start to think about just how important community action and cross-disciplinary collaboration are," she said. "[Sometimes] it feels like there's no way forward through your own action. I think coming together can help alleviate that sort of guilt and turmoil and then also make real actions start to galvanize and make real change."
"It ended up being really meaningful, and I think a lot of people connected in ways they might not have been expecting," Lindley said. "There was definitely an atmosphere of that kind of connection around these shared issues and celebration of work that's being done and work that is still yet to be done."
During the planning, Aley said, the organizers thought "cutting a ribbon just didn't feel quite right." At the time the magnolias at the arboretum were in bloom, shedding their white-pink tepals on the occasion of spring.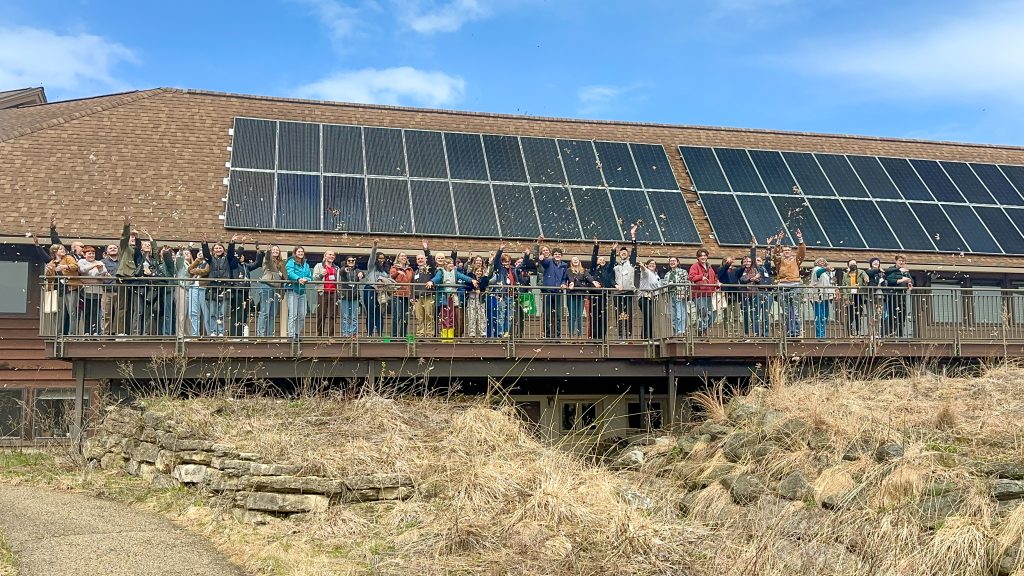 "We went and gathered all of these tepals that had fallen on the ground, had a whole bunch of buckets full of them," Aley said. "Then we all went out and took a look at the panels, and then everybody had a handful of the petals and we threw them up in the air and had a confetti drop of magnolia. And it just feels important as we're addressing these deep issues like climate change, structural racism, all these big things that are happening in the world, that we also find ways of gathering and celebrating these milestone moments and these successes along the way so that we can lift our spirits and connect with one another."
By: Marek Makowski