After a stretch of spring that felt like early summer—sunshine, 80 degrees—the sixth annual Earth Week began with gray skies, mist, and gusts blowing flakes of snow across the budding plants and trees on campus. Yet the Office of Sustainability and its partners forged ahead with events, moving them inside as necessary and inviting the campus community to brave the weather and celebrate together.
The previous three Earth Weeks at UW–Madison took place either entirely virtually or in hybrid modes because of the Coronavirus pandemic; this year, 24 of 25 events are occuring in person, rooting community members in food, clothing, waste clean-up, discussions, yoga, and—especially on Monday—plants.
Morning yoga was followed byLowell Market's Plant-Forward Lunch, a celebration of "the Market's dedication to sustainability" after an academic year of offering strictly plant-based options on its Monday menus. The lunch coincided with Sow, Sprout & Sustain, a food pantry swap and plant giveaway organized by interns on the Office of Sustainability's Food Team.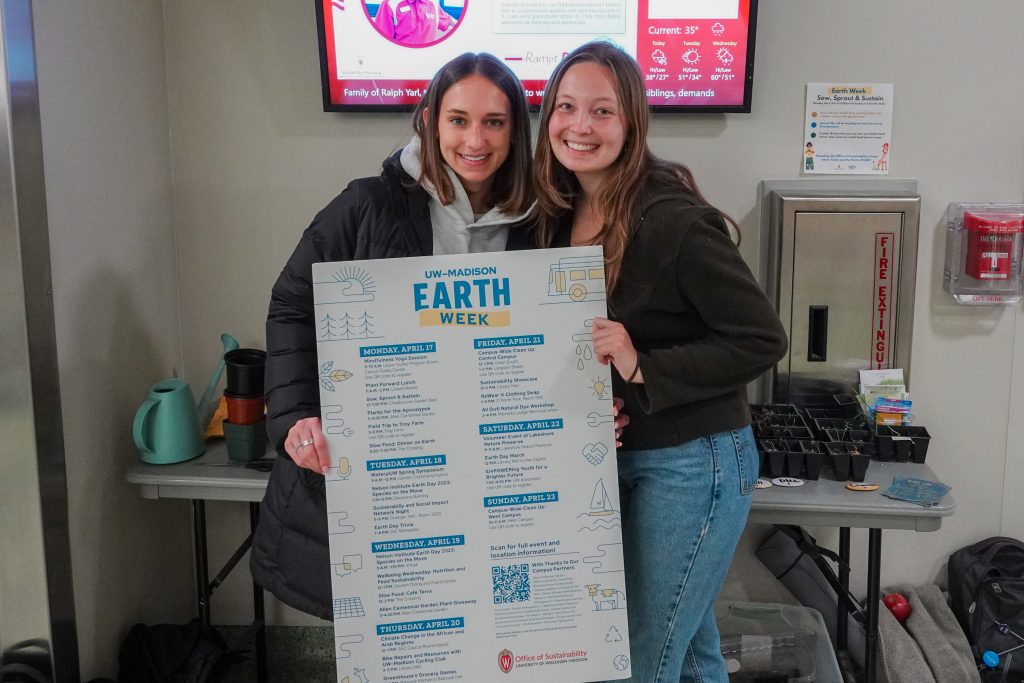 Intern members donated the food for the pantry swap, and they grew the plants after Spring Break from seeds provided by a Madison library. Because of the cold, the wind and the snow, interns moved the event from the Chadbourne Garden Bed to the atrium of Chadbourne Hall, where students living and studying in the building walked by and picked up the vegetables, and herbs: dill, cilantro, sage, chives, kale, parsley, basil, and cat grass, all given away in small black trays. Passersby also received seed packets and plant care cards directing them to touch the soil for dryness before watering, place the herbs in sunlight, and prune them to increase yields.
"Earth Week is really exciting for the office because it's a time when we have all of our events back-to-back, so it brings in a lot of new people, a lot of excitement, and a lot of good energy," said  Melina Nguyen, one of the  O.S. interns who organized the event in conjunction with Malorie Garbe, the Sustainability Coordinator for University Housing. "For the food team especially, it provides us with the funding and advertising and resources necessary to put on this scale of events."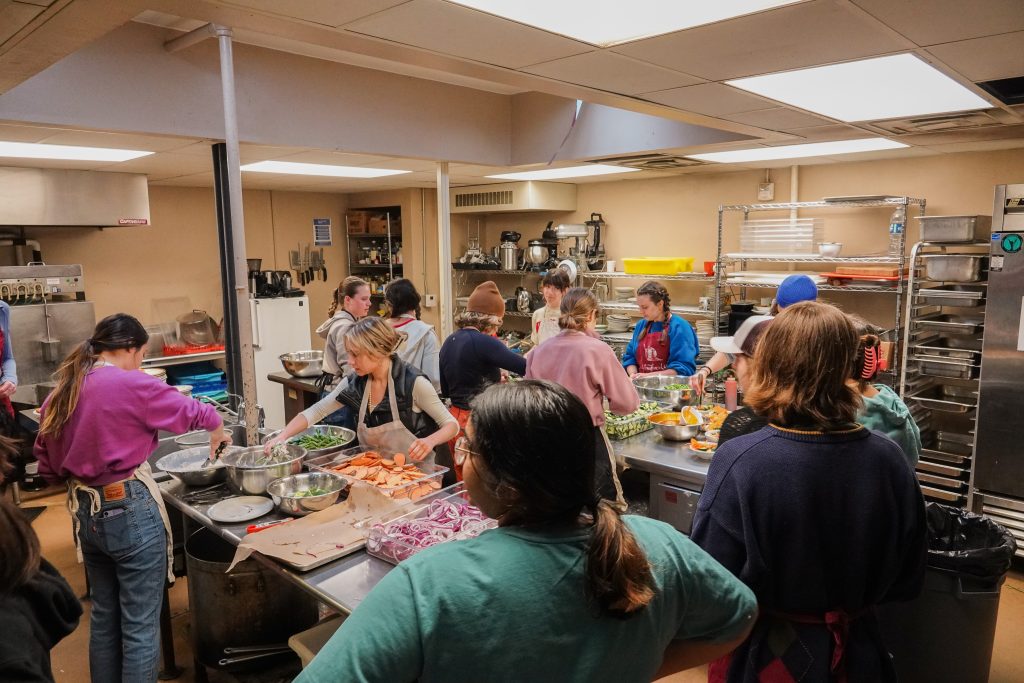 The rest of the day brought three related events in partnership with other university units: a field trip to Troy Farm, co-sponsored by UW Horticulture; a sustainably grown dinner provided by Slow Food at The Crossing; and Plants for the Apocalypse, a station-to-station tour of "psychedelic pasts, presents, and futures" funded by the Borghesi-Mellon Workshops of the Center for the Humanities and hosted by the D.C. Smith Greenhouse.
"Plants are our partners in life and in death," the event description read. "They might signal the coming of the apocalypse, feed or heal us through extreme experiences, and help us cope with our mental health in challenging ecological times. […] What kind of plants would you want around for the end of the world?"
An assortment of young and old students and community members curious about gardening and psychedelics sauntered through the temperate greenhouse in the afternoon, pausing at stations to gaze on fungi and plants and listen to presenters speak about their roles in war, famine, plague, and psychedelic healing.
"The whole idea was to generate conversations about different plant-based medicines, psychedelic substances, and the humanities," said Luke Richert, an Associate Professor in the School of Pharmacy and the leader of the Borghesi-Mellon Workshops. "Making sure scientific discussions are contextualized using history and other humanistic disciplines."
Richert told participants about poppy, the yellow-orange symbol of remembrance that became associated with World War I as fields of it grew in the sunny, broad, ravaged landscapes of battle. Richert described its use as a pain-relieving medicine, mixed with alcohol to create laudanum, an addictive painkiller popular in the nineteenth century, and scored laterally, when of the papaver somniferum variety, to cultivate opium, out of which morphine could be isolated.
Other stations taught visitors about rhododendron, the nectar from which bees can convert to "mad honey," a substance that in high doses would inflict dizziness and confusion on consumers; narcissus, which contain alkaloids and can be used to treat Alzheimer's; swamp milkweed, drastically reduced in America because of Nixon-era policies that encouraged farms to grow commodities "fencerow to fencerow," leading to a loss of monarch butterflies who lay eggs on the plant; potatoes, a lesson in not overly relying on one food for production (Irish famine; beside the speaker, baskets abundant with basil leaves and student-grown nasturtium flowers, which attendees sniffed, plucked, and chewed on—the orange sweet, the yellow sour); and ergot, a fungus that contaminated grain supply, poisoned consumers through its psychoactive alkaloids, caused hallucinations, and might have caused the Salem witch trials.
"Some people—and there have been some studies on this—are looking at mushrooms and other hallucinogens as amplifying connectedness with each other and the outside," Liz Birkhauser, a co-organizer for the workshop, said. "In terms of sustainability, there's a couple different facets when we look at psychoactives in our natural sources. Putting pressure on delicate populations and fragile ecosystems that supply us with these medicines is a real problem. Extracting them is also a real problem. At the same time, right now we're experiencing a piqued interest in a lot of these substances, and we can maybe use that as a platform to present a lot of these ecological issues."
"This is just a really great experience to get people outside, collaborating in a different setting from the classroom," Birkhauser continued. "We're all participants in this existence, and what we do does make a difference. Things are interdependent, and if we want to be healthy, the systems around us need to be healthy, too."
Earth Week 2023 continues with more sustainability events organized by the Office of Sustainability and 19 different campus partners. You can find a full schedule of events here:  https://sustainability.wisc.edu/earth-week/.
By: Marek Makowski