In our "Where Are They Now?" series, current student interns interview former interns about their experience at the Office of Sustainability, and in particular how that experience has helped them since graduation. In the following entry, Cassie Sanford relates her conversation with Gillian McBride.
Gillian McBride graduated with an Honors in Liberal Arts Degree in Political Science and Environmental Studies from UW–Madison in May 2017 and is an alumnus of the UW–Madison Office of Sustainability (OS) intern program, where she was an intern from June 2016 to May 2017.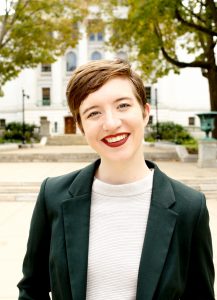 As an intern, Gillian played a key role in establishing the Green Office certification program, which remains one of the largest certification programs offered by the OS. Through her work with this program, Gillian established partnerships across campus and gained leadership experience working with people of diverse backgrounds. Her experience taught Gillian how to communicate expectations and goals and how to adjust her message for different audiences—skills that she has since utilized in every job she has held.
These skills are also useful in her current role as the Chief of Staff to Wisconsin State Representative Jimmy Anderson in the Wisconsin State Assembly. In this role, Gillian manages the legislative office of the representative and supervises their staff, which includes one legislative aide and interns. She oversees projects in policy research and development, strategic communications, constituent relations, and the general administration of the office. In addition, she directly assists the representative in preparing for floor sessions, committee meetings, press engagements, and acts as the representative's spokesperson when necessary.
Since entering the professional workforce, Gillian has yet to fill a role that focuses strictly on environmental sustainability, despite her intention as a student. However, she shared that her time at the OS provided her with a foundational understanding of sustainability issues that have allowed her to be an expert on these issues from time to time. She also shared that she has learned that not everything goes exactly how we expect it to in our professional lives. She advised that graduates should use each professional opportunity as a stepping stone to figuring out what is important to them in the workplace.
Gillian's advice for current and future interns is that sustainability doesn't happen overnight and instead is a longer process. It is important to keep the human aspect in mind when working with sustainability and to practice empathy for yourself and for others in this long fight.
Cassie Sanford is a senior double majoring in Geography and Environmental Studies with a certificate in French. At the Office, Cassie is a part of the Green Office team, the Green Greeks team, and the Social Sustainability Coalition. She also helps the Waste Management side of the OS by doing GIS work. Outside of the office, Cassie conducts research looking at the relationship between senior housing and public transportation in Madison, WI. When not working or studying, Cassie enjoys reading, listening to podcasts, and walking her dog, Honey.