UW–Madison has been included in The Princeton Review Green Colleges and the Sierra Club's Cool Schools, which are resources used by prospective students who are interested in finding schools with exemplary commitments to the environment and sustainability. This is the first time that UW–Madison has been featured in either resource, a testament to its sustainability efforts over the last several years.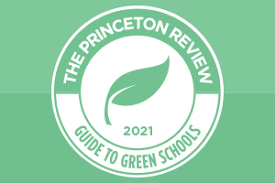 The Princeton Review (TPR), a college admissions services company, publishes the annual Guide to Green Colleges. TPR assesses a university's commitment to sustainability based on three key metrics: sustainable quality of life on campus, graduate preparedness for the world's changing climate and economy, and environmentally-friendly university policies. TPR gathers this information via regular student surveys, which allows it to release rankings according to academic performance, student life, and many others. In addition to survey responses, however, the Green Colleges rating relies on campus-specific assessment tools that reflect a broad understanding of what it means to be "green." Specifically, The Princeton Review reviews a university's Sustainability Tracking Assessment and Rating System (STARS) report; UW–Madison completed its first STARS report in August of 2019. 
"The STARS report from AASHE [Association for the Advancement of Sustainability in Higher Education] takes a holistic view of sustainability on college campuses," said Alex Frank, who serves as analyst at the Office of Sustainability. "By analyzing sustainability efforts in Academics, Operations, Engagement, and Planning and Administration, the report allows universities to catalog and celebrate their successes, while simultaneously identifying areas for campus-wide improvement. On the journey of sustainability, STARS is our map."


UW–Madison's STARS report also contributed to the university's recognition as a Cool School by Sierra, the national magazine from the Sierra Club.  Similar to The Princeton Review assessment, Sierra's methodology for rating schools relies on STARS data in addition to a unique survey, distributed directly to university staff, that digs deeper into topics not directly addressed in STARS. The STARS data along with the survey results are processed in a custom-built formula that ranks schools across 18 categories from "curriculum" to "water." While UW did not make the top 50 Cool Schools this year, its recognition assures the campus community that UW–Madison is moving in the right direction towards a sustainable future.
"Recognition from The Princeton Review and Sierra is a testament to the amazing work conducted inside and outside of the classroom here at UW-Madison," said UW–Madison Director of Sustainability, Missy Nergard. "Let's celebrate today, but ask ourselves how to improve tomorrow."

By: Jake McCulloch