In our In Case You Missed It series (also known as ICYMI), student interns from the Office of Sustainability offer reflective reports on sustainability-related events and lectures at UW–Madison. The following entry is by Hannah Kasun.
On Thursday, October 8th, the Nelson Institute for Environmental Studies presented its annual Jordahl Public Lands Lecture. Over 100 attendees tuned in to hear a virtual discussion about the ownership and accessibility of public lands.
The speaker for the evening was Midy Aponte, the current Experience Officer at Spitfire Strategies, a social- and environmental-justice focused communications firm. Aponte began the lecture by discussing her involvement in the anti-tobacco marketing campaign "The Truth," during which she highlighted the importance of communication in complex issues. At the beginning of The Truth campaign, the youth smoking rate was 23%, in part due to the tobacco industry's targeting of youth in their marketing. The Truth campaign reframed perceptions around smoking and worked to expose how the tobacco industry targeted youth, which led to a lower rate of smoking within youth populations.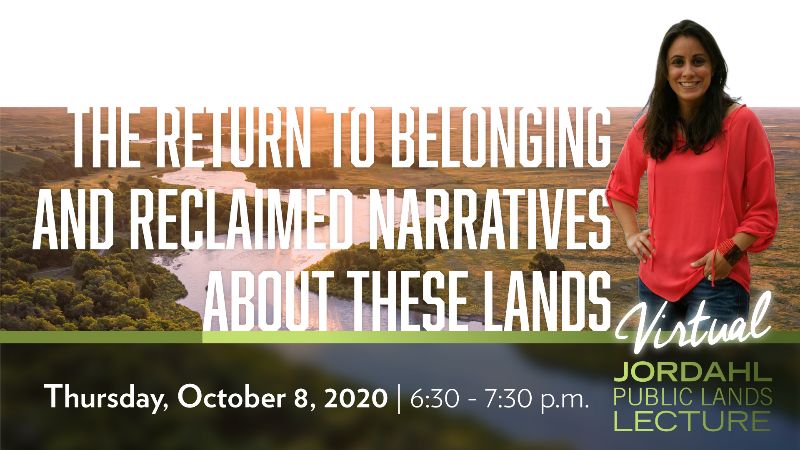 Aponte's anecdote served as a segue into a discussion about the social perception of public lands. What are the marketing and communication strategies that influence perceptions of public lands, and who does that communication target or exclude? One way of thinking about this issue is Carolyn Finney's concept of collective memory: that is, the way the cumulative experiences of a community informs how community members see themselves and view their place in the world. If there is a collective perception and memory of public lands as not being intended for certain groups, then those groups are unlikely to seek recreation on these lands.
As an example of this perception, Aponte recounted her experience of school field trips growing up. She described the anxiety and excitement of packing a pair of sneakers "that could get dirty" for a trip to Everglades National Park, and how her mother, a Cuban immigrant, chaperoned this trip. When Aponte asked if they could go back to the Everglades, however, her mother said no, because they were not "of that class." Despite having visited the park with the school, it didn't feel like it was a place in which they belonged.
Over time, environmentalism has become exclusionary due to a lack of diverse directorship in environmental organizations, as well as a lack of outreach to communities of different classes, and of different racial and ethnic identities. Aponte discussed several initiatives that seek to address this, including the American Latino Heritage Fund of the National Park Federation (ALHF), of which she was the founding executive director. Established in 2011, ALHF aims to increase American Latino visitors to national parks and improve the representation of American Latino history and legacy through parks and monuments. The fund also supported the American Latino Expedition, a program that awarded American Latino social media influencers an all-expenses-paid trip to a national park if they shared their experiences of the national parks with a wider audience through blogging or other media. Aponte said that this expedition was inspired by the first all-African American ascent of Mt. Denali in 2013, chronicled in James Edward Mills' book, "The Adventure Gap." There is also an African American Experience Fund run by the NPS, but, according to Aponte, funds for both programs have been slashed in recent years.
Aponte made the point that the issue of diversity in the outdoors and in environmental organizations has not yet been "solved." In fact, the issue might have become worse in recent years. The 2016 report "Diversity Derailed," written by Maya A. Beasley, Professor of Sociology at the University of Connecticut, highlights the failing efforts to increase diverse leadership in environmental organizations. Aponte called for the need for "more courageous allies" and people who are willing to stick with the work of diversity and inclusion in the outdoors even as contexts and politics change.
Circling back to the Truth campaign, Aponte described how the tobacco industry has pivoted from marketing smoking to youth to marketing vaping and Juuling. Issues like tobacco use and systemic racism in national outdoor spaces are complex and morph into insidious new forms over time. Willingness to communicate and address them must remain strong to ensure healthy and inclusive environments for all.