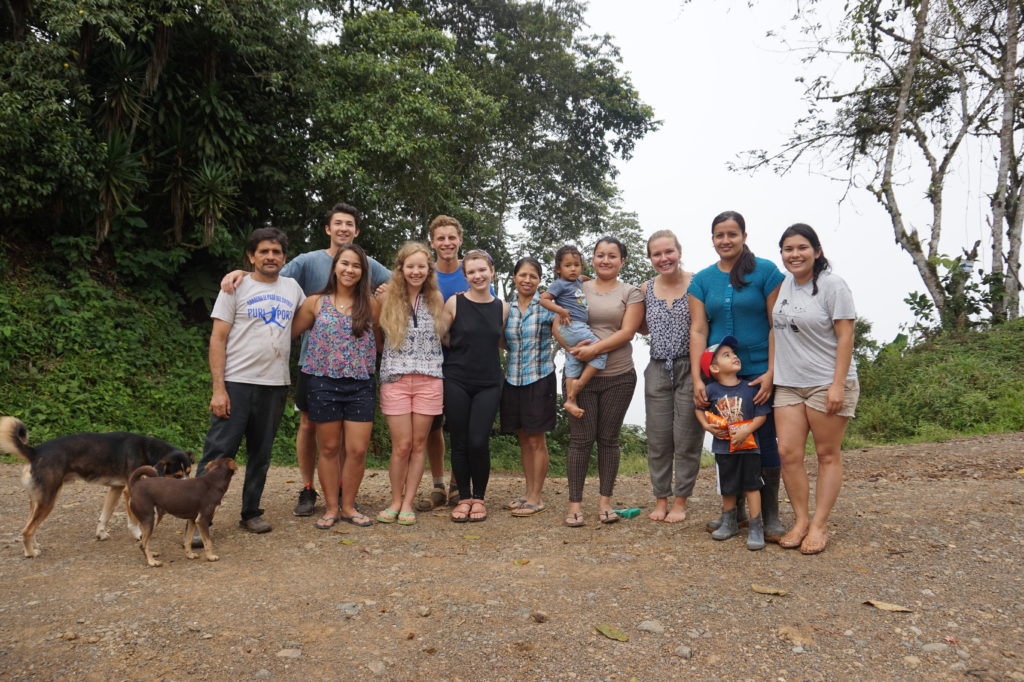 When Maria Castillio, a 2017 graduate of UW-Madison and former Office of Sustainability intern, scored the opportunity to take a Semester at Sea (SAS) in 2015, she built a lasting relationship with Nicol Chinchilla from Costa Rica and Sasha Drumm from Michigan. Together, they created UpTica, which is an organization in Costa Rica that aims to empower women by providing an alternative income source, improving local sustainability, and encouraging economic development in the rural communities of the Perez Zeledon region, such as San Luis.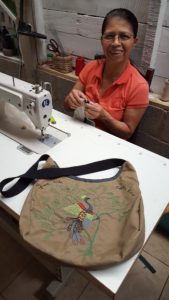 UpTica uses upcycling as a way of reducing the consumption of single-use bags. It also combats gender inequality by giving women the opportunity to learn how to make and sell their own products. The company will be officially registered as a 501(c)(3) non-profit this month.
Castillo explained that the name UpTica is composed of "Up," to represent how the organization brings people up using the practice of upcycling, and "Tica," which is the colloquial term for the native women of Costa Rica. "When you're purchasing these bags you're directly helping passionate women in rural Costa Rica to have job opportunities, and with each eco bag you receive the name and story of the woman who made it," says Castillo.
Nicol Chinchilla estimates that UpTica has already sold about 70 bags at festivals, ferias, online, and in-person. The bags come in small and large sizes, and they are made out of a variety of secondhand materials and natural fabrics with upcycled handles.
Since the idea was hatched three years ago, UpTica (formerly known as Transforma) has quickly gained ground as a winner of the Resolution Social Venture Challenge and the Wisconsin Idea Fellowship. But the success didn't stop there: the UW-Madison Uptica team also took first place in the Global Stewards Sustainability Prize and second place in the Dvorak Energy Prize at the Wisconsin Energy and Sustainability Challenge (WESC).
"When you put different people together with different backgrounds, they can accomplish great things," says Castillo.
This just the beginning of helping Costa Rica address current sustainability issues. For example:
Environmentally, San Luis adults use an average of 520 plastic bags each year.
Socially, there are gender disparities in labor where women are expected to do most of the unpaid domestic work and childcare; in contrast, only three women for every five men participate in Costa Rica's formal labor force.
Economically, unemployment in Costa Rica is likely the most significant marker of poverty; 7.4 percent of men face unemployment, compared to 11.5 percent of women. For rural households in Costa Rica, three out of 10 are below the poverty line.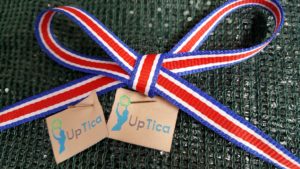 In addition, to the Costa Rican market, UpTica has recently entered the US market online. In the near future, they hope to increase their online presence and expand the job opportunities to more women in rural Costa Rica. For more information on UpTica, visit their website or follow their Facebook page. If you are interested in getting further involved with Uptica, there are volunteer opportunities from home and locally in Perez Zeledon.
Meet the UW-Madison UpTica Team
Name: Maria Castillo
Role & Responsibilities: Co-Founder, Outreach & Research Coordinator for UpTica
What are some of the skills you gained from your time at the Office of Sustainability [OS], and how have they been useful as an intern for Uptica?
I strongly believe that all the skills I gained during my time at the OS are transferable to my work with UpTica. I was part of the Waste and Recycling team, which allowed me to work in different sub-teams as well as take full responsibility of my tasks within a project. We did a lot of research to understand how recycling works both on campus and in Madison as a whole, which is similar to what we do for UpTica and the communities we work at. Our research also included understanding people's behaviors towards waste, which is the same of what we do within UpTica. We took full ownership of the Donate and Take event during Moving Days 2016, and we successfully engaged several on and off campus stakeholders. I was able to help oversee the communications plan for the event, and took part in preparing and delivering presentations. All these gave me confidence and prepared me to deal with all the moving pieces in UpTica, especially since our operations are in Costa Rica as well as in the U.S., and in both Spanish and English. Finally, the strong relationships we built with our advisors and co-workers translate well into my relationships with UpTica members as well as mentors, who in addition to being colleagues, are great friends of mine.
Name: Brooke Nelson
Role & Responsibilities: Outreach and Partnerships Development Intern for Uptica
What are some of the skills you gained from working on campus waste sustainability with the former WE CONSERVE program, and how have they been useful as an intern for Uptica?

WE CONSERVE helped me understand the complexities of the waste system and challenged me to think about how to motivate people to waste less. Much of my work with WE CONSERVE was spent doing outreach where I was able to listen to my peers' questions and concerns and meet them where they were at with information. In addition to the skills I gained in my job, I also met Maria and Anna as WE CONSERVE partnered with the Office of Sustainability to coordinate the Moving Days event. I likely wouldn't have gotten involved with UpTica had I not had the opportunity to collaborate with these like-minded students on a sustainability event.
Name: Anna Ostermeier
Role & Responsibilities: Marketing & Communication Intern for UpTica
What are some of the skills you gained from your time at the Office of Sustainability, and how have they been useful as an intern for Uptica?
My time at the Office of Sustainability gave me confidence in my own leadership abilities. I would not have had the confidence to apply for the Wisconsin Idea Fellowship grant, nor in my instincts about the project had it not been for the internship. I also learned a great deal about how sustainability encompasses economic and social aspects, as well as the environment. UpTica is all about holistic sustainability and community well-being; this immediately resonated with me and drove me to get involved. In addition to these "softer" skills, I also got a great deal of experience with sustainability communication strategies and graphic design at the OS. These skills, supplemented by my coursework, have been instrumental in creating the infographic, UpTica flyers, Instagram graphics, and more. I would also emphasize that work at the OS connected me with other sustainability-minded individuals, whether directly or indirectly, who have gotten me involved with UpTica in the first place. Throughout this project we have learned from each other, transcending our individual contributions to UpTica through collaboration and friendship.
Name: Kyle Powers
Role & Responsibilities: Administrative Intern for UpTica
What are some of the skills you gained from your time at the Office of Sustainability [OS], and how have they been useful as an intern for Uptica?
The Office of Sustainability has prepared me to be a leader and given me the knowledge to tackle the social and environmental problems others seem uncomfortable dealing with. Trash audits and projects like the ABCs of waste have also helped me look at waste as an opportunity instead of just a problem. While I was at the OS, I was able to lead quite a few of my very own projects and became a more confident problem solver and critical thinker. Had many of UpTica's team members not interned with the Office of Sustainability, I don't think our project would be nearly as successful as it is.
By: Trina La Susa