This article, by Changhao Yan, is part of a series highlighting members of the Office of Sustainability's Experts Database. In a collaboration with instructor Madeline Fisher's course, LSC 561: Writing Science for the Public, students interviewed campus sustainability experts and produced short feature stories.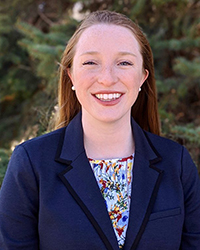 As climate change intensifies, scientists are calling for action to protect our environment, including individual, daily actions, as well as greater policy changes. Sustainability is one such practice that can help us adapt to and mitigate climate change to lessen the human impact on the environment and on each other, and it requires collaborative effort. Audrey Stanton's wide range of research aims to advance sustainability efforts.
Stanton is a Ph.D. student in the Environment and Resources program at the Nelson Institute for Environmental Studies at UW–Madison. Her research interests focus on sustainability education, campus sustainability, and empowering the next generation of change makers. Growing up in Montana, Stanton has always been fascinated by the beautiful natural environment surrounding her. This led to her interest in environmental science, which she has pursued via an Environmental and Sustainability Sciences B.S. at Cornell University and continues at UW–Madison. 
Stanton works as a Project Assistant with the Office of Sustainability to support sustainability among students, staff, and faculty. She led the creation of the Campus Sustainability Map, a visual representation of UW–Madison's features that connect to and support sustainability, such as student organizations, solar arrays, cultural centers, and water efficiency upgrades. Stanton also supports the Green Fund, which provides funding and mentorship for student-initiated projects that contribute to making the campus more sustainable. These projects can approach sustainability from an economic, social, or environmental perspective–or a combination of the three, in line with the Office of Sustainability's definition of the term.
Stanton's recent research works to quantify the sustainability impact of commuting, with the aim of discovering the benefits of the recent shift in the workforce caused by the Covid-19 pandemic and subsequent flexible, remote work policies. She conducted a survey of a select group of UW–Madison staff and faculty to investigate the social and environmental sustainability benefits, which included personal flexibility, financial savings, time savings, and childcare.
"The results showed the importance of supporting a work-from-home option for those interested," Stanton said. "At UW–Madison, the option has positive sustainability impacts."
Stanton's research not only suggests an efficient sustainability practice for environmentalists but also for the general public. Not everyone is interested in or accepts the reality of climate change; however, sustainability includes more than environmentalism. It is more realistic and effective for the public to take actions based on their own interests, Stanton said, whether from either social or economic perspectives. 
"The best practice I have is to meet people where they are at," Stanton continued. "Sustainability has three components, and those are society, the planet, and the economy. So, if folks aren't interested in supporting the environment, you may be able to make the financial case to them." For example, those who choose to use reusable water bottles instead of buying bottled water may be motivated not only by a desire to reduce plastic waste but also to save money. 
The climate change crisis represents an enormous challenge for humanity. The devastating effects are already evident and will disproportionately affect those who have the smallest carbon footprints. The phenomenon of working from home is not unique to UW–Madison, and Stanton's research demonstrates that by improving and studying sustainability on campus, and by taking individual actions, we can contribute to a larger movement, especially  when coupled with larger policy and systemic change. 
"UW–Madison can be seen as a microcosm for larger society," Stanton said. "We can use it as a living laboratory to test out ideas and solutions that we have and see if they work for other places, like universities, cities, and towns."