Jason Gallup officially started as the new Student Programs Manager for the UW-Madison Office of Sustainability on Dec. 1. On his first day on the job, Gallup was already enthusiastically diving into Madison's waste stream while touring the Dane County Landfill and Materials Recovery Facility.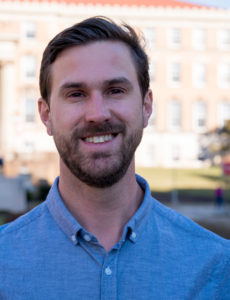 He will manage the Green Office and Waste and Recycling teams in the student intern program using his rich background in sustainability analysis and group management.
"We were really fortunate to be able to hire Jason," says Cathy Middlecamp, interim co-director of the Office of Sustainability. "He brings to us a perfect blend of sustainability knowledge and good people skills."
Gallup grew up in an environmentally conscious household that recycled and went on various nature outings, but he started pursuing his interest in sustainability more seriously during college. After obtaining an undergraduate degree at the University of California-Irvine and a master's degree from California State University–Long Beach in Political Science, Gallup took a job with the City of Long Beach. Initially Gallup worked in the City's Office of Government Affairs doing legislative analysis and research, but he eventually switched to their newly created Office of Sustainability located in the same facility.
Gallup spent nearly five years as a sustainability analyst managing the Long Beach intern programs and training local youth about green jobs. Gallup also coordinated collaboration with local and national groups, and reported on projects like trash compactors and tree planting to the Long Beach Sustainable City Commission.
This Long Beach native transplanted to Madison in September. Gallup aims to make sure that student interns at the UW–Madison Office of Sustainability have the chance to apply their environmental knowledge to real-world situations and get job training to springboard them into future careers.
"I love the enthusiasm of the two teams," Gallup says. "There is a lot of talent and potential here for impact both on the campus immediately and in the surrounding community."
Currently, Gallup is reviewing applications and interviewing new potential interns to join either the Green Office and Waste and Recycling teams. Once the teams are at full strength, the projects will launch.
While he's not on the job, Gallup can be found with a good read or acing on the golf course. While he admits he'll greatly miss surfing the waves of the warm beaches, he's excited to explore a more landlocked hobby in his free time­­­—cross-country skiing.
By: Trina La Susa