This article is part of a series highlighting members of the Office of Sustainability's Experts Database. In a collaboration with instructor Madeline Fisher's course, LSC 561: Writing Science for the Public, students interviewed campus sustainability experts and produced short feature stories.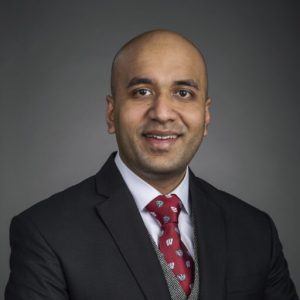 Big data has become ubiquitous in transit use, monitoring foot traffic in stores and businesses, and many other aspects of daily life. It has been primarily used to understand consumer behavior: for example, local businesses may consider data on foot traffic to determine where to open a new location. And this data can be used to optimize decisions around sustainability, as Yash Babar, assistant professor in Operations & Information Management at the Wisconsin School of Business, has shown.
Babar uses data to explore sustainability initiatives. Because he looks at multiple layers of problems, he can help ensure that these initiatives are more sustainable than prior practices and avoid replacing one unsustainable practice with another. 
"If you only look at the cost and pricing of things," Babar said, "you might not incorporate other costs related to sustainability and welfare."
One of the greatest barriers to EV adoption is the need for a strategically placed network of charging stations. To help address this problem, the White House announced a plan on February 15, 2023 to increase the national network of EV charging stations to 500,000. The program will make $2.5 billion available over five years to deploy publicly available charging stations. The shift to EVs would allow the country to continue toward more sustainable transportation without requiring dramatic lifestyle changes or a complete restructuring of national infrastructure. 
However, the government initiative is not without its problems. Babar explained that rapid chargers take longer than tanking up gas: Tesla Superchargers, for example, can add upwards of 200 miles of range in 15 minutes, which is quick compared to a standard EV charging station but still time intensive. He added that people want to use chargers in areas where they have something to occupy their time.
"You have 20 minutes to spare while your vehicle charges, and you need something to do," Babar said. "So what do you do?"
At the same time, businesses must convert traditional parking spots to charging stations that can be part of a national EV charging network and visible on online apps, which would draw visitors but which would require parties like Tesla to build infrastructure to service, monitor, and maintain the stations at the businesses. Before agreeing to add spots to the network of charging stations, businesses must weigh the risks of inconveniencing current customers against the promise of new business from EV charging. 
Babar's recent research answers these uncertainties with big data. He used proprietary data from 21 million mobile devices in the United States to compare foot traffic in businesses before and after installing Tesla Supercharging stations. 
Compared to a similar matched business without EV charging stations, the businesses that installed EV charging stations had higher foot traffic and higher in-store spending. So installing charging stations is good for business, but what types of businesses benefit most?
"In restaurants and grocery stores, but much more so in grocery and convenience stores, these visits are going up," Babar said. "Being very close to a charger matters, and slower chargers, which take an hour or more to charge a vehicle, don't drive traffic as much as rapid ones." 
To ensure charging stations are being used while benefiting local businesses, Babar suggested that charging networks and government subsidies providers should consider proximity and speed factors when placing charging stations and partnering with businesses. Doing so could make sustainable commuting options organically cheaper by leveraging part of the profits at the pit stops for charger costs. 
This is just one example of how Babar leverages data science to benefit society. A lot of publicly available data from federal, state and municipal agencies can be used to solve many societal problems, and Babar encourages his students to explore sustainability using data in a similar way that he does. 
"For the undergraduate population especially, there is a whole universe of data around sustainability information which could make for great class projects, CV additions as well as give purpose and applicability to skills learnt," he said. 
All it takes is someone to ask the right questions to find sustainable solutions that benefit local or global communities.
By: Joel Beier