In our "Where Are They Now?" series, current student interns interview former interns about their experience at the Office of Sustainability, and in particular how that experience has helped them since graduation. In the following entry, Nina Delgadillo relates her conversation with Cordell Murphy.
In his current role as an energy advisor with Franklin Energy, Cordell Murphy ('19) gets to work directly with clients to encourage them to invest in clean energy in the agricultural sector. His UW–Madison degrees in agricultural business and environmental studies as well as his experience as an Office of Sustainability intern have given him a strong passion for this field and shaped his experience with sustainability.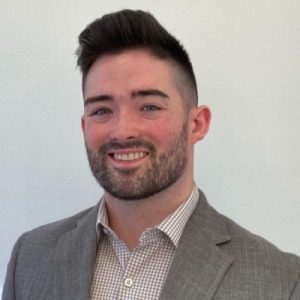 Cordell was an intern for two years, during which time he served on the Green Office team and was also a founder of the Green Greeks team. As a member of Greek life, Cordell was passionate about making his fraternity more sustainable and he started by encouraging small changes such as switching from plastic to aluminum. By the time he was done with the internship, the team had worked with multiple fraternities and sororities and today the Green Greeks team actively works with three certified chapters on campus. 
Cordell's role as a Green Office team member required a different skill set as he was helping professionals all across campus to certify their offices through a multi-level program. Through this team, Cordell got to work with buildings like the Red Gym and various campus libraries to conduct waste audits and advise individuals on practices that could keep their offices more sustainable. His experience with this team and with the intern program as a whole helped to shape his future career in agricultural business and energy consulting. 
At Franklin Energy, Cordell gets to work with a variety of agricultural clients including dairy farms, grain facilities, and indoor greenhouses. Much of his daily responsibilities involve doing large-scale energy audits similar to what he did with the Green Office team. When working in a consulting field, it is important to be personable and work well with people, as one is frequently interacting with clients. This was something that Cordell had to get used to and learn on the job, which he notes is not uncommon as you are entering a new field. He said that most jobs will be willing to teach you as you go along and that you should be open to this process. Since he works with a wide variety of businesses, Cordell has to understand the rules and regulations that various establishments have to follow. For example, now that recreational cannabis is legalized in the state of Illinois, he has to know the requirements that cannabis farmers have to follow, including several sustainability practices. Understanding these policies is something he never thought he would have to do but it plays a key role in his job. 
Another important piece of advice Cordell offered to those seeking a career in sustainability is to understand that sustainability can fit into almost any discipline whether that be in the public or private sector. His time as an intern taught him that you can provide incredible value to any company with sustainable practices. Before starting his internship he thought the only way to become involved in this field was to study biology or some other type of science, but he soon realized how wide-reaching sustainability practices are. He noted that even if your job does not directly involve sustainability, you as an individual can still be actively thinking about how the actions you take everyday affect the world around you.
Cordell got the best of both worlds by not only being able to work in sustainability but to work in a sector that he is very passionate about. Although this won't be the case for everyone, there is always a way to make sustainability a part of your life, no matter what field you are in.