Overview
The Green Greeks program seeks to establish and support efforts within the Greek Life community that improve environmental, social, and economic sustainability.
The Green Greeks program is facilitated by Sustainability Ambassadors in each chapter who work to educate and empower their organizations to live more sustainably. Ambassadors collaborate with Office of Sustainability interns who provide resources to guide waste and energy reduction efforts, positive community engagement, and responsible purchasing decisions.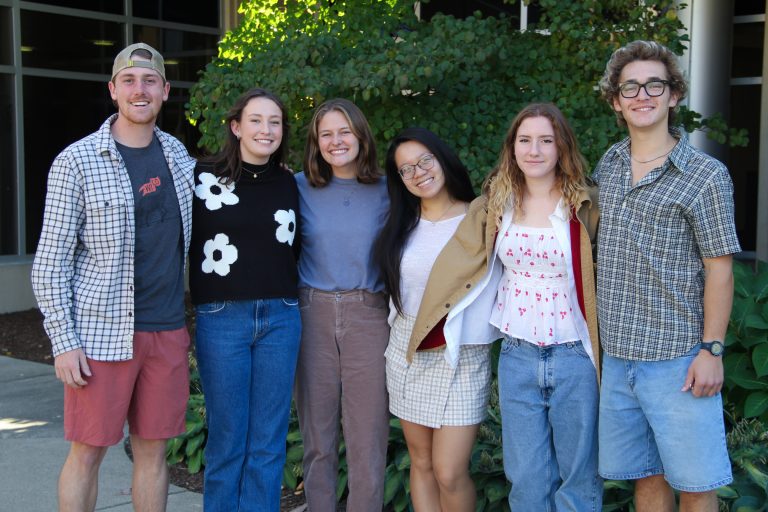 Our goal is to introduce chapters and members to sustainability initiatives in an effort to encourage positive lifelong habits and environmental awareness. Through our partnerships with Greek life, we hope to leave a lasting impact on the UW–Madison campus and the surrounding community.
Become a Sustainability Ambassador
Are you looking for a way to become more involved in your chapter? Are you interested in learning practical information and skills about how to lead a more sustainable lifestyle? If so, consider becoming your chapter's Sustainability Ambassador. Your work will help your chapter receive the recognition it deserves for being a partner in sustainability. This opportunity is a great résumé builder, and it will help you develop necessary communication and problem-solving skills applicable to any future career!
This low-commitment, high-impact position involves functioning as the liaison between the Office of Sustainability Greek Greeks program and your chapter. As our primary contact, you would be responsible for:
Providing our team with information about sustainability measures your chapter is already taking
Working with us to coordinate sustainable initiatives
Helping oversee such initiatives within the chapter
Updating other members of your chapter about our efforts and agenda at chapter meetings
Your first responsibility as a Sustainability Ambassador would be to meet with our team and identify the primary areas your chapter can improve and establish sustainability initiatives. If interested, talk with your chapter president or feel free to contact us via email at greengreeks@g-groups.wisc.edu for more information.
Green Chapter Certification Process
Email greengreeks@g-groups.wisc.edu with your interest
Office of Sustainability (OS) interns will reach out to schedule a Preliminary Meeting
Attend the Preliminary Meeting with any questions you may have
Identify Sustainability Ambassador(s) for your chapter to work with through the OS
Schedule a consultation with the Green Greeks Team

This meeting may take the form of a chapter house walkthrough and/or a discussion of events held throughout the semester.

OS interns provide a Sustainability Action Checklist to Ambassador(s), along with any additional resources that could be beneficial for improving sustainability in your chapter
Ambassador(s) complete 4/5 of the Action Items for their chapter
Receive a Green Chapter Certification and corresponding seal and share your success
with other organizations!
Feel free to reach out to the Green Greeks team for guidance, resources, and answers to any
questions!
Meet our Certified Chapters!
Theta Chi* – May 2021
Sustainability Ambassadors: Dylan Schindler and Jack Hansen
*not UW-affiliated
Delta Gamma – December 2019
Sustainability Ambassadors: Lily Hasshaw, Morgan Kamholz
Kappa Alpha Theta (Theta) – November 2019
Sustainability Ambassadors: Kippy Terry, Emma Buzecky