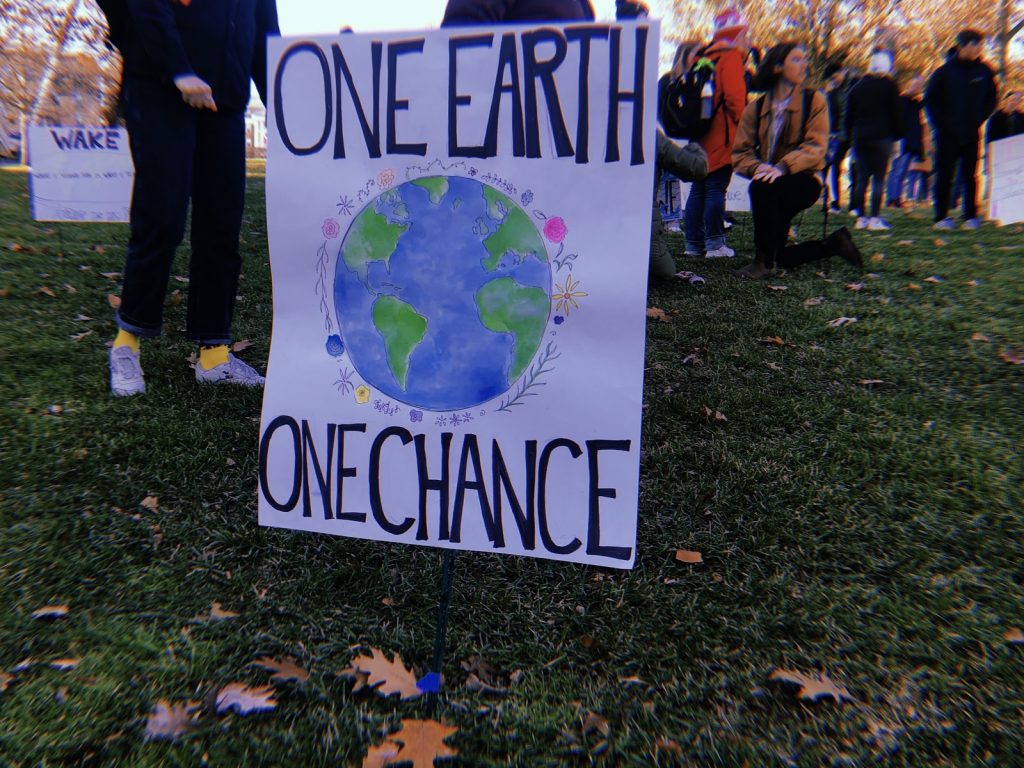 Around 60-100 students gathered on Library Mall on December 6, 2019 to advocate for clean, renewable energy on the UW-Madison campus.
The protest, which lasted for nearly two hours, was organized by various student-run organizations including Campus Leaders for Energy Action Now (CLEAN), the Sunrise Movement, NextGen, and a newly created UW System student coalition called the Wisconsin Student Climate Action Coalition (WSCAC).
Students stood outside in 35°F weather to call for UW-Madison to run on 100% renewable energy by 2050, 100% renewable electricity by 2030, and to open the Sustainability Advisory Council meetings to students.
"In my early years of life, back in Honduras, I always felt that I grew up on a different planet from what my parents did," said Claudia Salgado, who is a junior at James Madison Memorial High School and who was one of the four speakers at the protest. Her frustration with the lack of action against climate change from the older generations echoed Swedish environmental activist Greta Thunberg.
And Salgado is not alone. Izzy Owca, a UW-Madison student and a member of NextGen, said climate change was the reason she got into political activism in the first place.
"I think it's been one of those latent issues that we've been dealing with for a really long time but haven't had any political action," Owca said. "I try to advocate for climate advocacy through my work, but then I also don't eat meat. I don't buy new clothes."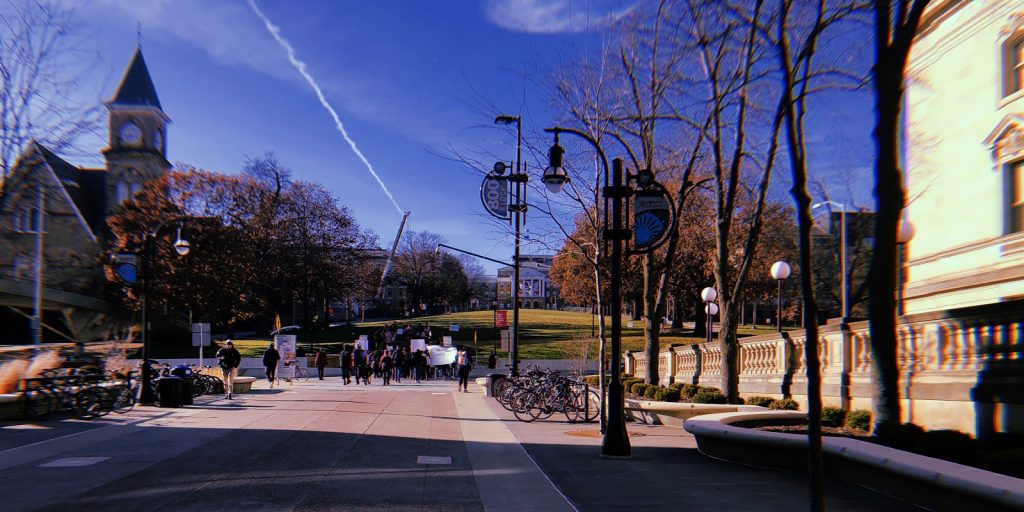 Most of the UW-Madison students at the event were also involved with other sustainability organizations and programs. Molly Kehoe started the Madison hub of the Sunrise Movement recently.
"I feel like [the climate crisis] has always been the one thing that … is daunting to me like nothing else," Kehoe said. "So anything that I can do in my community to help people understand what's really going on, and hopefully get them involved as well, I'm excited to do."
Emi Almanza Lopez, the final speaker, introduced the crowd to a new student coalition created to address the lack of sustainability initiatives at UW-Madison. The Wisconsin Student Climate Action Coalition, or WSCAC, seeks "to build a movement on the UW-Madison campus by organizing a coalition of students that advocate for climate action, environmental justice, and sustainability," according to their Instagram profile.
The protest not only showcased UW-Madison students' hopes for a sustainable campus, but also the dedication and hard work those students are putting in to fight for their future livelihoods.
"I want to live in a world where there are still trees and clean air. I want to have kids and have them live in a good world," said UW-Madison student Katherine Ackley. "I want us to be using clean energy. I want us to be actually sustainable instead of just saying that we're sustainable Badgers."