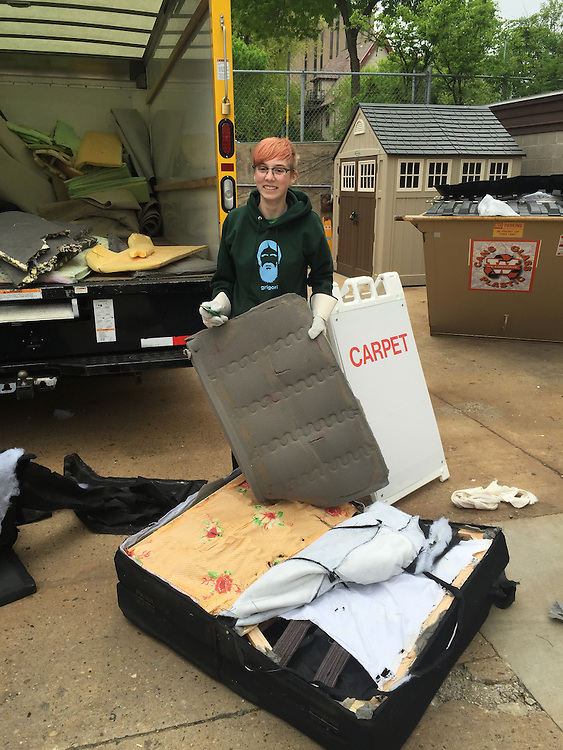 Each year, University Housing coordinates Sustainability Move Out, a waste diversion program during the housing resident move-out. The student volunteer-run program has three primary goals:
Divert waste from the landfill
Educate event participants on sustainable behaviors
Support the missions of campus and community donation partners
Last spring, 160 volunteers provided over 750 hours of staffing at sites across the UW-Madison campus. Housing partnered with 11 organizations to divert over 129,000 pounds of material from the landfill by helping residents donate and recycle items. The campus and Madison community received 124 microwaves, 601 area rugs, 169 futons and over 60,000 pounds of clothing, food and book donations as a result of their efforts.
In an exciting new development for 2018, Sustainability Move Out can now recycle wooden futon frames. These frames have filled dumpsters quickly in the past, but this year they will be recycled with a local vendor.
Volunteers sign up for two-hour shifts at one of the eight different sites at campus residence halls. At these sites, they assist with receiving donations, organizing donations in containers, answering questions, and deconstructing futons. Housing still needs volunteers for this year—you can sign up here!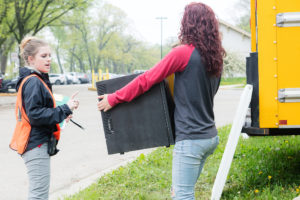 Typically, over 70 percent of the volunteers in the move out program are UW-Madison students taking sustainability-related courses. This year, students from Principles of Environmental Science (Environmental Studies/Integrated Liberal Studies 126) and Renewable Energy Engineering (Biological Systems Engineering 367) can volunteer to connect the sustainable principles they learned in their courses to a firsthand learning experience.
According to Breana Nehls, Residence Hall Facilities Sustainability and Communications Coordinator, the program is collaborative. It supports the mission of the UW campus and community partners, and also provides the opportunity for housing residents to positively impact other Badgers and community members by donating items they no longer need.
"Our student volunteer run program focuses not only on waste reduction, but also education of event participants. Previous move out volunteers have shared that volunteering allowed them to understand the consumption issues our culture faces, and they have felt motivated to make positive changes because of their experience," says Nehls.
To support the campus and larger Madison community, sign up to staff a recycling site with University Housing. You can also watch a volunteer training video here. Have questions or need more information? Email Breana Nehls or call 608-262-5537.