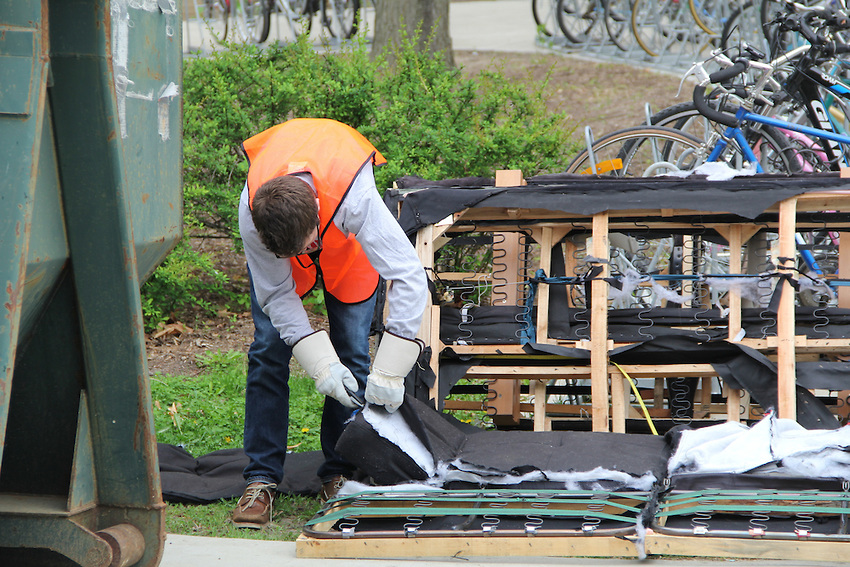 This spring, 160 volunteers provided over 750 hours of staffing at sites set up on the UW-Madison campus. They diverted 129,493 pounds of material from the landfill by helping residents donate and recycle items. The campus and Madison community received 124 microwaves, 601 area rugs, 169 futons and over 60,000 pounds of clothing, food and book donations as a result of their efforts.
These volunteers signed up for two-hour shifts at eight different sites at campus residence halls. At these sites, they assisted with receiving donations, deconstructing futons, organizing donations in containers and answering questions.
Over 70 percent of the volunteers in the move out program are UW-Madison students taking sustainability-related courses. This year, students from Principles of Environmental Science (Environmental Studies/Integrated Liberal Studies 126), Renewable Energy Engineering (Biological Systems Engineering 367) and Topics in Interdisciplinary Engineering (Intermediate Engineering 601) volunteered to connect the sustainable principles they learned in their courses to a firsthand learning experience.
Laura Schmitt, a student from Environmental Studies 126, said that volunteering for the move out program helped her feel more connected in the UW community and served as an educational tool for properly recycling and donating items.
"When I cleaned out my own apartment, I was much more conscious of what materials I could recycle or donate rather than just hauling them to the trash after that experience," says Schmitt.
The program partners with the Society of St. Vincent de Paul, the Salvation Army, Goodwill, the Open Seat Food Pantry and other partners to find homes for the donated goods:
•     Salvation Army received about 2,000 lb of goods
•     St. Vinny's received about 34,000 items (clothes, shoes and housewares) together with 100 lb of books and 1,800 lb of food
•     Goodwill received 25,830 lb of donations
•     Open Seat received 1,450 lb from 4 residence halls: Witte, Chadbourne, Ogg and Smith
This year, two new campus partners were added to the program: the Badger Caring Closet (provides necessities for low income and homeless students), and the Madison Friends of International Students (provides larger items like microwaves or futons for international students).
According to Bre Nehls, Residence Hall Facilities Sustainability and Communications Coordinator, the program is geared toward educating students and staff about moving responsibly by repurposing items instead of directly sending them to the landfill. "It's really created a donation and recycling culture within housing, every year it's been expanding during the move out program and throughout the academic year as well," says Nehls.
In the future, Nehls says there will be a training video to enhance student participation in move out and help answer questions before students arrive at the recycling sites.
By Trina La Susa