In our In Case You Missed It series (also known as ICYMI), student interns from the Office of Sustainability offer reflective reports on sustainability-related events and lectures at UW–Madison. The following entry is by Marina Steiner.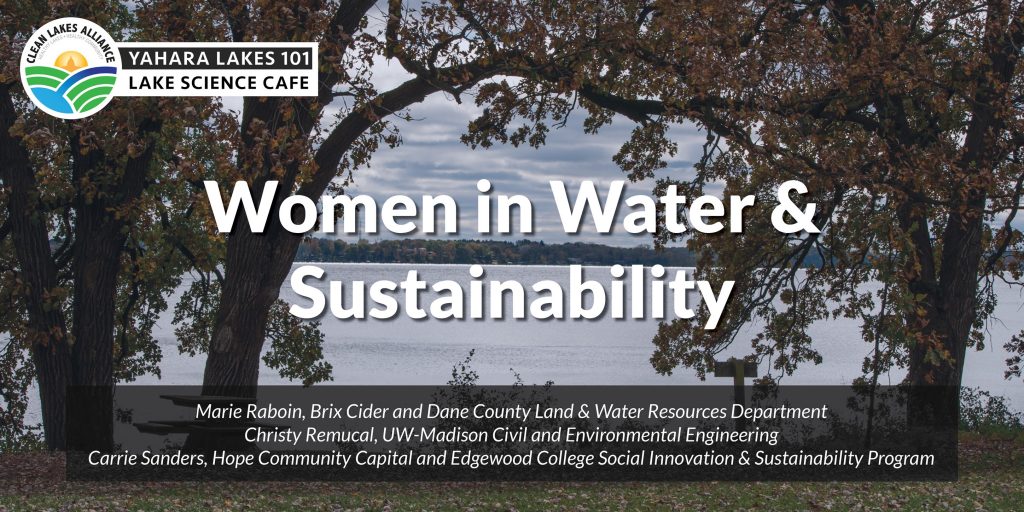 Living in Madison, Wisconsin means there is ample opportunity to attend lectures, workshops, and learn from the dedicated experts surrounding us. Yahara Lakes 101 is a monthly, public lecture series where participants can learn about the issues that affect Dane County's lakes. February's lecture was a special edition as a part of Clean Lakes Alliance's week-long Frozen Assets Festival & Fundraiser. Titled Women in Water & Sustainability, the lecture featured three women leading water and sustainability efforts in Wisconsin.  It was moderated by WISC-TV News 3 Now This Morning meteorologist Haddie McLeann.
The first speaker was Marie Raboin, the owner of Brix Cider in Mount Horeb and a Grazing Specialist with the Dane County Land & Water Resources Department. Her passion and area of expertise relates to the sustainable farm-to-table movement. Raboin started the afternoon by sharing the story of how she became a local business owner. After completing her master's degree in Agroecology from UW-Madison, she relocated to Malawi with her husband. There, Raboin witnessed true subsistence farming, in which the risk of having a poor crop cycle and subsequently, little to no access to food, "is real." Therefore, farmers have a genuine connection with their food due to their dependency on a successful crop.
Raboin then explained how she brought this idea of a genuine connection between farmers and their products back to Wisconsin. Her first step was creating her own cider from local and sustainably grown ingredients. Cider brewing has since morphed into her family's farm-to-table restaurant Brix Cider, whose menu is ever-changing due to the seasonality and availability of local products.
Raboin noted that starting a business brought various financial challenges, but she also challenged customers and the audience that afternoon to "embrace and tolerate … [the] inconsistencies" imposed by the seasonal availability of produce. In addition, she shared her journey of community outreach to encourage other restaurants to implement farm-to-table and sustainable practices. As a local business, Brix Cider also strives to strengthen the rural community by empowering local farmers to push their locally-produced products onto the market.
The second speaker of the evening was Christy Remucal. She leads the Aquatic Chemistry group at the University of Wisconsin, Madison and is the Director of the Water Science and Engineering Laboratory. As a faculty member in the Department of Civil & Environmental Engineering, the Environmental Chemistry & Technology Program, and the Limnology & Marine Science Program, Remucal directs lake research that addresses water quality challenges in Wisconsin. Sh explained that half of her lab's research is on methods that remove chemicals from the lakewater. The two main methods that the lab uses are biodegradation, or turning the chemicals into sediment, and photochemistry, in which chemicals degrade with sunlight. The other half of the lab's research is investigating how to remove invasive Eurasian water milfoil and sea lamprey from the lakes. On the side, Remucal's lab also tests for Per- and Polyfluoroalkyl Substances (PFAS) in the environment. These "forever chemicals" are found in products from food packaging to fire fighting foams and are hazardous to all species. Remucal explained the main impact of their work is to partner with and educate landowners, collaborate with the DNR and fisheries experts to reach beyond the scientific community, and answer practical questions by looking at what is happening in the waters in real time. Her lab's claim to fame is that it is also the only known lab to have a poster session on ice during the Frozen Assets Festival!
The final speaker of the afternoon was Carrie Sanders. She is the CEO of Hope Community Capital and a faculty member of the Social Innovation & Sustainability Leadership (SISL) Graduate Program at Edgewood College. Her area of expertise is finding opportunities for sustainability in community development and bringing women into positions of power. Sanders explained that, in order to represent unheard voices and new actors in development, we have to "go from seeing your own part of the system to seeing the operations of the whole system." She offered the idea of asset-based community development, which is a strategy that emphasizes how a community's assets can lead to economic opportunity. Sanders mentioned a few takeaways in regards to community development; for instance, organizers should start thinking early about who is at the table and make a personal commitment at every moment to be as inclusive as possible. In order for an outcome to be equitable and effective, it has to be driven by those who will be impacted the most.
The lecture was followed by refreshments and networking opportunities.