In our In Case You Missed It series (also known as ICYMI), student interns from the Office of Sustainability offer reflective reports on sustainability-related events and lectures at UW–Madison. The following entry is by Hannah Kasun.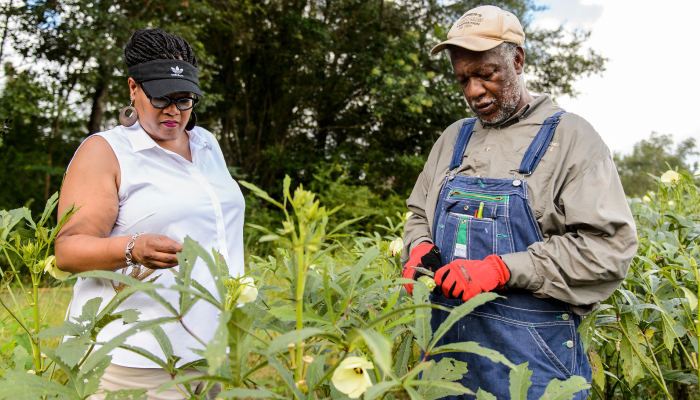 In the fields of both agriculture and history, the stories of people of color are often pushed to the sidelines. This was not the case on Wednesday, March 6th, when Monica White presented her new book Freedom Farmers: Agricultural Resistance and the Black Freedom Movement at the Wisconsin Institute for Discovery. Dr. White is a recently-tenured professor of Environmental Justice within the Nelson Institute for Environmental Studies and the department of Community and Environmental Sociology.
Dr. White began her portion of the evening by likening her book to a love letter—one which aims to express the love she has learned from farmers and producers throughout her many years researching the intricate relationship between black Americans and agriculture. She described agriculture as a liberation strategy, and as a way to live on the land and to maintain agency despite trying times. She also categorized this "farming resistance" as a constructive social movement strategy—something that uses growth and development to incite change—as opposed to social movement strategies that could be considered disruptive or non-disruptive.
Throughout her talk Dr. White was highly attuned to the history of African-American agriculture, and paid tribute to its southern roots and the contributions of notable black activists. Among these figures were Fannie Lou Hamer, Booker T. Washington, George Washington Carver, and W.E.B Du Bois—or as Dr. White prefers to refer to them, "The Three Wise Men and the Sister that showed them what to do."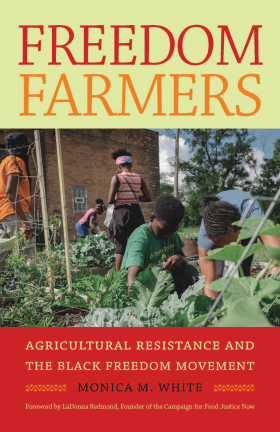 Dr. White also gave some insight into the historical inspirations for her book's title, Freedom Farmers. Among these are the 1914 remarks of black farmer Benjamin Carr: "The reason I have always wanted to be a farmer is because I believed then and believe now that the farmer is the only free man we have in our race." She also discussed how black farmers made the Freedom Summer of 1964 possible by feeding and housing activists, and how Fannie Lou Hamer used the power of community to economically empower African-Americans with the Freedom Farm Cooperative.
For Dr. White, telling stories like these is a way of constructing a new, more nuanced narrative. In a nod to a TED talk by Chimamanda Ngozi Adichie, Dr. White discussed "the danger of a single story," and described how the single story of African-American agriculture tends to be a "deficit model" which is founded on slavery and sharecropping. Dr. White contributed to the new counter-narrative by sharing several anecdotes, including days spent in archives and nights spent with farmers; the strength and innovation of the Detroit community; her grandfather's co-operative  grocery store; and a well-timed pickup truck full of sweet potatoes.
After reading an excerpt from her book, Dr. White outlined some next steps, including building intergenerational relationships between black farmers, writing a biography of activists George and Wendell Paris, and looking into the story of black angling as a form of empowerment similar to farming resistance.
To conclude her talk, Dr. White returned to her love letter metaphor, showing a series of pictures of "what love looks like." These included images of Ms. Hamer and her cooperative, of a mother and her grandchild in Detroit, of Dr. White spending time with farmers in Mississippi, and many more. She left the audience with the statement that, like any good love story, the narrative of African-Americans and agricultural empowerment doesn't really end, but rather transforms to live on with the next generation.
Archived video of the event can be seen here.