Wisconsin School of Business students won a sustainability award at the Bucky's Award Ceremony Sunday evening.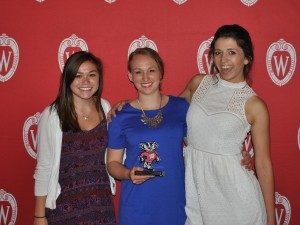 The ceremony is a recognition event hosted by the University of Wisconsin–Madison Student Leadership Program.
The Conservation and Sustainability Award is given annually to a student organization that has gone above and beyond to make the UW–Madison campus and the broader Madison community better stewards of the environment.
Students in the Ethical and Responsible Business Network (ERBN) won the award for their work helping local businesses incorporate sustainability goals into their operations.
ERBN is the only organization within the university's bachelor of business administration program with a focus on sustainability, according to ERBN Co-President Brenna George.
"Business has a huge impact on the environment and on people," George says. "I think our group is a super important resource for business students to learn what a sustainable business is and why it's important."
Students in the group have worked on reducing waste at Reynolds Transfer and evaluating opportunities for energy savings at the American Family Dream Bank, among other consulting projects.
"A lot of times we work on projects that businesses wouldn't have done without our help," George says.  "It's been great for both the development of our members and of the businesses in our area."