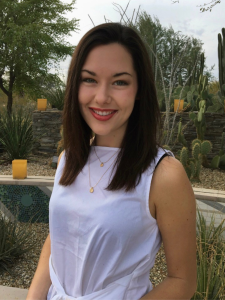 This March, the Office of Sustainability hired Lauren Graves as its new Sustainability Communications and Engagement Manager. Graves joins the O.S. at a time when higher ed sustainability programs ramp up their communications efforts and when UW–Madison's Office of Sustainability is expanding its staff, events, initiatives, and climate goals. Graves will help communicate the breadth of campus sustainability work, particularly through digital engagement. Graves, who grew up in Madison, described the position as her dream job, the culmination of her "five-year plan" that began with discovering a passion for sustainability as a college student, advising UW–Eau Claire on its climate action plan, and working on communications for the Aldo Leopold Foundation and Midwest Renewable Energy Association. In a welcome Q&A, she spoke about her work experience, the inspiration of Aldo Leopold's land ethic, how engagement can help audiences overcome eco-anxiety, and her passion for working with students.
Welcome to the team! What inspired you to apply to this position at the Office of Sustainability?
I was inspired to apply for this based on my experience working at the University of Wisconsin–Eau Claire; it was incredible to see the impacts sustainability initiatives in higher ed can have. And, as someone who's from Madison, I saw this as a chance to have a positive impact in my community.
When you worked at Eau Claire, your alma mater, you co-authored the university's climate action plan. Did any of your involvement on campus as a student prepare you for broader contributions you would later make toward sustainability as a professional?
Very much so. One of the most impactful experiences for me was studying abroad in Costa Rica and learning about their sustainability efforts. It made me want to learn more about the policies and practices in my own community, so I signed up for a class called "Tracking the Campus Carbon Footprint" when I got home. That class was pivotal for me; it gave me the chance to help conduct UWEC's fifth biennial greenhouse gas emissions inventory and support the university's reporting obligations for the American College and University Presidents' Climate Commitment. More than that, it helped me realize how passionate I am about sustainability, inspired me to be more involved on campus, and eventually set me on the path to my first post-college opportunity—a fellowship in the Aldo Leopold Foundation's Future Leaders Program.
Many students are in the place you were, very passionate and excited about sustainability, and some might feel helpless because they can't control the actions of large institutions. Yet you've demonstrated how one person, one student dreaming of change, can convert their passion into something bigger, like a climate action plan or emissions reductions.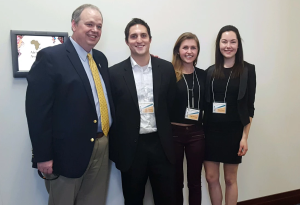 We're facing wicked problems, and people who are working in this space are often either energized or overwhelmed. But if you take it step by step to see what you can affect when you plug into an organization, research project, class, or career path with others who are also passionate and excited about those big challenges, you can start to see exponential impacts. And all of a sudden you're reenergized to keep working on those issues, as opposed to feeling the eco-anxiety and gloom that so many of us face when we try to take them on by ourselves.
That's one thing I've seen at UW: you find, especially at the Office of Sustainability—whether it's with interns or staff or related faculty—people who share a passion for the future of the planet. What is your personal connection to sustainability, and what motivates your work?
There's no easy way to answer it, so I may have to steal a quote from Aldo Leopold, "there are two things that interest me: the relation of people to each other, and the relation of people to land." I'm continuously drawn to the range of topics in sustainability, whether it's social justice, policy, or environmental conservation, and I find it really motivating to know that the work we do at the O.S. can positively impact the evolution of the relationships between them.
What did you learn about Leopold in your three years working for the Aldo Leopold Foundation, and how did that shape your understanding of sustainability?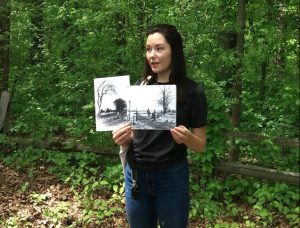 My understanding of sustainability was influenced less by Leopold the man and more so by his most enduring idea: the land ethic. At its core, the land ethic is about caring—for land, people, and the relationships between them. Much like sustainability, it's not something that can be succinctly defined in words, but rather a set of values that evolve in the minds of a thinking community.  Something I appreciate about Leopold's land ethic is that he didn't articulate it until the end of his career and, in many ways, it signified the culmination of his life's work. Here you have a man who was one of the first U.S. foresters, a pioneer of prescribed burning and prairie restoration, and the founder of wildlife ecology, but what we remember him most for are his reflections on the importance of social evolution and his willingness to learn and grow. Studying Leopold's life and legacy early in my career reinforced those values in me, too, and underlined the role of relationships and environmental ethics in my understanding of sustainability.
Building community is obviously going to be part of the role you're taking on. What does "engagement" mean to you, and how do you create it on a campus?
A large part of my role involves engaging audiences across digital platforms and providing them with resources and pathways to learn more and get involved. This includes not only raising awareness and generating conversations around sustainability topics, but also supporting initiatives like Earth Week. My goal is to inspire individuals to progress from online awareness to active engagement and to gradually grow their commitment into real-world actions.
You've been on staff for a couple of months: so far, what has excited you about the O.S., and where do you see opportunities to bring out enthusiasm about sustainability from students, from staff, faculty, alumni?
I'm thrilled to be part of the O.S. because our university is like a living laboratory, full of opportunities for innovation and positive change. My goal is to cultivate a culture of sustainability that empowers students to extend their impact into their lives and future careers. With our dynamic and vibrant campus community, I believe the ongoing growth and impact of the O.S. will not only benefit our students, faculty, staff, and campus, but also extend its reach to the broader Madison area. That's the beauty of working in the campus environment—a chance to make a meaningful difference that transcends our immediate surroundings.
By: Marek Makowski