September 22, 2015 | by Maija Inveiss and Jill Sakai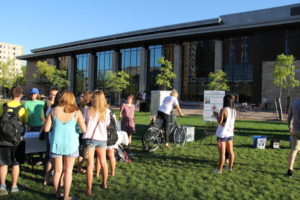 Groups of UW–Madison students converged on lawns outside Dejope Hall and Gordon Dining and Event Center last night to celebrate sustainability on a beautiful evening.
Two Sustain-A-Bash events, held simultaneously in the Lakeshore and Southeast residential areas of campus, welcomed new students to learn about sustainability on campus. As students created their own bike-powered milkshakes, met with student organizations and played with large inflated Earth balls, they also marked the kick-off of new Residents for Environmental Sustainability (RES) groups in University Housing.
Residence Life launched the RES groups this year as part of a restructuring of their hall organization model. In addition to the sustainability groups, other hall-based groups focus on fun and academics.
Cal Bergman, the Associate Director of Residence Life, led the creation of the RES groups as a way to engage more residents to think about the importance of sustainability.
"Sustainability has been a priority for University Housing for a long time, both in terms of operations as well as the living-learning experience of our residents," Bergman says. He points to the success of the residential learning communities, especially the popular GreenHouse, as an example of student demand.
"We decided to launch Residents for Environmental Sustainability groups in all 11 hall communities to scale up our ability to engage many more residents in all halls around the critically important issue of sustainability," he says.
The RES groups in each hall community will meet regularly during the year with the help of program assistants to shape how residents want to engage with sustainability. Each group will have the opportunity to learn about various sustainability topics and think about ways to apply what they learn to their own residential environments.
Kimberly Engler, a program assistant in the Ogg Residence Hall, believes that the RES groups are an important way to involve students in sustainability during their early years on campus.
"I think this year we have the most interest shown in our RES groups inside the hall organizations out of all of the groups," Engler says.
The RES groups held their kick-off meetings in the 11 different hall communities Monday afternoon. After the meetings, the students converged at the Sustain-A-Bash events, hosted by the Office of Sustainability in partnership with University Housing.
Attendees were able to interact with student organizations and campus resources while learning about water, waste, energy and food, topics they can continue to explore in RES group meetings throughout the year.