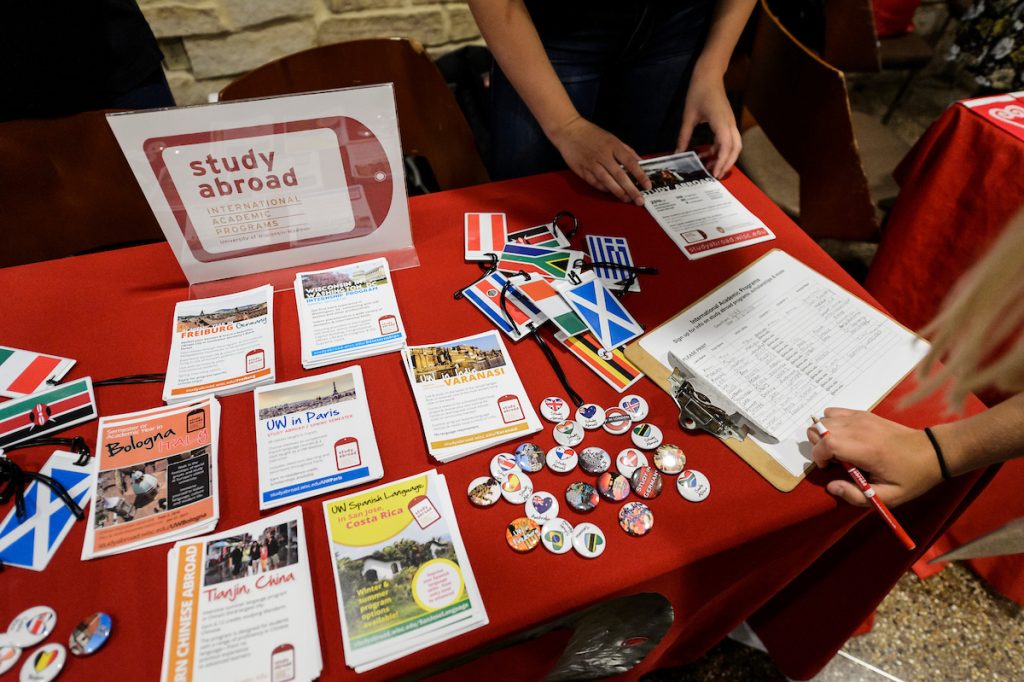 Progress Update: Study Abroad has released an update to their Handbook that includes a section devoted to Sustainability. The updated Handbook, which documents the various impacts of international travel and includes tips and opportunities for traveling more sustainably, showcases the tenets of Study Abroad's Commitment to Sustainability. In addition, thanks to a collaboration between the Office of Sustainability and Study Abroad, UW–Madison now offers a Carbon Calculator for Travel that students, staff, or faculty can use to estimate travel-related carbon emissions. Use of this calculator also assists with data gathering to inform UW–Madison's greenhouse gas emissions inventory.
At the end of November, Study Abroad published its Commitment to Sustainability, which announced a partnership with the Office of Sustainability to develop programs and practices that benefit the planet as well as educational partners abroad.
"We are devoted to examining, developing, and improving sustainability in all our endeavors, aligning with campus priorities and following through with UW–Madison's climate action and resilience commitment," the statement wrote. "Our efforts work toward the mutual benefit of program participants and host communities, and the responsible management of finite planetary resources."
Study Abroad's sustainability committee drafted the commitment and is developing a sustainability plan. It features a list of desired actions and outcomes, such as writing a student guide for sustainable travel, including carbon offset fees for participants, vetting program partners for sustainability, reducing staff travel, and working with instructors to design more sustainable programs. The plan also includes comparisons to sustainability measures at other universities, such as the University of Minnesota, Ohio State, and the University of Virginia (members located UW Study Abroad in the middle—making efforts but yet not innovating). Committee members are also devising mechanisms for accountability, like regular check-ins with campus partners and public updates on their efforts.
Study Abroad's engagement with the Office of Sustainability (OS) began in 2016, when OS interns invited Study Abroad to join the Green Office Certification program. As Study Abroad worked to improve its recycling and energy conservation, Sara Lieburn, an Enrollment Manager for Study Abroad in International Academic Programs (IAP), said that members of her office continued speaking with the OS about sustainability. In 2020, "recognizing there's interest and concern from the students and programs about sustainability issues," they founded a sustainability committee.
"Our hope is that the work we're doing is informed by experts and aligns with campus goals," Lieburn said. "We're relying on [the Office of Sustainability] heavily as a good resource and partner in this."
The impact of travel
Travel represents a major challenge to sustainability. While study abroad programs bring benefits of studying elsewhere—allowing students to challenge their western-centrism, experience difference, immerse themselves in non-English languages, and learn independence and real-world problem-solving—tourism can overwhelm local cultures and harm the environment with emissions from planes, ships, and automobiles, as well as the single-use items that travel sometimes necessitates. The sustainability committee at UW Study Abroad acknowledges these effects and sees them as an opportunity to educate.
"We're trying to build students' awareness of these things, so what we're doing is just one way of helping students think about sustainability within the context of study abroad," said Matt Geisler, the Associate Director for New Programs and Enrollment and another member of the committee. "What is your impact when you travel? What is the carbon footprint you have when you get on a plane?"
Lieburn noted that the committee is also considering social and economic sustainability. The Study Abroad handbook for students now includes guidelines about how to engage with a host community and benefit it, encouraging students to shop locally and learn about local cultures rather than using host communities merely as bases from which to travel to other tourist spots.
"There's a lot of focus on the benefits to the individual participant in the program, the student who's doing it, but [we're] also wanting to recognize the impact it has environmentally and on the host community," Lieburn said. "Wanting their experience to be, as much as possible, mutually beneficial."
The Study Abroad committee will also implement lessons from the pandemic.
"Going forward, we're keeping in mind the values of potential virtual opportunities," Lieburn said. "Something we saw was how that opened the door to students who couldn't study abroad due to financial reasons or commitments they had on campus. There's the environmental impact of not having to travel but also the financial impact of lower program costs."
Similarly to the Office of Sustainability, the Study Abroad committee considers sustainability necessary to all departments and decisions. While IAP has separate committees for sustainability and diversity and inclusion, for example, its members hope to integrate efforts for equity and justice.
"That's where sustainability seems to impact everything that we do—not only the environmental impact of travel when we study abroad, but the social and economic impact as well," Lieburn said. "My hope is that it becomes integrated. This is not an add-on or additional work. The hope is that it's incorporated in what we do at UW Study Abroad."
By: Marek Makowski