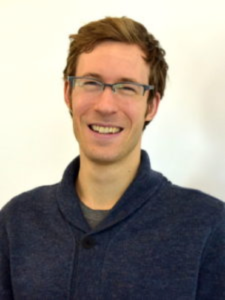 On June 1, Ian Aley began work at the UW-Madison Office of Sustainability as the new Green Fund Program Manager.
Aley brings a wealth of environmental experience to the position, which focuses on managing student-initiated sustainability projects.
"He's a perfect fit for the position," says Cathy Middlecamp, Interim Co-Director.  "He wants students to experience success.  When students propose a project, he can translate their ideas into action by connecting them with workers in Facilities, Planning and Management."
Aley graduated from UW-Madison in May 2017 with a Masters of Science in Urban and Regional Planning. While pursuing his degree, he worked two graduate assistantships. In 2015, Aley spent a year as a research assistant at UW Surplus with a Purpose (SWAP) cross-analyzing other institutions to find out about effective sustainable practices around the country.
In 2016, he worked at the Office of Sustainability facilitating the startup of the Green Fund, developing the protocols for project submission and review.  The Green Fund supports student projects that reduce the environmental footprint and operating costs of on-campus facilities in the areas of solid waste,  energy and water conservation.
"Students often have incredible ideas and are exposed to new concepts through their classes and the literature they read, then staff know about day-to-day maintenance, operations and financing of systems—connecting these two together really creates the best of both worlds," says Aley.
As a native Madisonian, Aley grew up with an interest for a career promoting social and environmental sustainability. He always had a passion for climbing trees! While attending Madison West High School, Aley founded the Green Club for students interested in environmental sustainability throughout the Madison community.
He attended the University of Toronto and received two honors bachelor degrees in Environmental Studies and Urban Studies with a minor in English Literature. After completing his studies, he expanded his knowledge of food systems and social sustainability by working with community gardens, kitchens and composting programs as a community food animator at FoodShare Toronto.  "I've noticed a lot of the ways social justice and environmental issues can work together so that we can learn diverse ways of thinking from other cultures and learn about the world to come to solutions," says Aley.
In the wider community, Aley is currently involved in engagement and outreach. He has own perennial fruit farming business through the Linda and Gene Farley Center for Peace, Justice & Sustainability. He also is the coordinator of the MarketReady, a program that seeks a diverse cohort of small businesses as vendors in the Madison Public Market when it opens in 2019.
By Trina La Susa