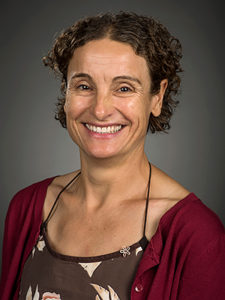 Ann Terlaak is an associate professor of management and human resources in the Wisconsin School of Business. She serves as the Office of Sustainability's Education Fellow, the faculty advisor for the Sustainability Certificate offered through the Nelson Institute for Environmental Studies and the director for the Graduate Certificate in Business, Environment and Social Responsibility (BESR) offered through the Wisconsin School of Business.
Ann's research interests center on organizational learning and firm adaptation in the emergence, diffusion and abandonment of new technologies, practices, and institutions. She is particularly interested in the role of organizational learning and adaptation in the context of environmental management and corporate social responsibility.
Her work has been published in top tier academic journals, including the Academy of Management Journal, the Academy of Management Review, Organization Science, the Strategic Management Journal, and the Journal of Economic Behavior and Organization. She currently serves on the editorial board of the Academy of Management Review.
Ann is the recipient of the 2010 Erwin Gaumnitz Distinguished Junior Faculty Research Award from the Wisconsin School of Business. In 2009, she received the Emerging Scholar Award from the Academy of Management, Organization and the Natural Environment Division. Her dissertation on the ISO 9000 quality management standard was the winner of the 2001 INFORMS/Organization Science Dissertation Proposal Competition.
Ann received her Ph.D. from the Bren School of Environmental Science and Management at the University of California, Santa Barbara in 2002.