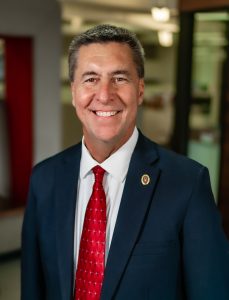 Jeffrey Pollei brings over 35 years of expertise in the utilities industry to the Office of Sustainability. Jeff enjoys consulting with stakeholders throughout the institution, leveraging his wealth of experience to address critical priorities and solve complex problems. His work is characterized by a relentless dedication to the production and distribution of campus utilities and a keen ability to align solutions with institutional goals, contributing to the University of Wisconsin-Madison's ongoing commitment to a more sustainable and environmentally conscious future.
His extensive career has encompassed various roles, including engineering sales for Carrier & YORK, design/construction of utility systems, and operational/energy engineering in a campus setting. Prior to joining the University of Wisconsin in 2009, he led the Energy & Utilities market segment for Affiliated Engineers, Inc. Madison office. He recently retired as the Director of Utilities and Energy Management at UW-Madison, where he made significant contributions to the institution's sustainability and energy efficiency initiatives.
Jeff holds a Bachelor of Science degree in Mechanical Engineering from the University of Wisconsin-Madison and is a Licensed Professional Engineer in Wisconsin, further solidifying his technical competence and commitment to excellence in his field.
Beyond his professional achievements, Jeff enjoys golfing and traveling with his wife, Lynn, exploring new horizons and creating cherished memories together.