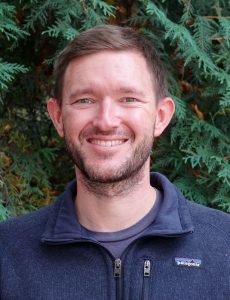 Tim Lindstrom serves as the Student Intern Program Manager at the Office of Sustainability and an Instructor at the Nelson Institute for Environmental Studies. As the Intern Program Manager, Tim works alongside undergraduate interns to create a culture of sustainability on the UW–Madison campus. This work – conducted by intern teams – engages students, faculty, and staff through sustainability initiatives ranging from the campus's natural and built environment to student life and wellness. As an Instructor, Tim's teaching focuses on using the UW–Madison campus as a living laboratory for environmental and sustainability education. Put simply, Tim gets to work with students in both academic and professional contexts to help the UW–Madison campus and community aspire toward the ideals of sustainability.
Tim previously worked with the Office of Sustainability as a graduate student to support the intern program and manage an EPA-funded project to recycle expanded polystyrene shipping boxes from campus labs. Tim's research on campus-based sustainability education and the life cycle impacts of expanded polystyrene formed the foundation for his PhD dissertation, which he completed at the Nelson Institute in May 2020. He also has taught a capstone course on campus-based applications of life cycle assessment for the Nelson Institute.
In 2006, Tim completed a B.S. in Physics from North Park University in Chicago, Illinois. He then worked from 2006-2009 as the laboratory supervisor for the physics department at Oakton Community College in Des Plaines, Illinois. From 2009-2011, he taught middle school science at the Internationella Engelska Skolan in Gävle, Sweden. He began graduate school at UW–Madison at the Nelson Institute in 2012 and completed an M.S. degree in 2015 with a certificate in Energy Analysis and Policy.
You can read Tim's full CV here.