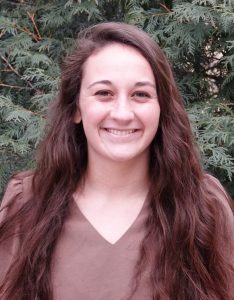 Ally Burg's employment with the Office of Sustainability began on the Waste and Recycling intern team, where she spent a year helping to educate campus partners on proper waste practices through trash audits, training, and signage. In 2018, Ally graduated from UW-Madison with a B.S. in Geography and an Environmental Studies minor, studying human-environment interactions.
After her graduation, Ally joined the leadership team at the Office of Sustainability as a Program Assistant. She helped to develop the internship program based on her own experiences, supporting the addition of new interns teams and experiential learning opportunities on and off campus. As a Program Assistant, Ally currently manages the Communications intern team, aids in educational and outreach programming, and coordinates student-initiated projects through the Green Fund.
Ally participates in the Healthy Wisconsin Leadership Institute, addressing the intersection of climate change and health equity in the state of Wisconsin. Through this program, she leads the Dane Climate Action Team, focused on the equitable and inclusive implementation of the Dane County Climate Action Plan. She also brings experience from consulting at the UW Credit Union as a sustainability specialist, managing the employee Green Team and exploring new opportunities for operationalizing sustainable practices.
Outside of work, Ally enjoys exploring breweries, hiking the Ice Age Trail, playing board games with friends, and bringing her dog Murphy to the park.